F
or the sports world in the past week or so
, things not going as expected has become the new expectation. But Gonzaga women's basketball has felt like that for almost two years now.
It first started a little over a year ago in Las Vegas, when a West Coast Conference tournament that was supposed to be a victory lap turned into a disaster. The Zags lost key players Laura Stockton and Jill Townsend to injury in the first game against Saint Mary's and ultimately fell to BYU in the title game — with head coach Lisa Fortier having to leave the game in the fourth quarter due to a family emergency.
GU managed to rally in the NCAA Tournament and lose a closely fought contest in the second round to Oregon State, but questions of how much higher their ceiling could've been with Stockton and Townsend remained.
"They gave everything they had. It's been a really screwed up week for us at a really bad time, and they didn't care," coach Fortier said after the loss in 2019. "All they cared about was each other, how to best execute the game plan and how to best find a way to help our team be successful."
This season has been a roller coaster of riding the highs and dealing with the lows in a similar way. Beginning with uncertainty and ending with a historic season cut short, the Bulldogs have been all over the map.
Coming into the fall, the Zags had plenty of unknown variables after losing multiple seniors to graduation. Would juniors Jill Townsend and LeeAnne Wirth and Jenn Wirth be able to step up into those vacant roles? Would seniors Jessie Loera and Katie Campbell take the leadership mantle?
It wasn't until a close overtime loss at then-No. 1 Stanford in November that pundits and fans realized this year's squad could compete with the nation's best.
The Stanford game, although a loss, propelled them into the national discussion once again. Maybe this team could be even better than last year's.
"These games are harder," Fortier said after the Stanford game. "When you play a top team and get blown out, at the end of the day you can say, 'We're not as good as they are.' "But losing by a few … you second-guess everything, and so do the players. Looking back, we didn't play that well. To think we almost beat Stanford and we didn't play that well."
They entered the Top 25 in the next poll and wouldn't leave it again for the duration of the season. And it was warranted: Fortier's squad was eight or nine players deep and hard to stop from almost anywhere on the court.
In fact, GU wouldn't lose again for a matter of months — and then chaos returned.
As the Zags were putting the finishing touches on a regular-season sweep of BYU (a team they went 0-3 against last season), senior shooting guard Katie Campbell landed awkwardly on her left leg and was carried out of the game with an injury that ended her season.
The Zags reached a program-best ranking of No. 10 in the polls afterward, but it still felt like something was missing. Campbell was the team's best 3-point shooter and a solid defender. But perhaps more importantly, she was a crucial senior leader. It brought back flashbacks to that fateful Vegas trip almost immediately.
"No one person's going to step up and fill her entire role," Townsend said after the injury. "That'd be impossible for our team. You can't just fill a role like that."
An upset loss to Saint Mary's a couple games after the injury official spoiled GU's hopes for an undefeated conference run and set them back in the polls, but there was still plenty of time to work out the kinks.
Then it happened again. In a game in which Townsend and fellow starter LeeAnne Wirth both fouled out late, the Portland Pilots upended the Bulldogs, 70-69, and sent them packing much earlier than they expected from this year's WCC tournament.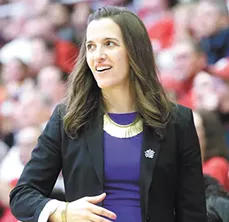 At the press conference following, the emotion was raw. It was clear that this team does not like to lose, even in a game that ultimately didn't damage its tournament resume all that much.
"It's hard — I'm not very good this year at post-game loss speeches, which is probably a good thing," Fortier said. "This one in particular, there were a lot of tears."
However, it still looked like Fortier's team would be a top-4 seed and host the first round in Spokane.
Then came the March Madness cancellations that we've all heard about by now.
The Zags went from likely playing in the Kennel before one of the most active home crowds in college women's basketball, to playing without audiences and then to not playing at all.
As it all turned out, their season ended in Vegas with a loss to a team that they've beaten by double digits twice — a game after which Townsend said that her team had "no option but to learn from this."
It's not easy to be satisfied with just learning when there's nothing to apply it to until next November.
Regardless, there's plenty for the Bulldogs to hang their hats on. The best record and ranking in program history, a Naismith Coach of the Year finalist in Fortier, a WCC Player of the Year in Townsend. The 2019-20 GU women's basketball team has a claim as one of the program's best ever, regardless of how well they would've done in any hypothetical tourney (hint: probably pretty damn good).
But perhaps most importantly, this year's team reminded us once again that Gonzaga isn't a men's basketball school. It's simply a basketball school.
Next year's squad will likely bring more of the same — hopefully with fewer roadblocks along the way.