People talk a lot about how the Gonzaga Renaissance started in 1999, with that first blitz through the NCAA brackets. They talk about how much the on-court success that followed has rubbed off on the university, growing its enrollment like Karnowski's beard, from about 4,200 in 1999 to nearly 7,600 today. I'd add that what feels to me like a Spokane Renaissance started around that same time, with all the mentions in national media putting our city on the map, even as we made improvements like River Park Square and the Davenport Hotel.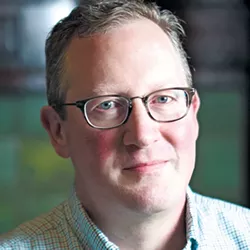 But it goes back way further than that, with dates like 1980, 1887 and even 1591 looming large in the moment we find ourselves in this week, with Gonzaga and Spokane set to enjoy the biggest of spotlights at the Final Four.
I use the word "renaissance" for a reason: Gonzaga University traces its spiritual core all the way back to the Italian era of l'uomo universale — the Renaissance notion valuing the "health of body, strength of character and wealth of mind." It was a time of new thinking and of city-states competing with each other, sometimes on the field of battle but more often in the arts and commerce. In that world lived a young student from a powerful family who devoted himself to those emerging ideas. And to God.
That young student disappointed his father by joining a fledgling order of Catholicism — the Society of Jesus. He wound up studying at Roman College, the world's first Jesuit school. And when plague hit Rome, he followed his teachings and served the city's sick and dying. He contracted the disease himself, died at the age of 23 in 1591, and was later canonized. His name is St. Aloysius Gonzaga, and he's the spiritual founder of Gonzaga University and St. Aloysius Church.
Nearly 300 years later, on a wild continent only barely known in 1591, another Jesuit — Fr. Joseph Cataldo — struggled to keep his mission in the Rocky Mountains afloat. Budget cuts in Rome were set to effectively eliminate his work among the Native Americans in what is now Montana, North Idaho and Eastern Washington. A visit to plead with his masters in Italy only won him a letter he could use to beg benefactors and young priests to join his cause.
Touring Europe, he raised a bit of seed money; visiting parishes in the eastern United States and Canada, that letter helped him recruit about 50 young Jesuits to help him civilize Spokane. (Six of those recruits would go on to become presidents of Gonzaga College.)
Fr. Cataldo's plan was to create a series of missions and parishes across the Inland Northwest, all feeding into a central college. He paid $936 for a plot of land, and in 1887, with funding from a handful of local businessmen, the new school opened its doors. The student-to-teacher ratio was enviable, as 20 Jesuits greeted an inaugural class of 18 students.
While many Jesuit colleges kept the names of their city — like the University of San Francisco, founded in 1855 — Fr. Cataldo went a more inspirational route, choosing "Gonzaga" for his school and "Aloysius" for the tiny chapel next door, hoping the Catholic Church's patron saint of young students everywhere would bless his improbable enterprise.
I first encountered the Jesuits in 1979, as a freshman at Gonzaga Prep out of tiny Cataldo School. I had zero appreciation for the backstory of the Society of Jesus, with no idea who Fr. Cataldo was or what the name "Gonzaga" meant. We all, however, appreciated our schoolmate John Stockton's basketball skills. Little did we know that when Gonzaga's legendary coach Dan Fitzgerald recruited him — in 1980 — to play college ball just down the street, this whole Zag Nation phenomenon was set into motion.
Today, all these years later, I can see the impacts of Fr. Cataldo not giving up on Spokane. We were never going to be a real city without a university, and the Washington legislature passed over Spokane by locating Washington State College in Pullman in 1890. And having an institutionalized moral compass has made this a generous city — a city that does big things together.
But in the scheme of modern-day city-states competing with each other for young people, Spokane was a bit adrift in 1980. During grad school in Missouri or when I was back East working in Boston, I gave up telling people I was from Spokane because they had no idea what I was talking about. Today, wherever you are, people know Spokane — most of them can even pronounce it. To those of us who have been here since 1980, it's a very different place — a better place filled with strivers ready to stand up and compete with the Portlands, the Boulders and the Austins of our nation.
Starting in 1328, the Gonzaga dynasty made Mantua, Italy, a beautiful, prosperous place by bringing in artists, architects, teachers and musicians; the notoriety of that vision created loyalty and pride, making it a place people wanted to live and do business. Basketball can be beautiful, too (just not when you play West Virginia). People on the outside are looking at us differently thanks to the Zags, creating that same kind of loyalty and pride. We can build on that.
So as we cheer on the young students who wear his name across their chests, let's remember how we really got here and give a little thanks to good old St. Al. ♦