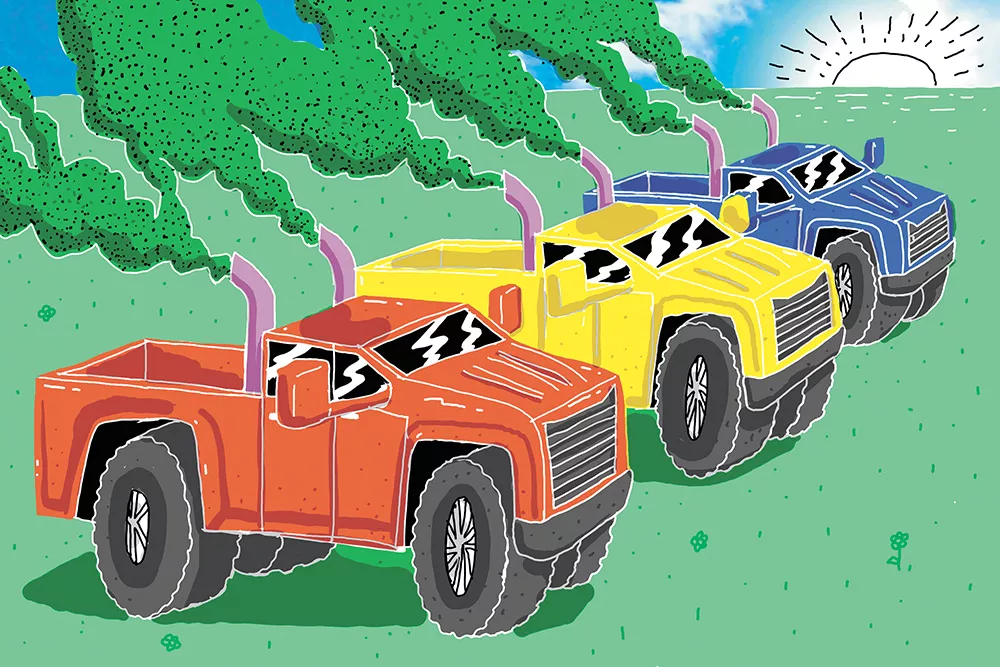 There are more trucks in Sandpoint than I remember. And I mean big trucks. Glistening full-size behemoths that grumble and whine through town like a herd of annoyed buffalo straining in a slow-motion, single-file migration to nowhere.
Sandpoint has always been full of trucks, but in prior decades they were utilitarian vehicles — dented and dusty, cracks in the windshields and rips in the seats. They had manual transmissions with a "granny gear" to labor up mountain roads in search of firewood. The trucks that ride my ass today carry no firewood, look like they just rolled off the showroom floor and cost the equivalent of a Recession-era down payment on a nice three-bedroom home. Now, according to Coldwell Banker, the median house price in Sandpoint is $469,830. Next to that, a lifted Chevy Silverado 1500 doesn't seem unreasonable; but, of course, it is.
No need to belabor the bizarre political economy of North Idaho — plenty has and will be written here and elsewhere about that by me and others. No time or space for that anyway. At the risk of burying the lede, I won't be writing this column anymore. They say you can't go home, but I have. The free weekly newspaper, Sandpoint Reader, that I founded with two college friends in 2004 is still chugging along, and I'm (re)joining it as editor in chief.
At 38 years old, with a wife and two school-age kids, closing in on 20 years of journalism work in North and South Idaho, and a freshly minted master's in history from Washington State University, I feel a bit like a salmon going home to die. But it was my history studies in Pullman, rather than a death drive, that drew me back not only to journalism but Sandpoint. Though I went into Washington State intending to research the 20th century history of political extremism in the Northwest, I came out with a thesis on how print culture influenced migration and identity creation in the early 18th century British Atlantic World.
My research took me to some unexpected places; among them, the fundamental role of newspapers in creating the imaginary social structure we call "community."
Too often a buzzword of politicians, planners, realtors and chambers of commerce, "community" — from nation states to neighborhoods — loses its vital heft when sloganized for easy boosterism. It's hard work to build and maintain community, as Spokane well knows.
Communities only exist with a story about who, what and why they are, and local newspapers, rather than monstrous trucks, are the engines of those stories. The Inlander is one of the best engines of community in the nation — no joke. It does everything a truly great newspaper should do and does it closer to perfection than you're likely to see anywhere in the country.
I'm bummed that I won't have a byline in this paper anymore. My first association with the Inlander came in 1998 or 1999, when I rode along with some Sandpoint High School yearbook staffers and helped deliver it around town. Since then, I've circled this publication like a skittish bird; perching here and there, but never nesting.
I suppose my problem has been that as much as I love Spokane, it's never been my town. Boise, where I was editor in chief of Boise Weekly, wasn't my town and neither was Pullman. My town is Sandpoint, with its big-ass trucks, insane imbalances between quality and cost of living, nutty politics, human ugliness and natural beauty. Call it a calling; I'm called to call it out.
Those big trucks keep on truckin' and so will I. For all our sakes, so will truly local papers like the Inlander and the Reader — reminding us that everything is always in motion, yet giving some meaning to the movement. ♦