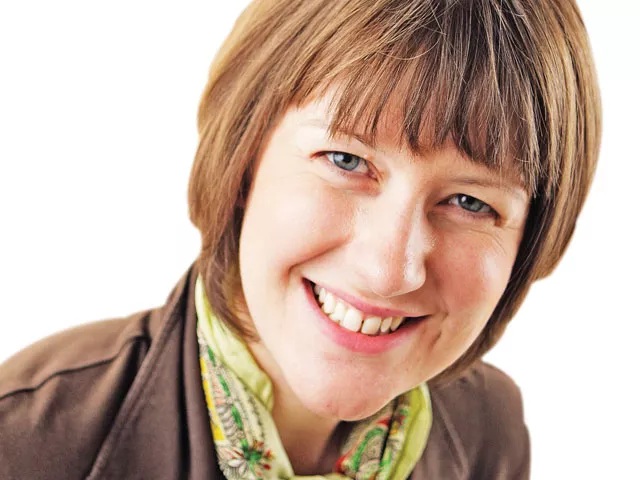 AMBER ALERT
City Council, tear down that Y.
The Spokane City Council ended a year of indecision and maneuvering over the fate of the old YMCA building in Riverfront Park Monday, voting 4-3 to accept county conservation funds that require the building be demolished and the land — less than an acre — be returned to a natural state.
And the critical "yes" vote to accept $4.3 million in Conservation Futures funding came down to Amber Waldref.
Waldref, elected along with Jon Snyder last fall in what was seen as surge of progressive ideology, split with fellow liberals Snyder and Richard Rush on this issue.
Snyder and Rush made powerful arguments that a yes vote would tie up between $6 million and $7 million dollars (based on interest and up to 20 years of repayment) on less than an acre of land that's been developed since the 1880s and where a "natural state" is hard to define.
Waldref agrees with all that, she says. Her vote came down to one thing – protection of the Y property from private development.
"You should not be able to build anything there," Waldref says. (KEVIN TAYLOR)
LESS THAN AVERAGE
Only about one-third of Spokane County residents have heeded the call to "Take 10 Minutes" to fill out and send in their 2010 Census forms.
According the official Census-tracking Website, Spokane County has returned about 35 percent of its census forms. We're doing pretty well compared to King and Yakima counties (both at 29 percent) and Kittitas County (23 percent). As for Kootenai County? They've clocked in at 41 percent.
Joseph Guanlao, the Northwest's media specialist for the U.S. Census Bureau, pointed out that while Spokane is ahead of Washington's 31 percent average, the state is still behind the national average of 34 percent. (NATALIE JOHNSON)
THE BURNS NOTICE
Just a day after an Inlander story concluded that Spokane's Police Ombudsman Tim Burns is still untested because his new office has yet to handle a critical incident, Spokane police killed a man in a shootout in a South Hill neighborhood.
"My cell phone rang at 6:58" on Friday morning, March 26, Burns says. Police called to alert him of the fatal shooting of 46-year-old Todd White. His role, Burns says, "is to be an independent observer … [and] to ensure the Internal Affairs investigation is timely, thorough and objective."
Also on Friday, the city denied The Inlander's request for documents of all complaints made to the ombudsman's office and their outcomes.
Assistant City Attorney Pat Dalton, in an interview before the final decision was reached, explained that the city is using a case about teachers accused of sexual molestation, Bellevue John Does v. Bellevue School District, for guidance. Dalton says the city understands Bellevue to mean only sustained complaints of misconduct can be released. Of the 53 complaints forwarded to Internal Affairs by the ombudsman, there are no sustained complaints, which means all the officers have been cleared, or the cases remain open.
Tim Ford, the Open Records Ombudsman for the Washington Attorney General's office, says this may not be the correct interpretation.
"As I understand Bellevue, it was all about the names," Ford says, meaning that even in cases where a complaint is unfounded, the information is still released but the name of the person in the complaint is redacted. The Inlander is still pursuing the request. (KT)
A NEW HOME
Spokane City Councilwoman Nancy McLaughlin has hired Edie Streicher, the government affairs director for the Spokane Home Builders Association, as her legislative assistant.
McLaughlin points to Streicher's experience with the Home Builders and the years she spent working for the Arizona State Legislature in the 1990s. The Home Builders, and Streicher in particular, played a large role in the fight against last year's Prop. 4, otherwise known as Envision Spokane's "Community Bill of Rights."
McLaughlin says she'll task Streicher with looking into "unfunded mandates with personnel issues."
"Eighty percent of the city's operating budget goes into personnel," McLaughlin says, blaming the state's "binding arbitration" rules regarding negotiations with employee unions.
McLaughlin says she wants Streicher to look into the progress at Kendall Yards and see if the city can strike a "work force training" deal with Greenstone similar to what it had with the project's previous developer, Black Rock.
But not everyone's popping the bubbly over Streicher's hire. Rick Eichstaedt, the Spokane Riverkeeper, struck a skeptical tone. "Will she be able to separate the agenda of the Home Builders from that of the general public, which is much different?" he asked. "Will she be able to advocate for sustainability, for protecting the Spokane River, for smart land use?" (NICHOLAS DESHAIS)