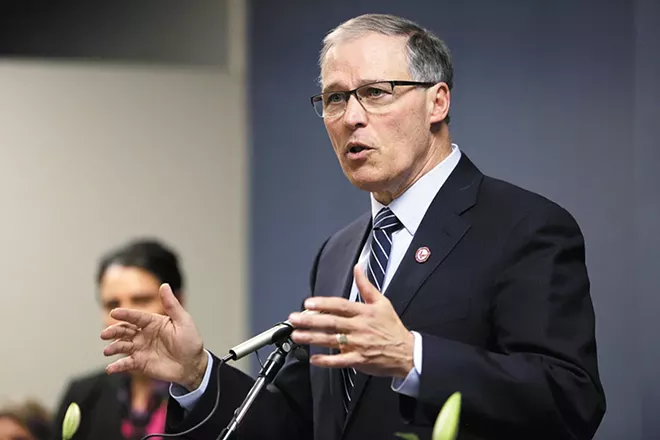 L
ast night
, Washington state Gov. Jay Inslee announced that his office would likely be lifting some restrictions in his
"Stay Home, Stay Healthy" lockdown order
that he issued last month in response to the COVID-19 pandemic. Due to the "likely decline" of the spread of the virus in the state, he said, some elective surgeries, construction projects, and outdoor recreation could soon be allowed.
But Inslee also said that most elements of the lockdown order won't go away after May 4, and that any reboot of the state's economy will be gradual. The announcement comes on the heels of
calls to ease the lockdown measures
and a
protest against his order on Sunday in Olympia
.
"It will look more like a turning of a dial than the flip of a switch. We're going to take steps and then monitor to see whether they work or if we must continue to adapt," Inslee said during Tuesday's televised address. "We will not be able to lift many of the restrictions by May 4th."
"The health of Washingtonians is our top priority," Inslee adds. "The data tells us that if we were to lift all restrictions right now, or even two weeks from now, this decline would certainly stop and the spread of COVID-19 would go up."
Inslee's posture has left some elected officials in the Spokane region who are eager to reboot the local economy frustrated. So far, his office been short on specifics on what the slow restart would look like. Inslee said that his office will review additional epidemiological data and modeling this week before moving ahead with lifting any restrictions.
"The good news out of the governor's address last night is that we're now finally starting to have a conversation about what does recovery look like. The bad news is that there was not much detail, there's not much specificity. And so that's very frustrating," said Al French, chair of the Spokane County Board of Commissioners, at a press conference on Wednesday morning alongside regional leaders. "We are very anxious about getting our citizens back to work."
It's been almost a month since Inslee first issued his order, which included a
mandate that all nonessential businesses close
. Since then, almost
600,000 people across the state have filed for unemployment benefits
while the number of confirmed COVID-19 infections and deaths reported daily across the state has
slowly begun to decrease
after peaking in early April.
In Spokane County, the tally of confirmed cases has continued to inch upward. As of Tuesday,
315 people tested positive for the virus
in the county.
Local officials are taking the trends as a sign that Spokane County is in a good position to safely reopen the regional economy.
"We feel that we are in a position where we can be more flexible in how we open our economy in Spokane especially. Our economy is based on small businesses, they are the blood line of our workforce and we have many industries that have been out of work," said Spokane Mayor Nadine Woodward on Wednesday. "We feel like that curve has been flattening, we are leveling off, and we are in a good place to start having the discussion of what it looks like to open up our businesses again."
However, Inslee stresses that the state needs two perquisites before it can begin fully reopening: Developing a rapid-response "contract tracing" workforce that can find people who have been in contact with infected individuals and have them isolate, as well as significantly increase daily testing capacity. While he says that the state expects to cobble together roughly 1,500 contract tracing workers by early May, the state needs to be conducting closer to 30,000 tests per day. Currently, that daily rate is around 4,000, Inslee says.
"The simple fact is that the nation is sorely lacking test kits," he says. "In Washington, we have more lab capacity then we have test kits and a
lack of supplies
from keeping everyone from getting tested who should be."
"We're still struggling with some of the [test kit] supply chain issues," said state Health Officer Kathy Lofy during a call with reporters.
Spokane officials have long called for Inslee to allow residential construction. In early April, both local mayors and the Spokane County Board of Commissioners sent letters to Inslee calling for him to permit homebuilding, citing the region's low vacancy rate and housing shortage.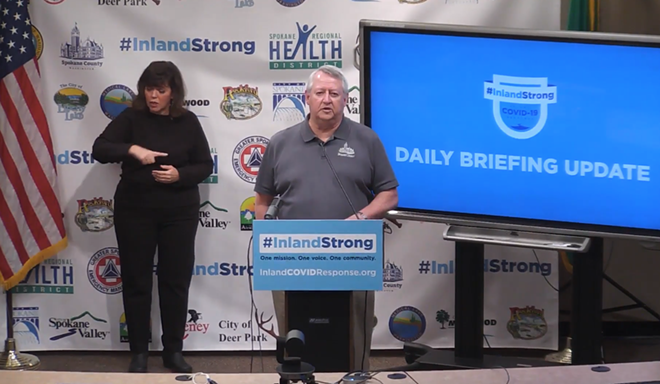 We need our homebuilders to get back to the business of building homes," French says. "We need them back to building that capacity in our community."
David Postman, Inslee's chief-of-staff, said during the Wednesday media briefing that the Governor's Office has been in regular communication with construction industry leaders and labor representatives since early April about protocols to operate safely amidst the COVID-19 pandemic. He said that state officials are "feeling pretty good" that construction workers will be able to "operate in a safe manner and not contribute to the spread of the virus."
Some Spokane-area officials argue that Inslee shouldn't take a one-size-fits-all approach to lockdown measures.
"All of the elected officials on this side of the state have been trying to communicate to the governor is that we are not the Puget Sound," French says. "To have us measured and bench marked based upon the success or failures of the Puget Sound area we don't think is fair to this region or the citizens."
But state officials counter that universal measures are needed to prevent people from congregating in regions where the lockdown is less severe — and subsequently risk spreading COVID-19.
"If activity starts decreasing throughout most of the state but we still have a couple areas where there's still a lot of activity, are those folks going to be traveling around the state and infecting people from other communities and starting up outbreaks again?" Lofy says. "That's one of my concerns from the public health perspective."
"We are going to have to steel ourselves against this virus for quite some time," Inslee says. "We have to be prepared for it to come back in waves."
The governor and state officials are also trying to push back on rebellion in some corners to the state to his stay-home order. On Tuesday, officials in Franklin County moved
to reopen local businesses
, slamming Inslee's order as unconstitutional, while the Snohomish County sheriff announced on Wednesday that he
won't enforce the order
.
The Governor's Office sent a letter to the Franklin County commissioners on Wednesday morning defending the legality of the order, according to a news release.
"It is disappointing when elected officials promote illegal activity that puts their community's well-being at risk," a joint statement issued on Wednesday from Inslee and Washington state Attorney General Bob Ferguson reads. "These orders are legal, and they are working. Do not be misled by local officials who encourage you to risk your health and violate the law."