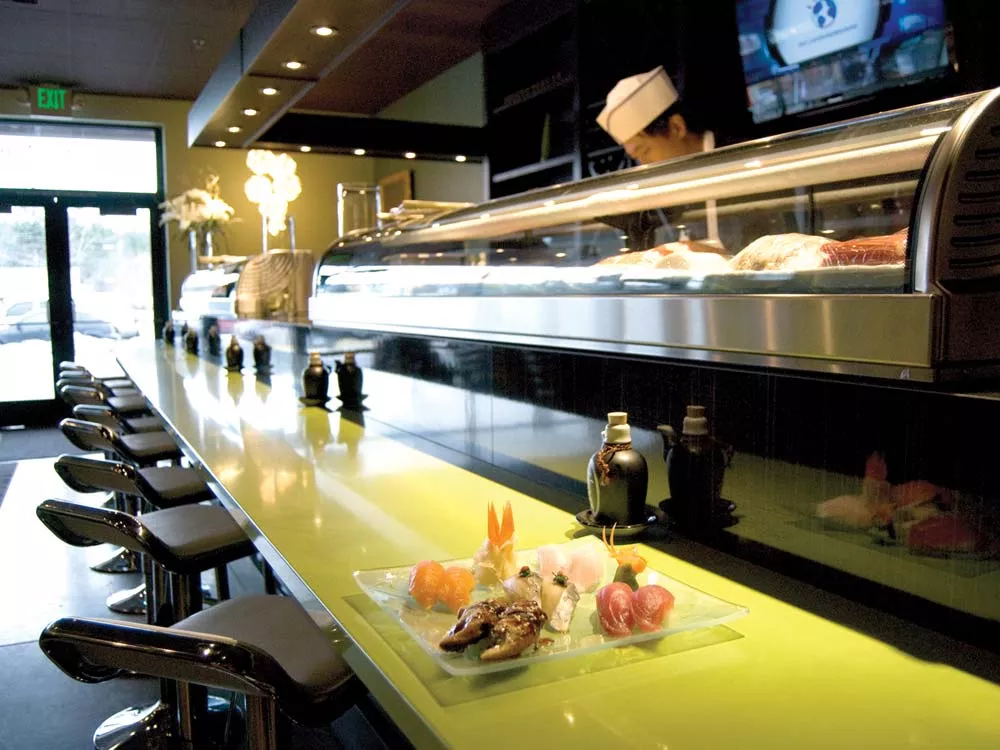 It felt jarringly incongruous last Saturday, walking from the blue-gray tarmac-scab of big-box North Spokane into the ultra clean, intimately lit WASABI BISTRO AND SUSHI BAR.
On the right, bench seats in bright, light green mimic a gleaming bar of similarly effervescent color running along the left. Beyond is the sushi bar and between are bar stools padded in white leather and tables in a mock dark wood with a pronounced wood grain.
Walking to our seats felt like taxiing down a runway of electric lime, as though we'd taken off from Sheboygan and landed in Shibuya. The Gonzaga game playing above the bar was the only thing that suggested we were still in Spokane.
Good sushi begins with an economy of motion. Chefs can spend their careers crafting movements designed to deliver the right amount of fish and the right amount of rice (prepared with the right proportions of sugar, salt and vinegar) to the mouth at the right moment and temperature to maximize flavor.
Good design has economy as well. French writer Antoine de Saint-Exupéry once said, "A designer knows he has achieved perfection not when there is nothing left to add, but when there is nothing left to take away."
On both counts, Wasabi achieves stylish restraint as well as any place in Spokane.
Soaked in sugar water and dredged in sesame, the delicately vinegary seaweed salad ($4) was one of a number of appetizer-sized options that we found confusingly inexpensive. The scallion pancake, with its rich plum sauce ($2), was another.
Less confusing was the orange peel chicken, which offered fried nuggets in a delicately flavored sauce. That one earned its $11 tag. The sushi dinner ($16) with its six-piece tuna roll and chef's choice of six more was unvaryingly fresh. Beside the complementary miso, which was slightly over-salted, every dish we tried was well-seasoned and memorable.
The word "Zen" gets over applied when talking about both Asian culture and modernist design, but here it's dually apt. To eat at Wasabi is to be cradled by the kind of calm that arises, when it does, only from clarity and simplicity of purpose.
One could worry for this place, though, sticking out as it does like a well-manicured thumb on a hand of gnarled fingers. The strip mall that houses it stands half-empty, and the food sources around it skew toward potato starch and ground beef.
But alongside the worry travels a suspicion that if Wasabi can draw people in, they won't want to leave. For, when one does tear oneself away, it's hard to not want to immediately go back. (Luke Baumgarten)
Wasabi Bistro and Sushi Bar • 10208 N. Division St. • Mon-Thurs 11 am-9 pm, Fri-Sat 11 am-10 pm • 290-5573

---
Rolling in Dough
When Morgana and Joe Walker hit the jackpot at Northern Quest in January 2009, they didn't buy a Ferrari or get away to Europe. They started a bakery.
"My husband put $20 in a slot machine and hit almost $60,000," says Morgana Walker. After paying their bills and student loans "in one big check," the Walkers used their leftover cash to free Morgana from the corporate world and set her on a new career path.
"I love to bake," she says. "I have no training but my dad always had a business, so I kinda grew up hearing about a lot of hours and hard work. I thought never in my wildest dreams would I own a small business."
In July 2009, she bought a café off of North Monroe Street. After months of remodeling and red tape, she opened J-WALK BAKERY & BISTRO, in October 2009.
The neighborhood bakery has a French flair, with chalkboard menus and eclectic, black furniture. The kitchen space and adjacent seating room are homey — burnt-orange accents, exposed brick walls, distressed hardwood floors. At certain hours, the space smells like fresh DOMA coffee and gooey chocolate chip cookies.
The breakfast menu features staples like ham-and-cheese quiche ($4) and a bacon-and-egg breakfast panino ($5). J-Walk also offers bigger and better versions of lunch standards: The Greek wrap is smeared thick with hummus and feta ($6.50), and a creamy pesto spread slathers the cheese panini ($6.50). Walker will even make a sandwich on focaccia bread for you, if that's what you desire.
"The menu is flexible," Walker says. "We'll pretty much make customers whatever they want."
What the courthouse clientele wants, apparently, is sweets. Walker bakes throughout the day, producing a mouth-watering array of giant chocolate chip and peanut butter cookies ($1.75) and lemon-blueberry scones ($1.75).
The peanut butter cookie is devilishly good. Chocolate cookie dough hides a gooey peanut butter center that's baked right into the core of the cookie. Fresh from the oven, it is a decadent flavor mix of hot chocolate, sugar cookies and spoons full of peanut butter — all in one.
"I know we can't compete with the selection at Rocket Bakery, but everything is truly made from scratch. I use real butter and real eggs. I make everything how you should make it at home."
Walker and her devoted following of customers (including her husband) say the prize money was well-spent.
J-Walk Bakery & Bistro • 917 W. Broadway Ave. • Open Mon-Thur 6:30 am- 5pm, Fri 6:30 am- 3pm • 326-6475