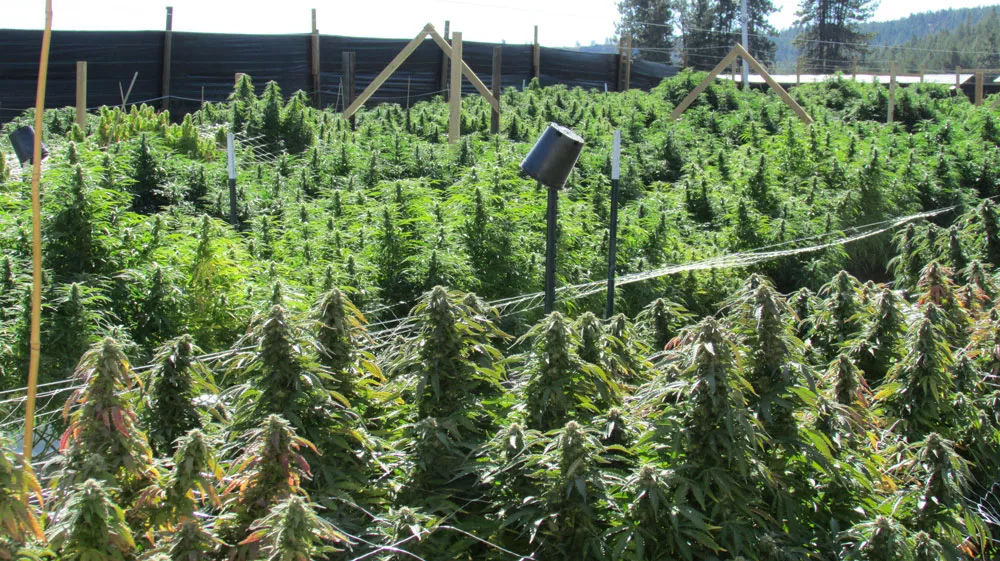 In a forest outside of Spokane, there's an old barn. In a previous life, it served as storage for organic potatoes. Today, the barn is used to grow and process marijuana.
"We had 1,200 [marijuana plants] outside at one point, and then I think 150 inside," says D.J. Parker, the general manager and co-owner of Buddy Boy Farm, one of 255 licensed and active marijuana producers in Washington.
Business has been brisk for the state's licensed marijuana producers in Washington. Since July, Buddy Boy Farm has sold more than $900,000 worth of marijuana, according to records released by the Washington State Liquor Control Board. From that, the state of Washington collected nearly $200,000 in excise taxes.
Statewide sales totaled more than $67 million, and the state has collected more than $16 million in excise taxes from marijuana producers, processors and retailers. But law enforcement officials say there has also been an increase in illegal grows in Washington state, including on public and tribal lands, and the price of legal marijuana is often two to three times the cost of illegal products.
Knowledge of Washington's taxes and regulations can be the difference between a legal, successful marijuana business and bankruptcy, experts say.
"We don't judge the suitability to run a business," says Mikhail Carpenter with the Washington State Liquor Control Board. "We determine whether they are qualified or not to obtain a license."
During the past three months, in an effort to understand the state's burgeoning marijuana market, we followed Buddy Boy's marijuana from harvest to shop to consumer. For producers and processors like Buddy Boy Farm, it's a brave new landscape of taxes, regulations, and – in the end – the potential for big, big sales.
Grow Master from Marc Wai on Vimeo.
At harvest, family, friends and a lot of marijuana
It's mid-November and the outdoor harvest at Buddy Boy Farm is nearing its conclusion. Workers fill plastic tubs with the marijuana and joke that they will smell like pot for the rest of the day. The mood is relaxed, unlike the frantic pace of the early harvest in September.
"The labor was a lot more than we thought, so we had to bring more people in," Parker says. "We'd go through all the rows pruning, and by the time we got to the end, it was time to go back and go through them again."
This year, Buddy Boy Farm grew more than 70 different strains of cannabis, and the harvest yielded 1,100 pounds of marijuana. In Washington, the price of weed varies by the strain, the quality, and the level of tetrahydrocannabinol, or THC, the active ingredient in the drug.
The marijuana grown by Buddy Boy Farm contains some of the highest levels of THC in the state – and it's far above the levels found in strains popular in the 1970s and '80s.
The face of the farm is Steve Walser, an organic farmer with 40 years of experience, a handlebar mustache and long gray hair that reaches his shoulders. A drawing of Walser, wearing a Hawaiian shirt and Bermuda shorts, is the Buddy Boy Farm logo.
Buddy Boy Farm isn't Walser's first experience with marijuana. Walser says he dabbled in marijuana growth briefly in the 1970s and then again when medical marijuana became legal in the state.
"It's kind of fascinating how it develops," Walser says. "I always told Margaret Ann [his wife], if they ever legalize this I am going to plant 10 acres, because this is just fun. So, when they legalized it, we applied and, what do you know, we got a license."
Walser says he uses organic methods to grow his marijuana, but because the drug is still illegal federally, his product isn't officially organic.
"We never use any products that aren't certified organic," Walser says.
While Parker oversees day-to-day labor, Walser spends his time considering the big-picture questions – taxes, regulations, marketing. Michael Amtoft Jr., referred to as the growmaster on the Buddy Boy website, quietly tends the plants.
"My plants are like my kids, kind of, in a weird way," Amtoft says. "I have a lot of free time. I don't have a family. I'm single, no kids, 36 years old. Most people my age have that."
Amtoft says he gained his experience growing marijuana for medicinal use, and reading anything text he could find.
"I had a love for it, I found," Amtoft said. "I fell in love with growing."
After harvest, the business prepares to process, packing and distribute the marijuana.
Processing and packaging, one gram at a time
The ceilings of the barn are high and the walls are thin. It's nearly as cold inside as out. Workers use tiny scissors to trim the buds from the central stalk to prepare them for the automatic trimming machine, a rotating metal tumbler that removes the smallest remaining leaves from the bud.
The marijuana is spread on drying racks and cured for two weeks. Then workers package thousands of one-gram vials of marijuana per day, Walser says. Buddy Boy also offers packages as large as four-grams.
"Primarily, I'd say because of the tax structure, the selling units are relatively small to keep the price point from being astronomical," Walser says.
Taxes, licensing and regulations all add expense to legal operations, Walser says.
At each spot, the state takes its cut. For example, say a consumer spends $15 – including sales tax — on the purchase of legal marijuana; the state's taxes will depend on the price of the product as it moves from producer to processors to consumer, according to Carpenter, the spokesman for the state's Liquor Control Board.
The state might collect about $5.25 on such a sale, although, again, the tax varies based on the price the producer charges the processor, the processor charges the retailer, and the retailer charges the customers.
The regulations can be confusing and costly as well. Seemingly small tasks, such as labeling, can be time-consuming, Walser says. State regulations require the product to be tracked and labeled multiple times throughout the process of growing and packaging, which adds costs that are then passed on to the consumer.
In the end, consumers who buy marijuana legally may pay two to four times the price of illegal marijuana.
From a barn in Spokane to a shop in Pullman – and beyond
Outside the barn, the marijuana is loaded into two trucks. Each truck features a single, lockable, metal box with a canopy that conceals it from view. Legally, it has to be bolted down for transport.
Those trucks are destined for more than 20 shops across the state.
"We hit a lot of shops on one run," Walser says.
One destination for these trucks is MJ's Pot Shop in Pullman.
MJ's Pot Shop, owned and managed by Mary Jane Smith, opened in early October carrying Buddy Boy strains, which include Kandy Kush, God's Gift, and Blue Dream. Originally, a gram cost $36.75. The cost has dropped recently, to about $28 per gram. Walser says the prices came down as more producers received their licenses and entered the market.
"I suspect we are reaching some kind of equilibrium," Walser says, "but I'm not sure of that."
Still, Smith says she gets a steady stream of complaints about the price of legal marijuana.
"It's always going to be that way," Smith says. "I don't think it's going to get any lower, and that's because of taxes."
Even though Smith can't compete with street prices, she says business is still good.
"We are slowly building the client base," Smith says. "There are more and more people going 'Oh, yeah, it is legal.'"
For Nathan Nicol, a Washington State University assistant clinical professor of philosophy and MJ's Pot Shop customer, smoking marijuana is an attempt to relax.
"I mostly use it to try and call it a day," Nicol says. "I have an office full of nervous students all the time."
Nicol says he puts up with the higher price because he can have confidence in the product.
"Even when you are buying from people you know on the street, you don't really know where it's coming from," Nicol says. "I never really liked that feeling of 'Life is like a box of chocolates.' I like that feeling of knowing what I am going to get."
This article was provided by Murrow News Service, which is produced by journalism students at the Edward R. Murrow College of Communication at Washington State University.