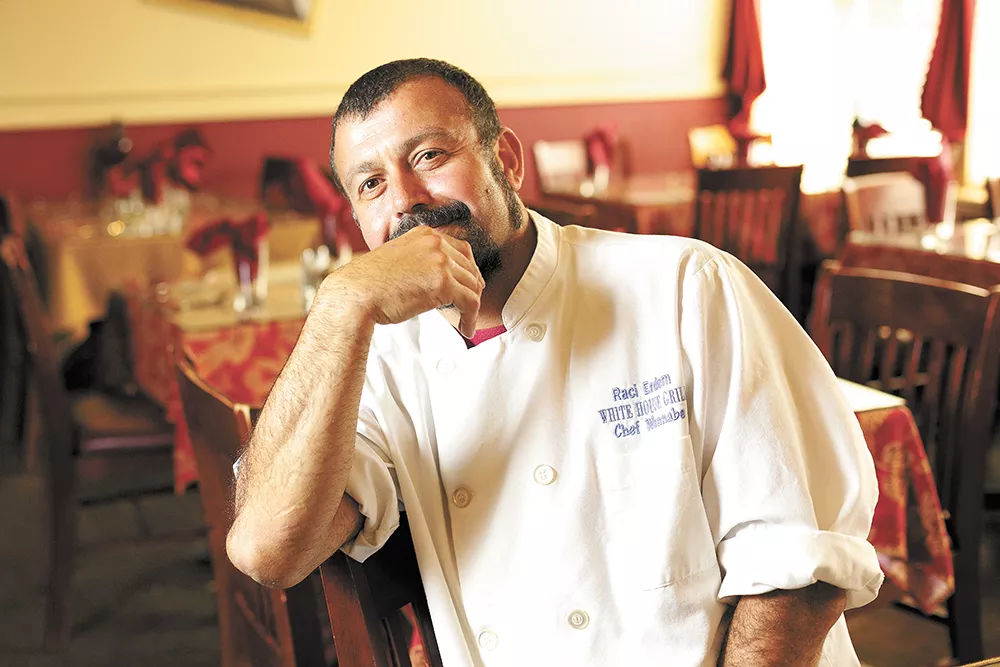 Ask Raci Erdem to talk about making koftë, a ground meat dish, and the conversation is as much about kitchens and customers as it is cuisine and culture.
"It's not just the food," says the affable Erdem, who started the White House Grill in 1996 and is known for spontaneously playing the hand drum as he moves through the Post Falls restaurant. "I've been very passionate about the restaurant business."
Before moving to the northwest, Erdem lived in New York City, a recent arrival from Istanbul, Turkey. He worked fixing carpets, and when a friend found him a job serving coffee at a Turkish restaurant, Erdem had an epiphany. The food, the money, the atmosphere. This is what he wanted.
"From that day forward, I promised myself I would never, ever be in any other business other than the restaurant business," he said.
The White House Grill menu tracks back to Erdem's first restaurant job, although some roots go deeper.
Every city in Turkey has a version of koftë, says Erdem. One such city is Adana, which protects its iteration of the dish in the same manner as the proprietary French Champagne; one must be certified to make "true" Adana kebabs with a particularly seasoned mixture of ground lamb, formed onto a long, flattened iron skewer and grilled. Flatbread soaks up the flavorful fat as the meat cooks, and is also used to wrap and serve the cooked meat, similar to a Greek gyro.
Greek and Turkish food, says Erdem, isn't all that different.
"One of the funniest things that people will ask me is, 'Is baklava Greek or Turkish?'"
He'd say Greek or even Mediterranean, because it's more familiar to Americans, especially Northwest diners. Sometimes it's difficult to trace the origin of a dish, he says.
"The countries there — in the Middle East — they live together over 500 years under one empire." Mixing cultures means mixing eating and cooking habits, he says.
Erdem serves two variations of koftë: beef and lamb. He calls his beef dish Bahce, an inside reference to his favorite Turkish soccer team, Fenerbahçe. It's made with chunks of onions and seven to eight herbs, such as sumac, a distinctly tart flavoring found in a range of Middle Eastern and Mediterranean cuisine, including Adana kebabs.
He grinds fresh lamb to make Sarma or lamb koftë. This allows him to control the quality and the fat ratio — fat usually equals flavor and is essential to holding the meat together during grilling — and ensures zero waste. He seasons the meat with cayenne, cumin and ground onions (readers should note: this is one of few dishes not laden with garlic at this famously garlicky restaurant), then forms it onto a skewer and grills it.
"We've been doing the same koftë for 19 years, and every time we make a new batch," he says. "A piece goes on the grill before it goes to the customer. It's tasted." That, he says, ensures that the dish is always prepared correctly.
Of all the items on their menu — souvlaki, Turkish cigars (spinach and feta wrapped in phyllo and lightly fried), grilled sea bass — the koftë is most like what you'd find in a traditional home: an economical comfort food. Like American meatloaf.
His father, says Erdem, was a teacher, "and like every teacher in the world, they were not well-paid," so koftë was a typical meal, even for large gatherings.
"You can bring 50 friends, you can barbecue koftë, they all would love it, and you didn't pay $500 on steaks. Made right, it's as good as steak." ♦