With the world upside down as we witness terrorist activities across the globe, huge federal debt at home and political turmoil in our institutions of government, it's tempting to look at the world negatively — to assume that America will never get better; that our younger generation is unprepared for future governing. But as one of many who received Christmas cards this past holiday season, with photos of families, summaries of 2015 activities and reports of future endeavors, one must have hope that America's future is in good hands.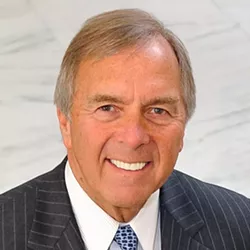 Christmas is a season of giving, of seeing the bright side of life, of family gatherings to express love and support for one another. The young especially enjoy Christmas. The lessons of this holiday abound in movies and literature, too — Dickens' A Christmas Carol and It's a Wonderful Life and Miracle on 34th Street all have heartwarming, hopeful messages. It's a time when we should overlook day-to-day pettiness and be encouraged by the goodness of others. Charitable donors to the Spokesman-Review Christmas Fund are evident each Christmas as individuals and corporations give generously to the less fortunate, not because they have to, but because they want to.
Young and old donate their time to worthy causes because Spokane is a giving community — one that sees needs and responds to help solve them. The Vanessa Behan Crisis Nursery has thrived in Spokane for nearly 30 years. Volunteers show up graciously to hold in their arms potentially abused children, tenderly providing the love such children desperately need, hopefully breaking the cycle of abuse. The Spokane Guilds' School has, for years, served children with physical handicaps; dedicated staff members there simply want to help children who struggle. The Shriners Hospital gives kids with physical deformities a chance at a normal life. Wounded Warriors and other similar organizations help wounded veterans cope as they return to civilian life from battles that help the rest of us stay free.
The children whose Christmas photos grace our homes are the next generation of leaders. They come from fine families, are either seeking education or have finished it, embarking on upstanding careers and raising their own children in the fashion in which they were raised.
That's good news for generations that are witnessing turmoil in presidential politics this season. As we ask ourselves, "Are the candidates before us the best America has to offer?" we're reminded that our younger generation is watching and waiting for its turn to lead, all the while judging examples that fill the news. On the Democratic side, its likely candidate has an honesty problem, if national polling is any indicator. On the Republican side, the current leaders in the polls are either dogmatic or rude — or both — raising the issue of whether any of them deserve our vote.
It's often convenient to compare this generation of youngsters with past generations and find them wanting, but I've found the current generation of young people to be outstanding — smart, motivated and principled — individuals of whom we can be proud. Certainly there are examples of troubled youth, but many of them are being failed at home, without parents who model behaviors that are worth emulating. Those young people need mentoring and compassion.
Perhaps those destined for future leadership can serve as examples for those who struggle. Education is the key to their future success. Those who seek to learn deeply about a chosen profession or better understand the world and those from other lands are the ones who will establish the values that will continue American democracy and freedom for future centuries. And they're in our midst. We need look no further than the holiday cards we receive to see America's future.
It's a bright future, filled with smiling faces reflecting sound values, happiness at home and recipients of the security that brings confidence to our future generations.
The next time you hear someone lament America's future or criticize the behavior of young people, recall the Christmas cards you received in 2015 reciting family activities, marriages, children born, trips taken, memories made. Have faith that those coming behind us will carry on the traditions they experienced growing up and lead our nation at home and abroad with the dignity, happiness and qualities we observed in their Christmas pictures and notes. It's a future filled with goodness, excitement, leadership and peace.
As we enter 2016, let's remember that Christmas spirit of hope, reflecting the enduring lessons of a baby born more than 2000 years ago. ♦