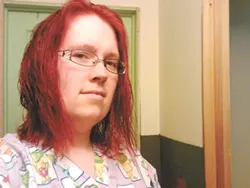 The death of Sheena Henderson, a tireless mother and phlebotomist at Deaconess Hospital who patients requested by name, might have been avoided.
In the summer of 2014, Sheena Henderson's estranged husband, Christopher, fatally shot her at the Rockwood Cancer Treatment Center before turning the gun on himself. By that point Christopher Henderson's mental health had been deteriorating for months, according to news accounts of the tragic incident. In fact, in May of that year, Sheena Henderson called police to report that her husband was suicidal. Police found Christopher Henderson armed in a van, and persuaded him to give up his gun.
Later, on July 7, 2014, a co-worker also reported hearing Christopher Henderson talk of suicide and called police. Deputies determined he wasn't a threat, and Christopher Henderson picked up his gun from the police later that day.
The next morning, he killed Sheena Henderson and himself.
Questions swirled over how such a tragic incident could have been avoided. Gov. Jay Inslee signed the Sheena Henderson Act less than a year after her death. The law requires police to notify family members, at their request, when releasing guns seized in relation to domestic violence or suicide prevention cases.
However, Sheena Henderson's father, Gary Kennison, is cautious about throwing his support behind a statewide initiative on the ballot this November. Initiative 1491 would create an "extreme risk protection order," enabling family members, roommates and police to petition for a court order preventing a person alleged to be a danger to themselves or others from possessing or purchasing firearms.
"The first thing we gotta do is address the root cause of this problem," Kennison says. "If a person has threatened or attempted suicide, it should be automatic that their gun rights are suspended temporarily until they've had the proper medical treatment, and a doctor can say, 'I don't believe he or she is a threat.'"
Kennison says he's supportive of the effort in theory, but cautions that the new law could give potentially vindictive family members too much authority to infringe on constitutional rights.
The National Rifle Association, one of the initiative's biggest opponents, agrees.
"Initiative 1491 will be ineffective as it targets the tools but not the problem," reads a statement on the NRA Institute for Legislative Action website. "If a dangerous person is committed, he gets treatment. If he is arrested, he might be detained pretrial or at least monitored. ... Nothing happens, however, to a person with an [Extreme Risk Protection Order] except the seizure of the person's firearms."
The law would allow judges to order mental health evaluations, but they are currently not required to do so. In the case of a vindictive family member, the law also imposes a penalty for providing false information.
The Washington Alliance for Gun Responsibility, the biggest supporter of the initiative, also worked to pass I-594, an initiative that expanded background checks to private gun purchases, in 2014. The organization argues that families and police need some degree of power because they are often the first to notice signs of suicide or the potential for violence.
Supporters say the initiative is as much about addressing suicide as it is about addressing firearm homicides. Nearly 80 percent of gun deaths in Washington state are suicides, according to 2013 research by Washington State Health Services on behalf of the state's Office of Financial Management.
The initiative provides a list of evidence that family or police would be required to present to the judge, which could include a recent threat of violence against themselves or others, mental health issues, a violation of a previous or existing protection order, domestic violence conviction or substance abuse, among others. The law would also allow judges to issue a temporary order before a formal hearing. The hearing must then be scheduled within 14 days. If granted, the order would go into effect for up to one year. ♦