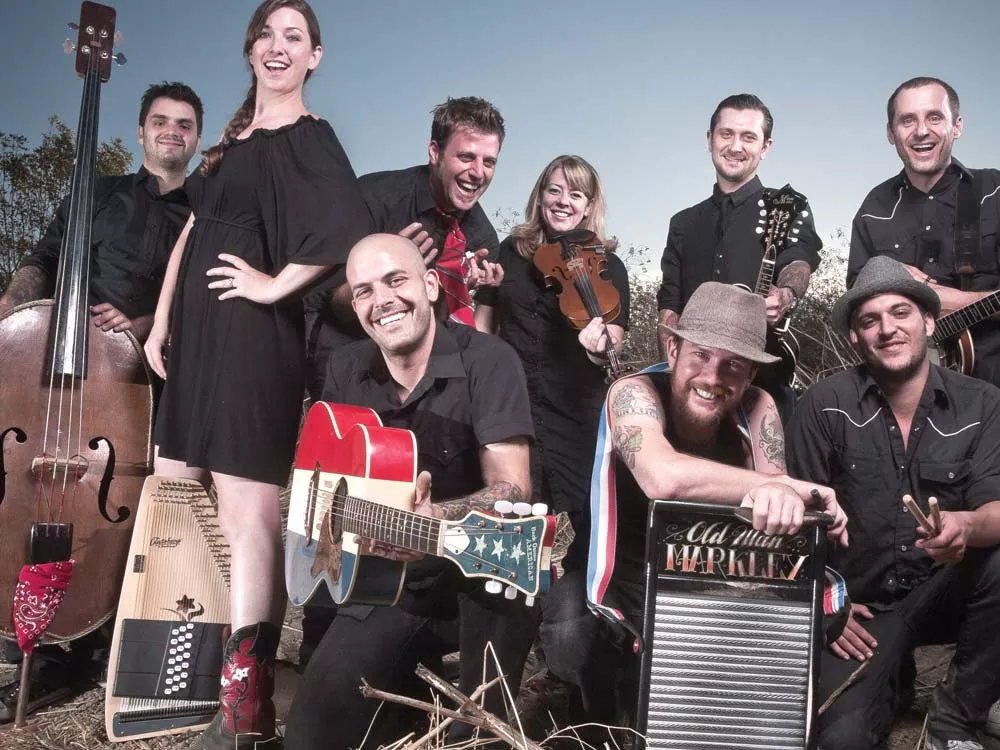 Men with neon-colored mohawks were doing do-si-dos on the dance floor. A man with a homemade washtub bass stage-dove into the crowd. And when it was all over, the bar was out of beer.
The spectacle? An 11-piece bluegrass band called Old Man Markley — complete with red, white and blue striped acoustic guitars — was playing a sold-out show in 2008 with legendary punk bands Guttermouth and Youth Brigade. And the punks were loving it.
"People didn't really know what to do or how to react to us," says Joey Garibaldi, bass player for Old Man Markley. "We hadn't really played a show before, and it was like dating someone for six months and then finally taking it into the bedroom."
The band call themselves punk-bluegrass. They formed one night in 2007 when a banjo, piano, autoharp and mandolin found themselves in the right set of hands, under the right level of intoxication.
Since then, the band has signed a record deal with Fat Wreck Chords and shared the stage with such legendary acts as NOFX, Flogging Molly and Bad Religion. Their line-up includes a combination of punks from the L.A. scene and folkies from the San Fernando Valley.
"I would say it's a pretty even balance of musicians," Garibaldi says. But he's quick to point out that this band isn't a traditional bluegrass band – not like Bill Monroe, the founder of bluegrass music.
"There's a very fine line between bluegrass and punk," he says. "Traditional bluegrass is very specific … and we're not that. If we played with a regular bass, distorted guitar and drums, it would be very much like punk rock."
Their efforts led to the release of their 2011 debut album, Guts 'N Teeth. More Americana than old-timey, the tracks are polished, with restrained string accompaniment on the banjo, fiddle and mandolin. Johnny Carey is a charismatic front-man and former punk singer who has sucked on throat lozenges long enough to make his voice tawny-smooth but still a little tattered around the edges.
"We're still figuring it all out as we go," Garibaldi says.
"When we're arranging music with the full band, it's fun to build so many different sounds on top of everything."
Today the band is riding on the momentum of their album and insistently touring in a converted Seattle City transit bus. Garibaldi describes their concerts as a rowdy, ass-kicking good time for people with dancing shoes and drinking mouths.
"I guess I like the idea that we're not really bluegrass and not really punk," he says. "There's no right or wrong way to do it. It's just music."

Old Man Markley plays with Cooper McBean, Whiskey Dick Mountain • Mon, March 21, at 9 pm • Aclub • $5 • 21 • aclubspokane.com • 624-3629