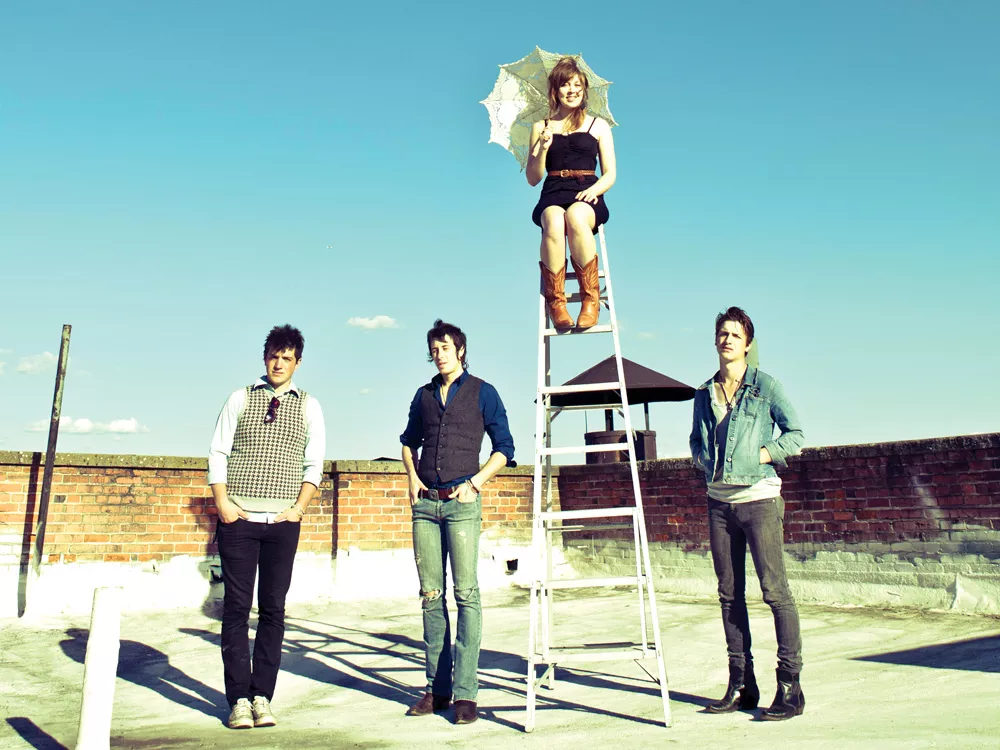 After all they've been through, after all they've seen and all they've done, the Horse Thieves are finally ready to talk. Metaphorically speaking, the band tells everything they've experienced in the past year — the bad deals, the faulty relationships, the listlessness, the loss of hope — on two albums: a debut and a sophomore record. And they'll release them both on the same day.
The Spokane quintet, led by singers Marshall McLean and Adam Miller, chronicles a year in the life of the Horse Thieves on Outlaw Ballads and Valley of Decision.
Outlaw Ballads, the "debut" album, was written after the band holed itself up at Miller's family ranch in Elk, Wash., during "one hard winter" last year. The result is a snapshot of where McLean and Miller — the band's primary songwriters — were at "mentally and spiritually at the time," says McLean, who was struggling to get out of a contract for his work as a solo musician.
"We were having that age-old conflict: Do you stay, do you go, do you go back?" McLean says. "We felt like outlaws from real life. We were trying to deal with these real problems that the people around us didn't really understand."
The album's song titles alone tell a story: "Travelin' Man," "Ignorance is Bliss," "Trouble."
But within the lyrics, the band talks of moving forward while learning from the past. Still, it seems that they can't help but look over their shoulders at a string of long-gone yesterdays. The old days have sugared with time.
The Thieves flirt with the classic outlaw archetype, too, kicking off the record with the stomps, hallelujahs, and amens of "I Am What I Am." They talk of "playin sinner," chasing demons and grabbing "that devil by the tail."
Across horizonless landscapes of rolling snare drum, plinking guitars and piano, each member singing, the band constructs a sound that is distinctly Northwest: rock music infused with a Western twang and restrained, deliberate folk. These outlaws don't feel much like bad guys in spurs; they're nomads, thinkers, worriers, muses — heartbreakers who've had they're hearts broken and are wandering as far as they can from the pain.
McLean remembers the exact moment his mind shifted out of the darkness that inspired Outlaw Ballads.
"I was camping back in May, and I felt like that was the night I made the decision to get out of my [contract]," he says. "I stayed up all night and watched the sun come up and sat by the fire and just made this decision."
And suddenly, McLean says, he and Miller had an outpouring of inspiration for new music. Their burdens were behind them, the wanderlust was gone.
"And all the songs poured out at once," he says.
The band emerged from the fog and found Valley of Decision, an album no less obsessed with myth and allegory. But this one, written "during one American summer," as the band explains in the album's liner notes, explores new ideas. By summer, the band had added Miller's brother Jordan to the band, along with drummer Tiffany Stephens.
"[The album] has some more synthetic elements in it," McLean says. "We explored the abilities of the new members we had."
Valley of Decision came out less alt-country than Outlaw Ballads but still drives home the point that this band's lyrical roots are anchored in reflection and rejection. On "I Won't Keep You," keyboardist Fawn Dasovich kicks herself, singing "I always knew loving you was bound to come to this/ Don't they say the good times never last?"
While the Thieves try their hand at Shins-type alt-rock here and there ("Walking on a Wire"), the band never strays too far from it's straight-from-the-heart sound, like each song is just a raggedy-edged journal page ripped from their collective diary.
And so the Horse Thieves present to the world not just two albums, but a double-record story — of who were they were, what they've learned, and where they've ended up.
"We definitely have enough material for a third album," McLean says, "but I think we need to promote these two [first]."
The Horse Thieves Double Album Release Show with Betty and the Boy • Fri, Oct. 21, at 8 pm • Bing Crosby Theater • $12, presale; $15, door; albums free with admission • All-ages • thehorsethieves.com • (888)-71-TICKETS