Jody Piper's old band was touring in Phoenix when his drummer's cigarette accidently met with a pointed gust of hair spray. In a flash, the dressing room lit up. Piper's heightened hairdo was on fire.
"I'll never forget that moment," says Piper, now frontman in Piper's Rush, a Rush tribute band. "In a puff, most of my top hair was gone."
As far as 1980s metal bands went, Rush's hair was relatively tame, only long and slightly coiffed (they did start off in the late '60s, after all). Piper, a music scene veteran who's always had a penchant for Rush songs, works hard to get that Geddy Lee look, just as he strives to emulate his high-pitched wail. This weekend, Piper's Rush plays a Hair Metal Mayhem show at the Big Dipper along with Van Halen tribute group Vain Halen, another band that never had the highest hair compared to some glam metal groups. In order for these '80s tribute acts to look the part, they have to commit to the hairstyles and get the onstage persona just right.
Like it or not, the '80s are coming back. And it's not only about fashion choices (shoulder pads, neon colors, high-waist jeans) or even TV shows like The Goldbergs, which follows a kid growing up in that decade, or the Fuller House reboot (the original began in 1987). Current pop music hasn't been immune to the '80s either, as evidenced by the proliferation of synthesizers.
The hair itself was no easy task to achieve in the '80s. As a member of a hair-metal band back in Seattle, House of POp hair salon owner Douglas McCoy has firsthand knowledge of what it took to get that hair sprayed to high heaven.
"All those looks take texture," he explains. "The only way to get that amount of volume was to perm it first; every one of those guys had to have a perm. Then you power-dried it without brushing it, and then you'd have to go through it with an iron. Then you got it heightened and stretched, and hairsprayed the crap out of it. This could take an hour and a half."
McCoy points out that big hair is making a comeback, albeit in a modernized way, with large curls and waves on the sides, not the top of the head. But some folks aren't as into the change.
Local musician Dirk Swartz isn't embarrassed by his '80s shoulder-length haircut. Sometimes there's the occasional snicker. One time, he got called Joe Dirt by some kids.
"I understand that I'm a stereotype of a day gone by," Swartz says.
Recently part of a band called Big Hair Revolution, Swartz has moved the '70s/'80s cover band aesthetic to his groups Gladhammer and Smash Hit Carnival. He prides himself in singing like almost every male singer on the charts during that period, and says that between both bands he books about 100 shows a year. He's not part of the only group working on that level. Spokane's Blistered Earth is a Metallica tribute band that transports audiences back in time, while Seattle's Hell's Belles, an AC/DC tribute group, plays to a packed room when they roll through the Knitting Factory at least once a year.
Vain Halen has been together about four years, and frontman Matt Smith calls his band a midlife crisis. He says that Van Halen changed his life when he was young, but back in the 1970s and '80s, he was always a Levi's-and-T-shirt kind of guy. Now the classically trained guitarist suddenly has an interest in going big, growing his hair out. He says the shows, including the one on Friday, are what make it all worth it.
"People smile, people get into it," Smith says. "Back then, it was real and people connected to the music. At the shows, they get off their ass and they come to the dance floor, and they love it."
Jody Piper has the last word:
"Spokane is a metal and avant-garde-music type of place, but I think the kids need to know where the rock came from. I'm hoping to show them how fun it was back then and how exciting it can be today." ♦
Hair Metal Mayhem feat. Piper's Rush and Vain Halen • Fri, July 22, at 7:30 pm • $8/$10 day of • All-ages • Big Dipper • 171 S. Washington • bigdipperevents.com • 863-8098
---
Hairstyles of the 1980s rock era
We've all had bad hair days, and 20 years from now we'll probably all be laughing at our current haircuts, but it seems the '80s was an especially crazy time for hairstyles. Here are some of the most entertaining looks: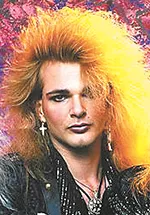 Poison Drummer Rikki Rockett shows off the side tidal-wave look.
KISS Gene Simmons continues to rock his top fountain half-ponytail, which he didn't have for much of the '80s.
Jon Bon Jovi This hair, piled so high, is "Livin' on a Prayer."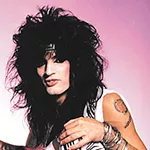 Mötley Crüe Drummer Tommy Lee made 18th-century French court hairstyles cool again.