W
ith the biggest Marvel properties still
cooling on the windowsill and the latest animated juggernaut waiting in the wings for next week, we're settling into the strange on-again, off-again that is late summer movie season. Save for a few jolts of adrenaline courtesy of Quentin Tarantino and
Hobbs & Shaw
, there's not all that much to look forward to between now and September, unless another
Angry Birds
adaptation piques your interest.
2019 is a little more than halfway over, so I'm already starting to mentally piece together my year-end top 10 list. And since a majority of the year's Hollywood blockbusters have been duds, I'm looking back on some of the best indie and arthouse movies I've seen in the last six months, all of which would be welcome counterprogramming to all those big-studio monopolies. Don't expect to see any Avengers here; we figured they didn't need any more hype.
(All films are available to rent on iTunes, Amazon and YouTube unless otherwise noted.)
3 Faces
Iranian director Jafar Panahi has been banned by his government from making films because of his supposed political leanings, but he's managed to clandestinely shoot and release four features since his 2010 arrest. In this latest, Panahi and actress Behnaz Jafari, playing versions of themselves, travel to a remote village, searching for a young girl who sent them an apparent suicide video. Like his 2015 pseudo-documentary Taxi, Panahi here blends reality and fiction in increasingly canny ways, and there's a sharp sense of social commentary right beneath the surface. Streaming on Kanopy.
Ash Is Purest White
A novelistic sweep defines this gritty neo-noir, which gives way to a heartbreaking character study grounded in the shifting social climates of modern-day China. Director Zhangke Jia lets his story unfold deliberately, which will either strike you as absorbing or too slow. I found it to be the former, a pensive study of 15 years in the life of a gangster's moll (played by Jia's wife and frequent collaborator Tao Zhao), who is imprisoned for a spell and released into a city she barely recognizes. Available on digital platforms July 16.
Everybody Knows
Asghar Farhadi, also from Iran, is one of the world's finest filmmakers, specializing in piercing character studies that unfold like thrillers. This Spanish-language melodrama stars Penelope Cruz as Laura, who returns to her childhood village near Madrid for a family wedding and is reunited with a lost love (Javier Bardem). There's a kidnapping and a mad search for a ransom, and Laura must confront the secrets of her past to get to the bottom of the mystery. It's not up to the standard of Farhadi masterpieces like A Separation or About Elly, but it's still guided by confident artistry. Streaming on Netflix.
Fighting with My Family
Although this crowd-pleaser did OK business during its theatrical run, I think it's still relatively underappreciated. After all, it's pretty remarkable that writer-director Stephen Merchant could take such a predictable (albeit fact-based) sports-movie formula and imbue it with such good feeling, much of which is courtesy of his cast. Florence Pugh, recently seen in Midsommar, plays real-life WWE champ Paige, totally convincing in her progression from blue-collar obscurity to unlikely wrestling stardom. And then there are the wonderful supporting performances by Nick Frost and Lena Headey as her endearing parents, Vince Vaughn as her tough coach, and Dwayne Johnson as his toothy, charismatic self.
Hail Satan?
Everything you always wanted to know about the Satanic Temple but were afraid to ask: It's all here in Penny Lane's quirky, funny and surprisingly thoughtful documentary about an ideological troll-job that turned into a genuine political movement. It's tempting to laugh at these people — like the early works of Errol Morris, the film looks askance at a bizarre subculture and still manages to find humanity within it — but you'll find yourself thinking, "Those Satanists have a good point" more than once. Available on digital platforms July 16.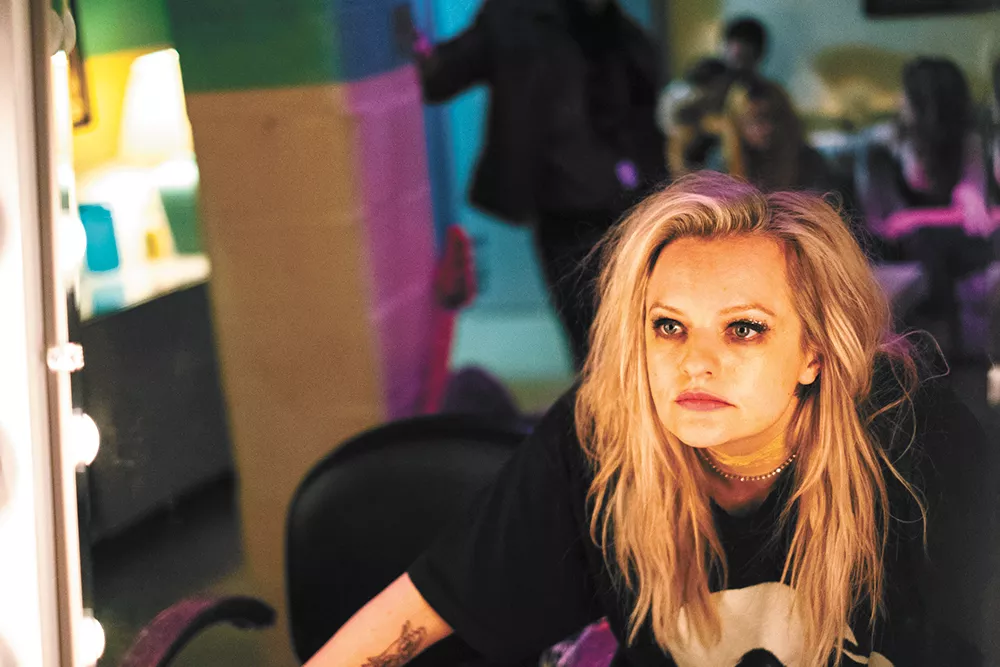 Her Smell
I love this movie. You very well may not. It's about a '90s riot grrrl musician named Becky Something (Elisabeth Moss), who has hit rock bottom and is circling the drain of her short career. Over the course of five disconnected vignettes, we look on as she drives away her loved ones and bandmates, descends further into a pit of addiction and, eventually, tries to claw her way out. Deliberately alienating and harrowing, writer-director Alex Ross Perry traps us in close quarters with a repellent personality and then forces us to reconcile with her behavior. It's a riveting and unapologetically raw depiction of excess, anchored by Moss' superb performance. Your mileage may vary. Streaming on Kanopy.
High Life
And speaking of challenging. This sci-fi head-trip courtesy of Claire Denis (Beau Travail, White Material) is easily the most austere, quietly haunting film I've seen that also contains an outrageous amount of bodily fluids. It's set aboard a spaceship headed toward a black hole from which it may not return, and its crew of convicts (including Robert Pattinson, Mia Goth and Andre Benjamin) finds itself under the control of Juliette Binoche's mad, sexually repressed scientist. Things get pretty weird — and pretty brutal — from there. Fans of David Cronenberg, take heed.
The Hummingbird Project
You'd never think that underground fiber optic cables could be so exciting, but The Hummingbird Project treats its tech-heavy premise with the breathless zeal of a jewel heist. Jesse Eisenberg and Alexander Skarsgard star as cousins who are ejected from the world of high-speed finance trading, and decide to overstep legal boundaries and install a miles-long underground cable that will give them the world's fastest access to the stock market. Their former boss, a cutthroat executive played by Salma Hayek, doesn't appreciate the competition. Trust me — it's way more involving than it sounds.
Knife + Heart
A French riff on giallo, the Italian slasher-whodunit genre defined by its outlandish violence and nightmare logic, this bizarre pastiche concerns a masked murderer who targets performers in the gay porn world of 1970s Paris. Hyper-violent and hyper-stylized, it's overheated with garish colors and costumes, and driven by a sensual synth score by M83. Perhaps more than any other film on this list, its admittedly niche audience is the narrowest. But if this sounds like something you'd dig, you probably will. Streaming on Kanopy. ♦