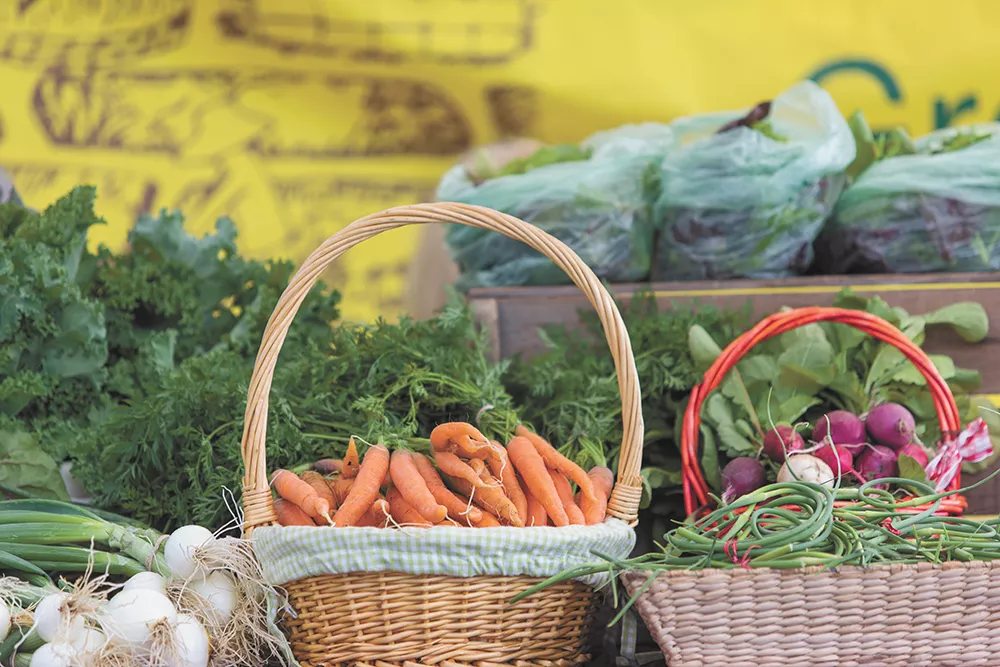 Before trucks, trains and airplanes started transporting food to us from all areas of the world, it was the norm to eat produce grown only a small distance away.
"It used to be that all the food people ate was local and seasonal because we didn't have the interstate highway system or refrigerated railroad cars," says Karen Kinney, executive director of the Washington State Farmers Market Association.
Kinney recalls growing up near her grandparents' farm, seeing farmers with their own stands or selling directly to little local food stores. Over the past 30 years or so, an increasing number of farmers have come together to sell at farmers markets as we know them today — tents and tables lined up in streets or parking lots.
The WSFMA began in 1979 with four farmers markets; the organization now has 112 member markets and counts about 160 total in the state, says Kinney. Nationwide, the USDA's National Farmers Market Directory lists more than 8,100 markets, up from about 5,000 in 2008, according to the U.S. Department of Agriculture. The structure of markets tends to vary. Many are nonprofits, but some are owner-operator private businesses. Others are sponsored and run by local governments.
And the markets continue to evolve. More and more farmers markets around the state, including in the Spokane area, are accepting not only debit and credit cards but EBT cards as well. In the past few years, farmers markets have begun experimenting with being open for a longer season and trying out winter markets, Kinney says.
While farmers markets in Washington aren't required to be part of WSFMA, the Spokane-area markets are Emerson-Garfield, South Perry, Millwood, Liberty Lake, West Central and Spokane Farmers Market. WSFMA provides training, education and networking for its members and does policy work on issues that affect farmers. It also holds members to a set of guidelines beyond local health department laws. Markets must agree to not have commercial or franchise businesses, and any vendor reselling a product must label it as such.
"It's focused on owner-operators and producers. People selling need to be making what they're selling," she says. "It's promoting transparency, and ways to make sure shoppers have the type of info they need to know what it is they're buying for their families."
From personal experience being involved in farmers markets for 17 years, Kinney says farmers markets have become an increasing trend in recent years not only for healthy eating, but also for the experience.
"It's being able to go to the market and sample and buy cherries, peaches, nectarines, sweet peas, blueberries and lettuce that you want to keep eating," she says. "The food there [is] grown to be picked at peak freshness, and it's like, it doesn't get better than that. It sets a wonderful standard for how good food can be."
It's also about talking face-to-face with farmers, learning about the growing process and rekindling a relationship between humanity and farming that goes back thousands of years.
"There's something grounding about going to a farmers market," says Kinney. "It satisfies the need to be connected to the earth." ♦