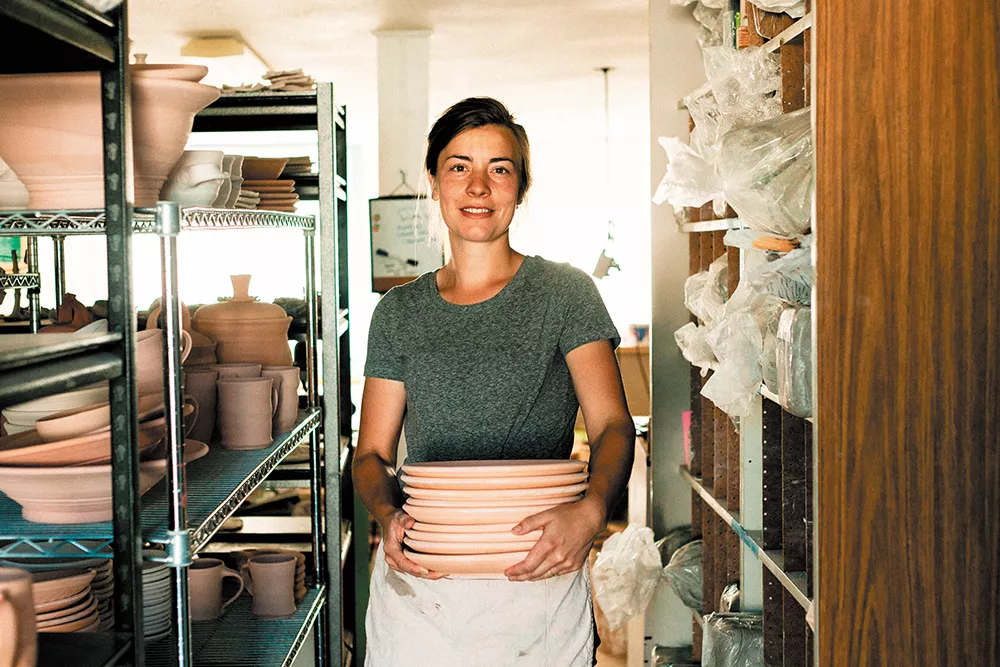 Move over, Fiestaware: There's something prettier for our tables. KJ Pottery, a pottery dish line crafted in Spokane by artist Kelsey Jo Johnson, is rapidly gaining traction locally and across the country, as customers place their orders for the handcrafted pieces.
A simple style, with clean lines and colors, is her signature, although Johnson didn't set out to make it that way.
"I am still in the process of discovering my style and my work," she says. "This style happened to me naturally, as I tend to appreciate a more simple aesthetic. My work changes me and I change it. I just try to do my part and be present for the work at hand."
Being present includes putting down roots in Spokane, making it her home and business headquarters. In 2012, Johnson moved to Spokane from Colorado to finish her undergraduate work. Like many before her, she was captivated by the beauty of the area, and never left.
"I am very happy to call Spokane home," she says. "I always tell people that Spokane is a great place to be in the creative business. I've felt immensely supported by the arts and small-business communities of Spokane."
The majority of Johnson's sales are e-commerce orders from her website, Etsy and Instagram, but an increase in local support is the catalyst for her moving her shop to the Garland District in August 2017. "I'll be working and selling in my new space, and I'd love for people to come say 'Hi' and introduce themselves," she says.
Johnson introduced her artwork to the community in 2014, and has been busy at the potter's wheel ever since, working in a medium that captures her mind and passion.
"I love working with clay because of the ancient tradition of the craft," she says. "I am drawn to pottery because of its functionality. Ceramics and clay are elements that were born from the physical necessity to eat and drink off of clean and durable wares. I love this about pottery. It's functional, but it also engages with aesthetic and craft."
Engaging clients with aesthetic and craft is something Johnson plans to embrace moving forward: "I'd like my business to continue to grow, sure, but I'm more concerned with my growth in the craft. I'd also love to see more artisans emerge locally and, consequently, more local support and involvements in those business ventures."