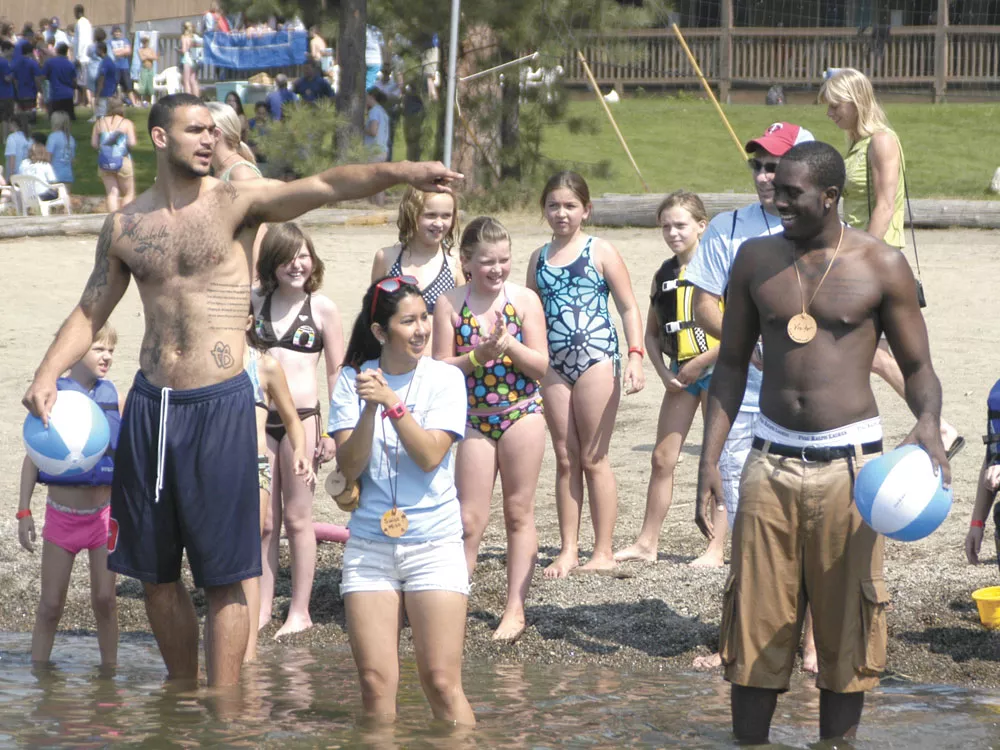 Sam Molen looks like a normal 15-year-old kid at summer camp. He's wearing swim trunks, colorful braided bracelets and a nametag on a lanyard with "Sam" scrawled on it, as well as all the years he's attended camp.
On the backside, there's one word: "Survivor." Molen was diagnosed with Hodgkin's lymphoma seven and a half years ago. That marked the first time that he and his sister spent a week at Camp Goodtimes. They've been back six times since. Each summer, Molen and about 130 other cancer patients, survivors and their siblings and friends travel to the Ross Point Camp in Post Falls for their own summer camp experience.
"It's really easy to blend in here. There's a lot of stuff to talk about that you don't get to with normal people," Molen says. "We can share stories about when we were in the hospital and when we were sick. You can both relate to the pain and how exciting it is to be told that you're cured or you're in remission."
The free camp, which is an American Cancer Society program, accepts children (ages 5 to 17) from Washington, Idaho, Montana, North Dakota and Oregon, and covers flight costs for those who live far away. Campers enjoy the usual summer camp activities — swimming, fishing, kayaking, arts and crafts — but also have access to 24-hour medical attention from nurses and oncologists, says Camp Director Kari Allen. (The campers know her as "Kool.") It's a getaway for kids facing some of the most trying events of their life, and no parents are allowed, Allen says. It's about being a kid, not a kid with cancer.
"It's like my traditional camp experience when I was a kid — that camp feeling of 'It doesn't matter, we're just here together,'" Allen says.
The Spokane chapter of Coaches vs. Cancer, chaired by Gonzaga men's basketball coach Mark Few and his wife Marcy, provides a large portion of the camp's funding. The group's annual golf tournament and gala (held later this month, on Aug. 27-28) is the main fund-raiser for the camp; guests can sponsor a camper for $500. The event collects between $60,000 and $120,000 for the camp each year, Marcy Few says.
Along with fund-raisers like the gala and the Gonzaga Coaches vs. Cancer game, the Fews and a handful of GU players visit the camp each year. Molen doesn't watch the Zags play throughout the year, but he does look forward to "Zag Day" each summer.
"I'm not a big basketball fan, but I just think it's cool that they take time out of their day to come have fun with us and see what this camp is," he says.