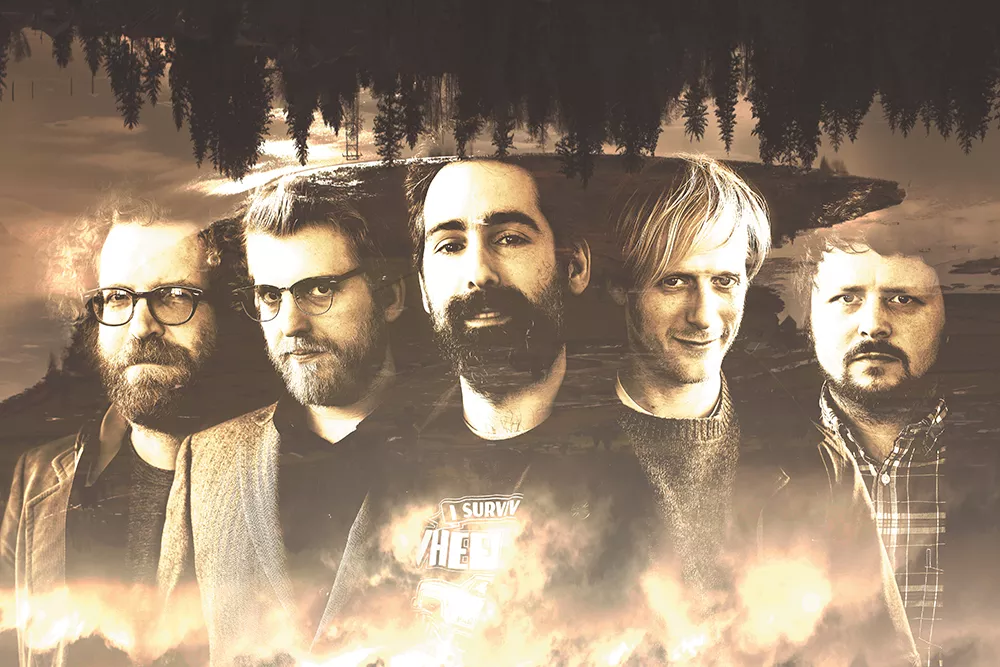 Eric Earley seems a bit blue. He's heading up toward Duluth, Minnesota, in Blitzen Trapper's Mercedes-Benz Sprinter van, and the lead singer-songwriter keeps coming back to the fact that his band isn't making truckloads of money.
Earley talks about how they used to ride in the high style of tour buses for a year and a half. Then that got too expensive. There's a solo album he's been working on for a while, but thanks to finances, he's not sure it will see the light of day.
Blitzen Trapper started out in the Portland music bar scene in 2000, and toiled there for most of the decade. The idea of making it big was always there when Earley and much of the band moved to Portland from Salem, Oregon.
"I never was really good at that dream. It took me a long time to get out and tour," he says.
It took until 2007 for the band to nab its first tour slot, opening for the Hold Steady. Everything seemed to move at warp speed after the release of 2008's Furr, named No. 13 on Rolling Stone's Best Albums of 2008; its title track was No. 4 on the magazine's Best Singles list. They toured the world with their idols, like Stephen Malkmus and the Jicks and Wilco, released more albums and rubbed shoulders on TV with late-night talk-show hosts.
These days, Earley says he doesn't put much stock in what magazines have to say. Last October's highly Americana-sounding release VII was by no means a universal critical favorite (although the album is still worth a listen).
"I don't really care too much, 'cuz now we make our money playing live shows," he says. "Word of mouth is more important. People don't buy the records anymore. The live show is what makes people care about your band."
Recalling the first show the band ever played, which wasn't under the Blitzen Trapper name, Earley says they had quite a psychedelic flare. "There was a lot of hippies and drugs, and I don't remember it very well myself," he admits.
Over the years, their sound has advanced considerably, if not dramatically, from psychedelic rock to indie folk to something along the lines of Americana rock.
"I like to build on what we've done before; we never go in a bizarre direction," Earley says. "I want to keep changing, and keep doing something a little more unexpected."
In August, the five-piece will finally be done touring for a month. Earley will have a moment to clear his head a bit, relax, doing everything he enjoys most.
"I spend a lot of time on the river. I go hiking and fishing," he says. "I try to be in the woods as much as possible." ♦
Blitzen Trapper with Lonesome Shack • Sat, June 21, at 8 pm • All-ages • Sold out; limited ticket release online Friday • The Bartlett • 228 W. Sprague • thebartlettspokane.com • 747-2174