L
argely due to massive wildfire seasons
in recent years, Spokane County has work to do to improve the number of days with high particle pollution in the air, according to an annual report card released by the American Lung Association this week.
From 2017 through 2019, the years covered for
the report card
, Spokane's number of days with high amounts of fine particle pollution continued an upward trend that started in about 2014, for which the association gave the region an F. However, the region gets a passing grade for overall particle pollution throughout the year.
The fine particles, created by combustion engines and burning, can cause health issues for anyone on days when there are high enough quantities, and are particularly harmful to people with asthma and other underlying health conditions.
"Three of the last five years, smoke from wildfires has had a significant impact on our summer air quality. With drought-like conditions in the western United States, I am concerned that our area, like so many other areas, will continue to see air quality impacts from wildfires," says Julie Oliver, executive director of the Spokane Regional Clean Air Agency. "Therefore, it is important that we continue to prepare as communities and as individuals for more smoke."
The Spokane Regional Clean Air Agency notes that most wildfires (80 percent or so) are caused by people. Some of the simplest steps to take to combat the issue include:
Make sure that campfires are properly extinguished
Never throw cigarette butts out the window (or litter in general)
Don't park hot vehicles on the grass
Make sure trailer chains don't drag on the ground causing sparks
Clear the perimeter of your house of pine needles and yard waste
Check current and forecasted air quality conditions
Have a plan in place with your health care team if you have pre-existing health conditions
Adhere to burn bans
Report illegal burning
Have an evacuation plan in place.
Other than that, state and federal agencies are addressing forest health. The Washington State Department of Natural Resources in particular has laid out a 20-year forest health plan meant to address millions of acres of under-managed forests through targeted logging, trimming and controlled burning, in an attempt to prevent fires in years to come.
"It's taken decades for forests to reach their current conditions and it's probably going to take decades to return them to more resilient conditions," says Lisa Woodard, spokeswoman for the Spokane Regional Clean Air Agency. "A lot of agencies are working on ways to mitigate these large, catastrophic fires."

OZONE AND IMPROVING AIR QUALITY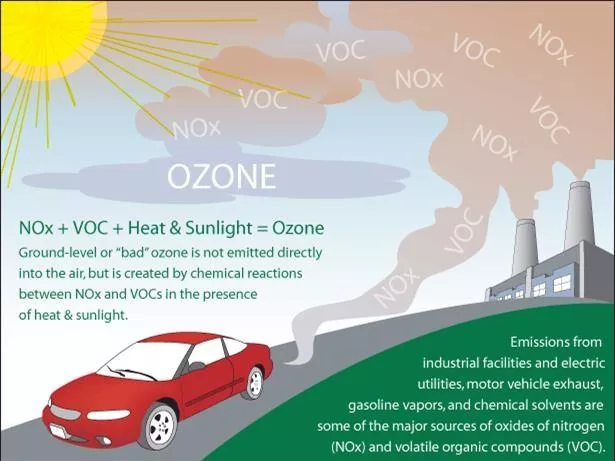 Believe it or not, it was only recently that summer became the bad time for Spokane's air quality due to particle pollution. It was previously typical to see those unhealthy days more often in winter, when people's wood stove burning increased, and weather inversions held the particles around in stagnant air, Woodard explains.
For a long time, Spokane was out of compliance with federal health standards for things like carbon monoxide and particulate matter in those colder months.
"We were in non-attainment for all of the '70s, '80s and '90s. We got into attainment officially in 2005," Woodard says. "What got us there was a combination of efforts."
From improving car technology that decreased pollution from transportation, to requiring cleaner wood-burning devices, the agency has worked to promote cleaner technology and practices to reduce harmful air pollutants.
But ground-level ozone has been steadily increasing, even as wildfire smoke has overshadowed it as an issue. Ozone is often a misunderstood pollutant, Woodard says, because many people have heard of its helpful qualities higher in the atmosphere, where it helps protect us from harmful rays from the sun.
But at lower levels, it is created when vapors from cars, gasoline, lighter fluids and other everyday items mix with heat and sunshine to react photochemically and make ozone, an element of smog that is harmful to people.
"It's the same ozone: it's a pollutant," Woodard says. "I heard a doctor describe it as giving your lungs a sunburn when you breathe it."
The county gets an average grade of a C for its ground-level ozone levels in the American Lung Association report card.
IS OUR AIR BETTER UNDER COVID-19?
It'll be hard to say for sure whether Spokane's air quality has significantly improved in recent weeks, as transportation was reduced when people were asked to stay home under coronavirus shutdown orders.
The clean air agency
notes in a recent post
that while transportation is absolutely down, other fine particle pollution sources such as outdoor burning and wood heating were up during the first few chilly weeks of the shutdowns. Still, there may be some improvement over that burning happening if transportation levels had remained steady.
Since transportation is the main source of ground-level ozone in Spokane, ozone pollution is almost certainly improving during the closures. But because the reaction requires heat and sunshine, the worst months for ozone tend to be in the summer. Because of that, the state doesn't test for ozone levels until May through September, so unless shutdowns were to occur or continue into the hottest summer months, it would be hard to compare figures from previous years, the agency notes.
However, if some of the behaviors started during this time continued, such as workers opting for more telecommuting and avoiding trips in their cars, the reductions could continue.
"While we would never downplay the detrimental, long-term effects of the COVID-19 pandemic, our current situation has forced us to make many behavioral changes that can positively impact the environment, many of which we might have thought were impossible or unreasonable, such as telecommuting or reducing our paper towel usage," the air agency writes. "Therefore, we should reflect on our behavioral changes and determine which ones are worth hanging onto."
This story was updated Friday, April 24 to correct the context of when Spokane had issues with carbon monoxide (it was not in the summer).