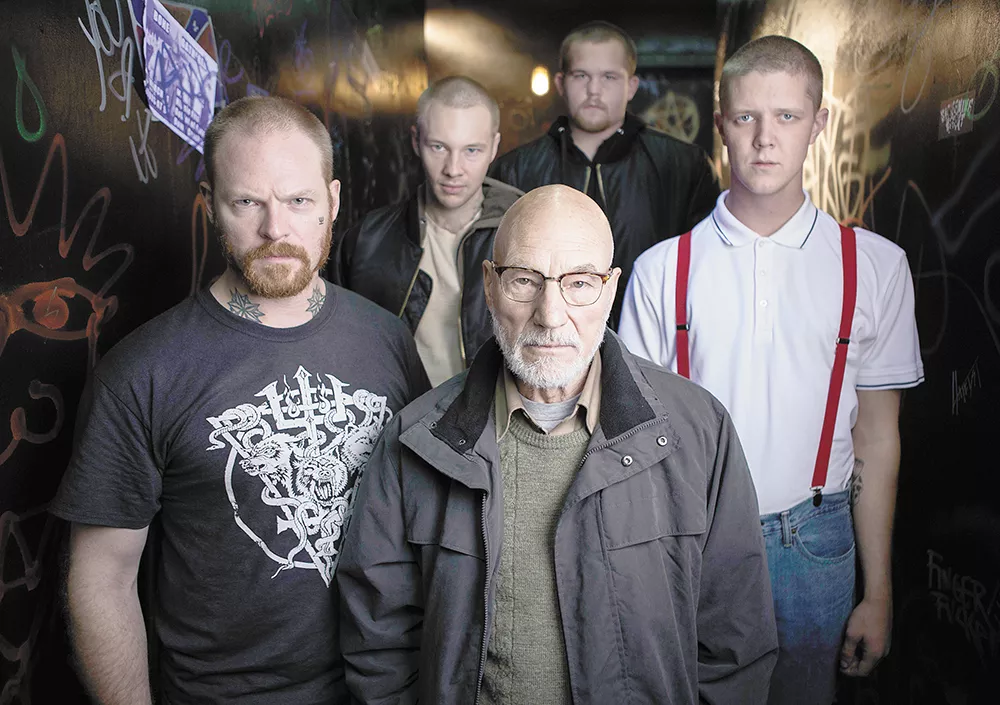 While Jeremy Saulnier's Green Room is a movie so unsettling and brutal that it almost feels cruel to recommend it, one of the most nerve-wracking moments comes before all bloody hell breaks loose. Our protagonists are a Washington, D.C.-based punk quartet called The Ain't Rights — Pat (Anton Yelchin), Sam (Alia Shawkat), Tiger (Callum Turner) and Reece (Joe Cole) — and they're playing an impromptu show at a rural skinhead bar in the Pacific Northwest after their original gig has fallen through. But, not content to take their money and get out of Dodge, they decide to poke their hosts — by playing a cover version of Dead Kennedys' "Nazi Punks F--- Off."
Green Room has gotten plenty of attention for Saulnier's chops at manufacturing pure, lowdown genre intensity, and that attention is certainly deserved. Yet while he takes an approach to his characters that is in many ways minimalist, this isn't exactly a movie where the warm bodies exist simply to be dispatched in creatively unpleasant ways. Buried in this crackling siege thriller is a story about kids posing at living on the edge, until they find themselves in a situation where they can see what the edge really looks like.
And it looks pretty awful once the members of The Ain't Rights make the mistake of walking back into the club's green room, just in time to see that a member of another band has been murdered. The club's owner, Darcy (Patrick Stewart), isn't about to have the club turned into a crime scene for a police investigation, since he's running a heroin-dealing operation out of the basement. The witnesses — including Amber (Imogen Poots), a member of another band — just can't be allowed to complicate things.
Much of what follows takes place in that room, as the terrified musicians come to realize that nothing good lies just outside their lockable door. Saulnier builds his claustrophobic horror in a manner reminiscent of movies from Assault on Precinct 13 and The Purge to this year's 10 Cloverfield Lane, depending on false starts and bold risks to avoid a sense of stasis. He also knows how to use his wince-inducing bits of graphic violence for maximum impact, finding watch-through-your-fingers uses for machetes, box cutters and attack dogs.
Saulnier also knows how to work the moments when he's not shocking the audience, displaying filmmaking gifts that have grown since his 2013 indie breakout Blue Ruin. He demonstrates some ruthless narrative efficiency in moments like capturing the passage of time by cutting from the opening five seconds of a song on a vinyl record to that same record with the needle in the runout groove. He's even bold enough to have Amber start talking about why she's a white supremacist, yet let those words serve merely as background noise while others search for a way out of the room, understanding that her backstory doesn't really matter.
That last example is just a part of Green Room's general approach to character development, which is unconventional to say the least. In some ways, the fact that the "villains" are white supremacists is irrelevant to the progression of the plot, except that Saulnier wants to make the antagonists scarily methodical rather than an ignorant, purely physical threat. At times, Stewart feels like an odd choice for the main heavy, proving less interesting than the club manager, Gabe (Blue Ruin's Macon Blair), who proves an enigmatic mix of true believer and pragmatist.
Green Room probably works best, however, because of the characters Saulnier places in that room. From the opening scene, in which we see their van having plowed through a cornfield because the driver fell asleep at the wheel, to their guerrilla missions to siphon gas so they can keep their road trip rolling, it's clear that The Ain't Rights are living their idea of a punk life. They'll tell an interviewer that their "desert-island bands" are Misfits and The Damned, but that's not the same story they tell one another when they're facing a terrifying new reality. Green Room excels as a horror movie that can jolt an audience out of their seats, but it's also about the horror of realizing that no matter how hard you might try to convince the world you are, there are things — and people — out there that are much harder. ♦