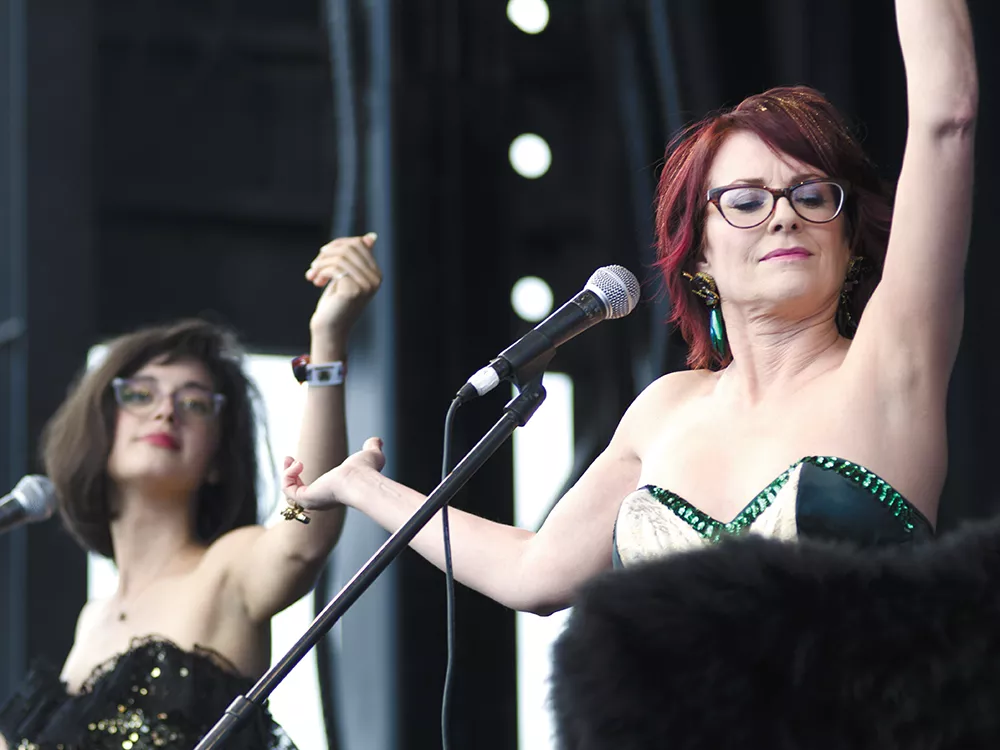 SHOVELS & ROPE
The first thing that made this band stand apart was when its drummer and lead singer told the crowd not to be "assholes." She chastised people for littering and spending too much time taking pictures of shows with their phones instead of watching them (two obvious and maddening trends at the festival). Then she rocked. This duo from Charleston, S.C. — Cary Ann Hearst and Michael Trent — played a sultry, bluegrassy brand of old-fashioned rock 'n' roll. With the chemistry of a couple (which they are) and the attitude of punk rockers, they had passersby stopping for more and me looking for where to buy their new album.
SURFER BLOOD
Festival lesson: Don't discount a band you've heard on the radio until you see the theatrics of its members onstage. In this case, that's Surfer Blood lead singer John Paul Pitts crowd surfing with cat whiskers painted on his face and an e-cigarette in his mouth. Um, what? The Florida band's reverb-heavy surfer rock played perfectly with a setting sun and a crowd of kids ready to dance their asses off.
INDIANS
At one point during Indians' set on Sasquatch's Yeti stage, a row of twentysomethings in daisy headbands and an old man with a white mustache and a Miller Light beer cozy were bobbing their heads in unison. That's because Indians' keyboard-heavy mix of folk and rock, reminiscent of Bon Iver, is mesmerizing. The combination of sweet vocals and instrumentals, ranging from trippy to sing-songy, was one that everyone could get behind.
NANCY AND BETH
Before Sasquatch, my only exposure to this duo was their cover of Riskay's "Smell Yo Dick" with mustachioed actor Nick Offerman. Hilarious? Yes. Something that'll become a staple of my iTunes library? Not so much. But the two actresses — Megan Mullally and Stephanie Hunt — put on a performance that was hilarious and also showcased a serious level of musical badassery. Before a captivated crowd, they sang and danced in sync to old country ballads and hits from the 1930s, '40s and '50s — all covers but reinvented with spunk and theatrics. The two seemed to be simultaneously making fun of the songs and having the times of their lives performing them. They've gone from a funny video I saw on YouTube to something I'll be coming back to for genuine boogieing.
ARCTIC MONKEYS
This is less a story of finding love than one of reconnecting with an old flame I'd forgotten was smokin' hot. This frenzied British rock band has always held a little space in my music library, but their music wasn't something I craved or woke up singing. That all changed when frontman Alex Turner led a set as night fell over the Gorge, stomping his leather shoes and spitting angsty lyrics, making me see the band in a whole new way. He seemed to be daring the crowd to stand still. We couldn't.