The demands and opportunities of the modern economy have certainly changed how companies headquartered in the Inland Northwest are created and what they offer, but the ones that take root are in some ways still defined by the region's unique sense of place.
Reel Cameras, for instance, launched in Coeur d'Alene three years ago with the aim of equipping the region's extreme sports enthusiasts with a user-friendly point-of-view sports videocamera. Their full-featured HD Slayer line rivals models by GoPro, the dominant player in the field, but they haven't felt the need to press beyond Montana.
"Whether we live in Seattle or Coeur d'Alene, we've all grown up with the water and woods around us where we can ski or snowmobile, wakeboard or surf," says Caleb Allen-Baker, who runs Reel Cameras along with his brother Chad and father Daniel. "We could probably get by selling cameras just in the Pacific Northwest."
Not all regionally based companies are as conscious of geography. PowerHandling CEO Greg Newell, an Australian-turned-Spokanite, estimates that only 2 or 3 percent of their roll-mover business takes place in Washington state. The rest is shipped nationally and globally via satellite offices in Belgium and Thailand. Tyrus Tenold, a co-owner of Spokane Industries, says that their massive metal casting and manufacturing operation only sells a small fraction of its products regionally. Yet that small fraction plays an essential part in supporting the Northwest's craft distilling trade.
One thing many of these companies share, regardless of their market niche, is a certain unassuming quality that comes from their quiet proximity. Their reach might be global, but to us, they're still the business next door.
Reel Cameras
POV sports video saw its popularity boosted by stunts like Felix Baumgartner's insane high-altitude jump in 2012. Reel Cameras designed their HD Slayer line to be affordable and intuitive without skimping on features. Their new fixed-lens WiFi camera, set to debut this year, will bring even more power and simplicity to their lineup.
Spokane Industries
As the name suggests, few industries go unserved by this leading manufacturer of castings and stainless steel fabricated products. In addition to developing solutions for mining, energy and aerospace, Spokane Industries also produces the beer and wine tanks that slake Washington's growing thirst for craft brewing and distilling.
PowerHandling
Although PowerHandling's roll movers look like thin upright vacuums, they're actually compact dynamos that allow one person to effortlessly move almost anything round. That includes spools of paper and heavy machinery — all the way up to 50-ton cable reels. A forthcoming product called the PowerPallet will broaden their portfolio and likely make inroads into big-box stores.
intelliPaper
At first glance, Spokane's intelliPaper looks a lot like other printing houses. The "intelli" part comes from the technology they embed in otherwise conventional business cards, magazine inserts and trade show handouts, allowing for easy data-gathering and interactive features. They've even devised a 100 percent recyclable USB thumb drive made of paper.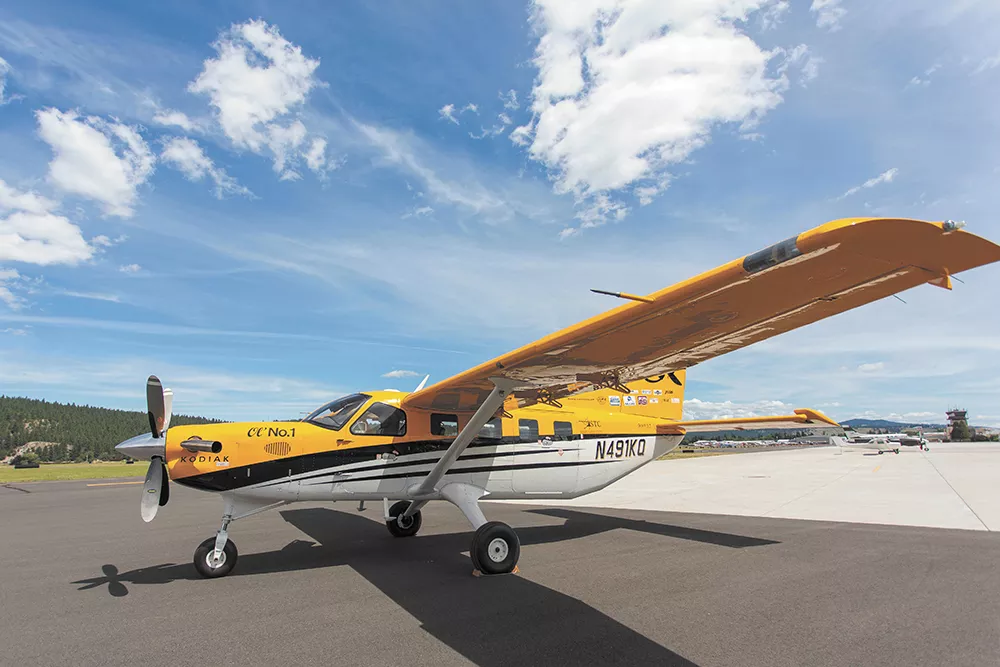 Quest Aircraft & Spokane Turbine Center
These two companies work together to ensure the success of missionary and humanitarian efforts in the most remote areas of the world. Headquartered in Sandpoint, Quest Aircraft builds the KODIAK 10-seat single-engine turboprop aircraft, famed for its versatility and resiliency in the backcountry. Fifty miles away, Spokane Turbine Center operates a high-tech simulator that trains intrepid souls to pilot the KODIAK. ♦