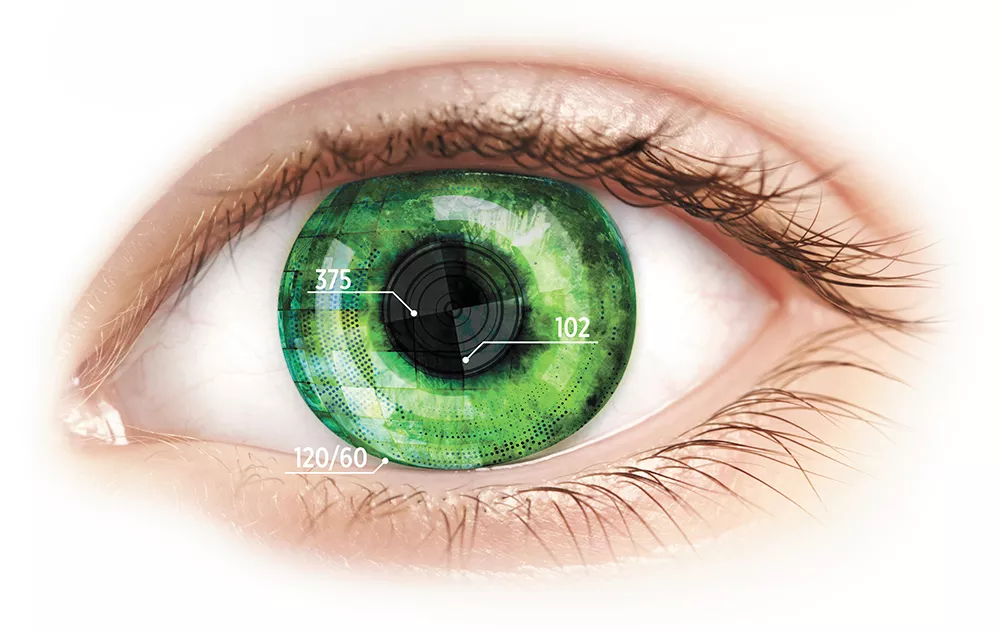 Eye-popping and potentially lifesaving wearable fitness and health monitoring devices are storming into gyms, hospitals, swimming pools, physical therapy clinics, living rooms, even boxing rings. We're talking contact lenses, shirts, strap-on monitors, tights, shorts, glasses, necklaces, bras and more that will provide real-time feedback and an array of data to help your body become all it can be.
With Star Wars-level accuracy, wearables allow athletes and coaches to fine-tune performance to the nth degree with real-time feedback and imaging, producing an array of tracking statistics worthy of Olympic trials.
Medical wearables give physicians and therapists new diagnostic tools to monitor patients, streamline therapy, and follow patients' daily routines like never before. There are wearables being tested, or currently on the market, that give people with medical conditions like diabetes and heart disease new ways to monitor their conditions and stay ahead of a catastrophic event.
Not all of the products reviewed here are on the market today, but just stand back: A whole new, wearable world is rushing at us at warp speed.
Breakthroughs for Diabetics
Diabetic patients are keenly aware of the need to constantly monitor glucose levels in order to maintain correct levels of insulin. Traditionally, this meant lancing a finger, transferring a drop of blood to a test strip and waiting a few seconds for the results.
Alcon, a division of pharmaceutical giant Novartis, is working with Google Inc. to create contact lenses that will eliminate all of these cumbersome steps. "Smart lenses" read the body's glucose levels in the eye's tear fluid, and via a wireless connection to a mobile device, send a message to the patient advising when glucose levels are low.
"In addition to giving the patient valuable real-time data," says Brett Hagen, O.D., with Garland Vision Source, "another exciting thing is the potential for the contacts to correct the diabetic patient's vision while meeting this important need." Hagen adds that smart contacts that will dispense medication to glaucoma patients are also in development.
Meanwhile, Spokane residents Adam Morrison and Kris Maynard have created Glucose Boost, a wearable, fast-response solution to the potentially devastating effects of a diabetic crash. Morrison, a former Gonzaga basketball star and two-time NBA champion, and Maynard, a Fairchild Air Force Base firefighter/EMT, are athletes and diabetics who have personally experienced the result of rapidly dropping blood sugar during sporting or normal life activity. So Morrison and Maynard have developed a necklace containing a supply of glucose gel that a diabetic can immediately access and rub on their gums when they experience a low-sugar incident.
"I look at this necklace as a type of medical alert with a solution," Maynard says. "Confusion and panic can surround a low blood-sugar incident, and friends and family want desperately to help. Glucose Boost is easy to use, quickly available and potentially lifesaving."
Maynard and Morrison have self-funded research and development of Glucose Boost, and are now looking for a company to help them bring the product to market.
Gait Monitoring
St. Luke's Rehabilitation Institute and Washington State University School of Electrical Engineering and Computer Sciences are currently using Shimmer, wearable sensors that monitor gait characteristics of stroke and multiple sclerosis patients.
Three 1- by 2-inch devices are attached to the patient's ankles and lower back with elastic bands and Velcro straps to log velocity, acceleration and displacement in real time, while the patient goes through various lifestyle simulations at the St. Luke's "community" — an expansive lab equipped with scaled-down replicas of everyday challenges for a stroke or MS patient, including a café, pharmacy, grocery store, the door to an STA bus, front cab of a sedan and an SUV; even the fuselage of an airplane, complete with seats.
The data is transmitted to the Shimmer's onboard memory, and can then be downloaded and forwarded to the patient's rehab team.
"This is a population that needs to maintain their mobility and their health," says Douglas L. Weeks, Ph.D., director of clinical research at St. Luke's Rehab. "Before wearable devices like this, most stroke patients were not studied until months after the incident, leaving a large gap in our knowledge about the specifics of what changed in their gait and activity patterns."
Mind Control
Two years ago, Johns Hopkins University Applied Physics Laboratory unveiled an artificial arm controlled by the wearer's thoughts and equipped with sensors implanted in the fingertips that send signals back to the brain, allowing users to feel sensations. Funded by the Pentagon's Defense Advanced Research Projects Agency (DARPA), the Modular Prosthetic Limb was showcased at this year's DARPA Technology Expo in Washington, D.C. Testing continues, and researchers predict that the limb will be available to amputees in the next few years.
Advances in Lung Disease Monitoring
Computer science, engineering and electrical engineering research scientists at the University of Washington are currently developing SpiroCall, a telephone device to measure lung function. Their target market is people with asthma, cystic fibrosis or other chronic lung diseases who live in the developing world and have limited access to health care.
Even though these patients may not have a hospital within hundreds of miles, they probably have a mobile phone. To utilize the technology, patients take a deep breath and exhale as vigorously and quickly as possible into the phone's microphone. The phone's mic senses sound and pressure from the exhalation and sends the data to a central server, which converts the data into standard lung function measurements and reports back to the patient.

Smart Heart Monitoring
Currently on the market, the Kardia, manufactured by AliveCor, allows the wearer to take a medical grade EKG (electrocardiogram) in 30 seconds, anywhere, anytime. The device attaches to the back of a smartphone or an Apple Watch, and when the wearer places their fingers on the device, it immediately produces a visible EKG on the phone's screen. Real-time heart activity can immediately be shared with the caregiver and physician. The Kardia also tracks heart palpitations, shortness of breath, dietary habits, sleep and exercise patterns.
"Kardia and devices like it democratize medicine by putting health monitoring into the patient's hands," says Ken Hughey, owner of DigiCor, the Spokane-based distributor of Kardia.
Also on the market now, the iBeat uses a smartwatch that functions as a heart monitor and an emergency response device to track heart activity around the clock. Minutes count in heart attacks, and quick action is known to save lives. When the iBeat detects a heart anomaly, it notifies the wearer within 10 seconds, and an alert is sent to their designated caregiver. If there is no response from the patient or caregiver, emergency medical services are called. The device also can be activated manually in an emergency such as a car accident, home invasion or fall.
Monitoring EKG signals and tracking lactate levels are two functions not normally combined in wearables, but the Chem-Phys patch does both. Communicating wirelessly with a phone or computer, it records physical signals such as lactate levels in real time. Developed by nanoengineers and electrical engineers at the University of California, San Diego, the flexible patch monitors both biochemical and electric signals. It's a cutting-edge training device as well as a tool to potentially manage individuals with cardiovascular disease.
Coaching Wearables
Fitness wristbands like Jawbone and Fitbit provide immediate feedback on cadence, heart rate, calories burned, sleep patterns and more, but now sophisticated fitness coaching wearables that do much more are hitting the market at prices that put them in the realm of everyday fitness aids.
Notch Interface started selling its $400 full body sensor to athletes and physical therapists this year. Wireless sensors attach to the body and use accelerometers, gyroscopes and compasses to record the user's motion, then relay that information in real time to a paired smartphone. As the coach, athlete or physical therapist watches the 3-D image of the wearer, poor form and posture is immediately apparent so modification can be addressed on the spot. Notch is also waterproof.
Into Your Psyche
Feeling a little down in the dumps? There's a wearable for that. Products like the Feel wristband use galvanic skin-response sensors to detect changes in skin temperature and conductivity to interpret your mood. If the Feel detects a downward spiral, it offers suggestions for ways to brighten the direction of your day and your interactions with others. For example, if yoga previously helped you combat a stressful day, the Feel gives you a prompt that your attitude is hitting the skids and reminds you that yoga was helpful in the past. Or the app might offer breathing and meditation exercises to put you into a sunnier mood.
Smart Clothes
From shorts to shirts to bras, fitness clothing has pole-vaulted into a new era of monitoring, feedback and tracking.
Supercharge your pants with Lumo Run, shorts with sensors that record running metrics and provide real-time audio feedback via an app in your headphones. Stride-by-stride, you can keep tabs on cadence, bounce, ground contact time, braking, pelvic rotation and stride length. Cost: approximately $99.
Eventually you may be able to save time and energy before you start competing with Hotpants, developed by Adidas for professional cyclists to warm up their legs ahead of an event. Hotpants are not yet on the market.
Ever wonder if all that lifting is actually reaching the targeted muscles? With the ability to detect muscle activity in addition to heart and breathing rate, sensor-filled Athos shirts and shorts are ideal for weight training. Data is delivered via Bluetooth to your smartphone. Athos shirts are $199, shorts are $149 and full body suits are $547.
Another way to track muscle use is the Radiate, a tight-fitting shirt that changes color wherever your body is releasing heat, letting you know immediately which muscles you're working. It also gives you a good excuse to look at your reflection in the gym mirror. Shorts and shirts start at $99 each.
Hexoskin's Smart Shirt tracks heart rate, breathing rate and volume, steps with cadence and calories. It connects via Bluetooth to iOS and Android devices and works with third-party apps like Strava and Runkeeper. Approximately $399.
Sports bras have gone bionic with a variety of options. MyZone Sports Bra connects via Bluetooth to smartphone, smartwatch, even a gym screen, enabling you to view your heart rate ($66). Victoria's Secret (yes, that lingerie company) has developed the Incredible Bra ($75) with a built-in heart-rate monitor made from a wicking fabric that keeps you cool and dry. The Bionic Bra, currently in development in Australia, will go one further, as it intuitively loosens or tightens for support and comfort, whether you're running or having an after-workout latte.
Even luxury clothes manufactures are in the game. Ralph Lauren has developed the Polo Tech ($295) that monitors your heart and breathing rates; tracks calories burned, workout intensity and stress rate; and provides feedback via your phone or tablet. And if you're not exercising hard enough to stay in your desired range, you'll get an audible message to up your game. ♦