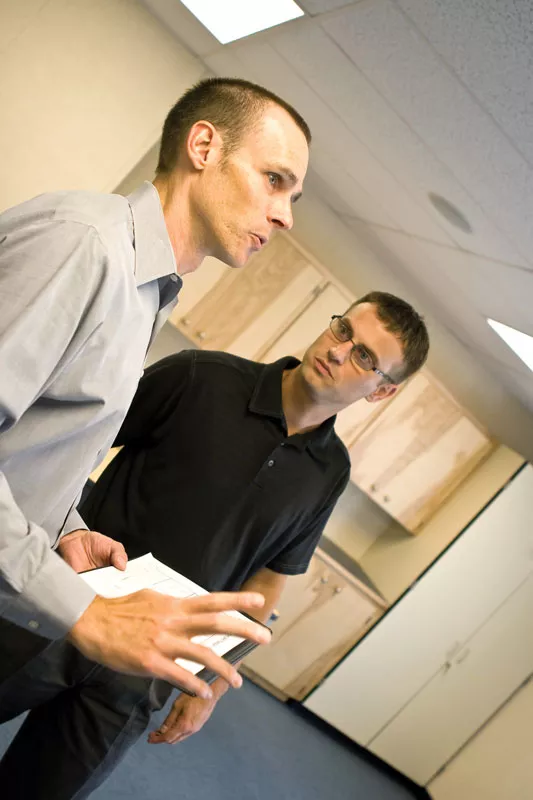 Sean Dotson, principal at Sunset Elementary in the Cheney school district in Airway Heights, knew one reason some students weren't doing very well in school.
They weren't healthy.
To be clear, this wasn't an epidemic. It's not like the number of students with health issues — illnesses, dental problems, injuries — was substantially higher at Sunset. It's just that the health problems were harder to treat.
About 76 percent of students in the school are poor enough to qualify for free or reduced lunch, many with parents unable to afford a private health insurance plan. And Airway Heights is too far away from easy access to a free clinic to be convenient for working-class parents to take their kids
Students would complain of dental pain, Dotson says, but parents often couldn't afford the dental visit or the procedure. It took time to work through the system in order to get free health care. Not a fun wait, if you're a kid with a painful tooth. And when the appointment finally arrived, the tooth might have abscessed — becoming more painful and requiring more expensive treatment.
"Kids who have an abscessed tooth are having trouble concentrating," Dotson says.
That's all changing. A new health clinic's opening later this year — and it'll be right inside Sunset Elementary. The health clinic is only the first in a series of school-based health clinics set to open in the Spokane County region.
Three years ago, Communities in Schools — an organization that helps connect needy schoolchildren with resources to help them — surveyed Spokanearea schools to determine what the greatest needs were. Health issues emerged as a priority.
Communities in Schools contacted the Spokane Regional Health District and came to a possible solution: A school-based health clinic.
Nearly 2,000 schools nationwide contain health clinics, and the clinics' convenient location makes a big difference. In Ohio, students in schools with onsite health clinics received more dental and mental health services, had lower prescription drug use and required fewer hospitalizations. Through all this, Ohio Medicaid actually saved money. ER visits are expensive. Helping children before they needed the emergency room — even if it meant more frequent visits — helped cut costs. And even more importantly, the children's health improved.
Communities in Schools specifically looked at Seattle, which has 16 school-based health clinics. A study of those schools found that the presence of the clinics significantly improved attendance and grades, especially among low-income students.
Colin Walker, president of the Washington Alliance for School Health Care, says the link between health and academics is pretty obvious.
"The number one cause of absence from schools deals with oral health," Walker says. "Miss five or more days in your sophomore year of high school, you're 20 percent less likely to graduate."
In the Spokane area, seven schools, across four school districts, applied to run the pilot clinic.
"We formed a pretty large advisory committee last September," says Mike Wiser, project manager of the school health care association of Spokane County. "We tried to make a needs-based decision."
Sunset Elementary beat out Glover Middle School to get the first clinic.
"They had some of the highest indicators of poverty," Wiser says. The school's distance from a health clinic meant that kids were missing entire days of school to take public transportation to a single doctor's appointment. For students who need help every week, that's a big problem.
"We have had students who needed regular mental health services," Dotson wrote in an email. "Without them, they had trouble in school and at home. Due to the lack of providers in our area, they had to miss at least a half day of school each week to attend services."
The plan is for the clinic to open this fall, though it probably won't open in September. For now, only students, staff and family members of the students can use the clinic. CHAS, the Community Health Association of Spokane, which already heads up multiple clinics in Spokane, will likely run the clinic.
Communities in Schools got a $50,000 planning grant from the Gates Foundation and other organizations — like the Empire Health Foundation, the Spokane County Medical Society — and private donors have given another $50,000 to the help the clinic operate in its first year. At first, the clinic will treat dental and medical issues. With more funding, it could also treat mental health issues.
Like most clinics, the Sunset clinic will bill insurance. But fees are on a sliding scale — low-income families may only pay a few dollars.
Principal Dotson predicts a major impact on the school. Healthy kids make happy kids. And the convenience — not just in prices, but location — will likely make kids healthier. "It's probably going to reduce absenteeism," Dotson says. "Our kids will be able to get their medical services on campus."
There's another, less measurable benefit to a school based health-care system, says Kristen Otoupalik, a parent of three children who attend Sunset Elementary. The school, already a hub for many activities, becomes even more of a community gathering place.
"We are already a pretty tight-knit community," Otoupalik says. "I know our parents are just ecstatic. I've heard nothing but excitement."