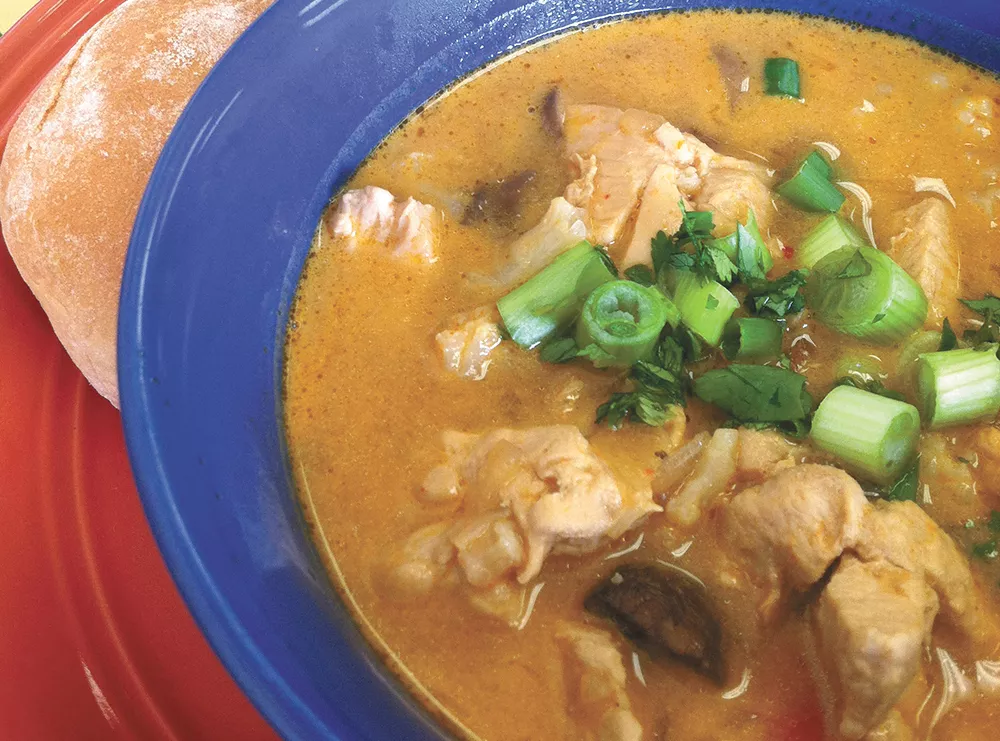 Soul Soup and Coffee House is a feel-good kind of place, filling a cozy niche in the Coeur d'Alene dining scene. Located off of Northwest Boulevard across from one of the newer entrances to North Idaho College, Soul caters to the weekday college and business crowd.
The eatery is a collaboration between sisters Susan Coby and Sara Bigelow. It's Bigelow who handles the coffee end of the business, along with fresh-baked goods (banana bread, pumpkin muffins, scones from Spirit Lake Books & Coffee) and Cravens coffee. Coby dishes up her hearty soups, fresh salads and plenty of smiles, chatting with customers like they're old friends.
There are plenty of sandwich places in the area, explains Coby, but no soup places. "Soup is sexy!" laughs Coby, adding that it also allows her to be healthful and creative every day.
Using organic and local ingredients whenever possible — like smoked turkey from Tim's Special Cut Meats — Coby prepares two daily soups, one vegetarian, and two salads. Soup fills you up without making you feel stuffed, she says.
Coby draws on an eclectic background. As a former lawyer, she has well-developed people skills and a strong business sense, reasoning that filling a niche and starting small make sense in a tough economy. Teaching cooking classes and extensive travel to France, Italy, London, New York City and Chicago honed her palate.
When we visited prior to Thanksgiving, Coby put her spin on turkey soup with Thai-inspired Tom Ka Gai over coconut rice. Tunisian harissa featured in a recent Moroccan lentil soup, while Southwestern flavors appeared in spicy chili verde. Prices are reasonable: $7.50/small, $9.50 large, or a soup/salad combo for $10.50.
Salads get a similar multiethnic treatment, ranging from Mediterranean (Feta, cucumber, olives) to South American (quinoa with kale).
Coby points to the motto painted in foot-high letters along one wall of the brightly lit eatery: "I am seeking. I am striving. I am in it with all of my heart." She wants Soul to be a place where you can feel good about what you're eating. ♦
Soul Soup and Coffee House • 610 W. Hubbard St., Coeur d'Alene • Open Mon-Fri, 8 am–4 pm • 208-446-3959