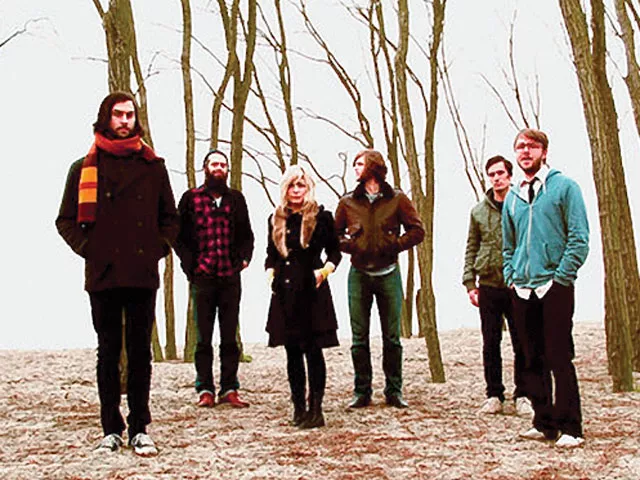 Seattle is admittedly not the musical Mecca that it was 15 years ago, though it still sends out prominent exports from time to time (with Fleet Foxes, back in 2008, being the most recent). The character of the scene has changed significantly — and the eyes of the hipster mafia have wandered elsewhere, to Montreal and Williamsburg. Though there's still plenty of flannel and bushy beards, Seattle's grunge days are long gone. Instead, Puget Sound musicians have shifted their focus toward finely crafted folk-pop with an emphasis on vocal harmonies. It's not the only thing Seattle bands play, but it's definitely the most prominent.
The latest genre-appropriate offering out of the city is The Head and the Heart, a band comprised of transplants to the city (somewhat odd, if only because it seems Seattle musicians are moving to Portland these days). The H&H musicians aren't mining any new veins or creating any new paradigms — they compare themselves to "a folksy Beatles or the Avett Brothers with a little extra oomph." Nevertheless, the six members of the band construct elaborate compositions full of piano swells, delicate vocal harmonies and orchestral flourishes, mixing the finer elements of the most recent wave of British pop (Coldplay, Aqualung) with the throw-it-all-in philosophy of indie instrumentation. The result is, yes, something you've definitely heard before, but still a notable entry in the overcrowded ranks of starryeyed would-be pop artists.
On its Website, the Head and the Heart profess to "write and play songs that speak to the newness of a fresh start, of the ghosts left behind, of moving forward, all brimming with a soulfulness and hope for a better life than the one we've all been sold." It's a well-traveled lyrical road. But vocalists Josiah Johnson and Jon Russell get a lot of mileage out of it, cooing coyly about hallelujahs and offering general jubilation all around. As far as trends go, this one's a winner for Seattle. Listening to the Head and the Heart is a hell of a lot more fun than hearing another guy trying to sing like Eddie Vedder.

The Head and the Heart with Jack Wilson and Kaylee Cole at Empyrean on Saturday, June 19, at 8 pm. Tickets: $5. All-ages. Call 838-9819.