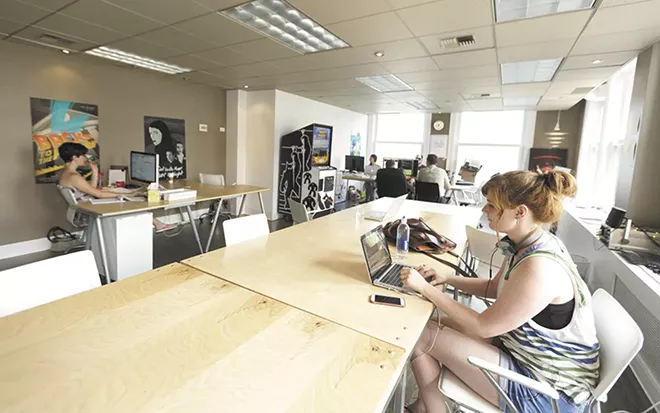 Stop camping out with your laptop at coffee shops. No offense meant to any of the region's many such shops, but there are other options out there to get a day's work in without the distraction of hissing espresso machines and the mental struggle of blocking out the conversational chatter at an adjacent table.
Coworking is no longer a new trend in the technology-evolved world of business, but it's been a bit slower to take hold across the Inland Northwest.
The concept is quite simple: a shared office space offering access via a range of usage-based rates, with all the perks of a typical office — Wi-Fi, printing, coffee and meeting rooms. Professionals who benefit most from this model are those who'd otherwise be working from home (or the aforementioned coffee-shop campers): freelancers, contract workers, telecommuters; as well as frequent business travelers and fledgling startups not ready to take on the risk of leasing their own space.
One of Spokane's first coworking spaces, FELLOW (304 W. Pacific; workatfellow.com) opened its doors downtown in November 2013.
"The impetus for Fellow was wanting to create community and to help foster the creative and entrepreneurial scene — getting creatives and nonprofit people and businesspeople in the same room to share ideas," says co-founder Luke Baumgarten. "We're creating a place where all that lives under one roof, and companies are working independently but helping each other."
Having quickly outgrown its 1,250-square-foot, modern-contemporary digs on South Howard, Fellow is relocating later this year to the historic, revitalized Washington Cracker Co. building. The new space will be nearly four times larger than its first.
To gain access to Fellow — most of the region's coworking spaces follow a similar fee model — members can pay for access on a part- or full-time basis, ranging from $45/month to drop in once a week, up to $255/month to have 24-hour access and a designated workspace of their own. Some venues, like THE OFFICE SANDPOINT (506 Alder St.; officesandpoint.com), also rent out meeting/conference rooms via a flat fee, and offer day rates and prepaid punch cards.
Also in downtown Spokane and about to move to a new, larger space is SHARE SPACE SPOKANE (608 W. Second; sharespacespokane.com), operated as part of Greater Spokane Incorporated's entrepreneurial support services.
Besides desk space, Wi-Fi and printing services, many coworking offices also offer business consulting and mentorship to new ventures. In North Idaho, INNOVATE COEUR D'ALENE's (410 E. Sherman Ave., CdA; innovatecda.com) coworking space is both a shared office and an event center for local technology and business networking events. Co-owner Nick Smoot says the Innovate space also runs a startup accelerator service, helping startup companies become marketable in a 90-day period.
While major metropolitan areas are rife with coworking spaces, smaller towns — as evident by the success of Sandpoint's office, which serves many semi- or early retired professionals starting a second entrepreneurial career — stand to greatly benefit from the shared-space model. Moscow, Idaho, also has its own shared workspace, MOSCOWORK (120 E. 3rd St.; moscowork.com).