You may as well accept it. The Property Brothers aren't going to overhaul your kitchen. Nate Berkus is never going to surprise you with a living room remodel. Stacy London isn't going to up your personal style with an ambush makeover. But that doesn't mean you can't transform your family room or pull off a new look in time for your high school reunion. Here are four mini makeovers that won't break the bank — and the local experts to help you pull off the big reveal.

Reimagined Rooms
Spend a few hours watching HGTV, and it's hard not to start fantasizing about having some Mary Poppins of home design blow in and whip your living room into shape. But that fantasy might not be as expensive or wild as you think. And it certainly doesn't mean having to buy a whole room of furniture. "I think you can re-do an entire room with the right pillows, the right area rug and the right throw, in the right place," says Tin Roof creative director and owner Heather Hanley. Not sure what the "right" rug or pillows are? Then it's time to call in help. One unique service Hanley's shop offers is called an Accessory Housecall. A designer or team will work with your existing furniture and accessories, then add new items, like throw rugs, picture frames and lamps, to transform a room. The homeowner or renter can then "shop" for the items in their own space. "Most of our clients are pretty blown away with the results," says Hanley.
In this case, a young couple invested in a vacation rental home in Hayden, Idaho, and needed help moving the style out of the 1980s and filling the home. "They wanted hip and fresh," explains Hanley. "They wanted it to look good for photos, certainly." You be the judge.
The homeowners weren't quite ready to paint their oak bookcase white, so to lighten it up, Hanley put wallpaper in the back. "It's one of my favorite tricks, because it makes whatever you put back there pop, especially if you're looking at a big sea of oak. I also use a lot of bins and baskets because they create color, introduce pattern and give some additional storage."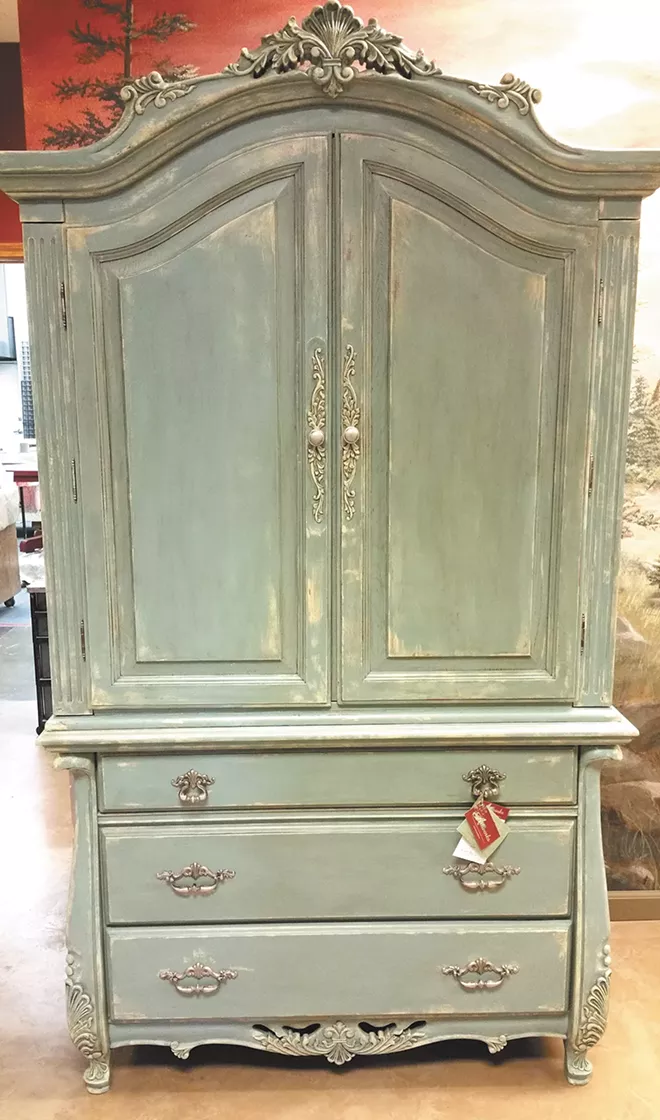 Furniture Rehab
Since opening her first retail store in 1985, Nancy Jones has been creating custom decorative paint finishes, custom plaster textures and faux finishes for her clients. She's seen trends come and go, but nothing has transformed her business — or her customers' homes — like Annie Sloan's Chalk Paint. Developed in England in 1990, Sloan's Chalk Paint has only been sold in America for five years, but it's quickly spawned a cottage industry in the Inland Northwest of industrious crafters who use the paint to transform garage sale finds or builder's' grade oak cabinets for their own homes, or to sell for a profit.
"You just clean the furniture, make sure all the dirt and grime is off and paint. There's no sanding and priming involved," explains Jones. "It's dry within a half an hour, and you can immediately repaint and then seal it with wax or a water-based varnish." The end result is a baby-smooth finish that doesn't show brush strokes, and is far more durable than traditional paint. While the Chalk Paint trend started with the distressed, shabby-chic look, Sloan's Chalk Paint is now used to bring vibrant pops of color to mid-century modern pieces or to replicate that popular grey wash you'll see in the latest Restoration Hardware catalog. "Right now we offer about 50 different workshops with different techniques, so you can really be as creative as you want to be," says Jones. "It's virtually fail-proof, honestly it is."
Makeup Makeover
That makeup you put on every morning? It can be a double-edged sword. It can help you look fresh and vibrant, or accentuate wrinkles or acne if applied incorrectly. So if you've winced while looking at your last profile picture, maybe it's time to go back to beauty school. "It's all about the skin," says the Make-up Studio's Julie Farley. "When I teach, I always tell women you want to see the effect of makeup, not the actual makeup." Farley offers three different makeup lessons to help women achieve a very natural, polished look. The 90-minute mini-express lesson starts with an analysis of your current cosmetics kit. Farley doesn't turn her nose up at drugstore products — or push certain makeup lines. The emphasis is on finding the right products for you, and then teaching the right techniques for applying eyeliner or mascara, or learning where to apply blush. "When women leave here, sometimes their eyes are a little glazed over because it's a lot of information," says Farley, "but if you are working with a woman who has really dark circles under her eyes and you can find her the right color of concealer to minimize that, she thinks you walk on water."
A dedicated class for teenagers aims to help girls learn how to create a natural look with makeup, and some lessons in skincare. "For many of them, this is the first time they've ever worn makeup," explains Farley. ""Many of them have acne and skin problems, so we're trying to make their skin look clear without a lot of makeup. We're teaching them how to use eyeliner so it doesn't look heavy." It's an approach that Farley says moms appreciate, too. "Moms are usually hugging us when they leave, because they are pleased by how natural the makeup looks."
Body Shaping
Yes, you can cut the carbs, spin and lift your way to a six-pack, but if that seems like too much work, there's an easier way to at least look like you've lost 10 pounds. The trick? Get fitted for a bra that really fits you. According to Spokane's self-proclaimed "bra whisperer," Victoria Ferro, most women are simply wearing the wrong size. When you gain weight, lose weight, have kids, go on exercise binges, your band and cup size changes. Her first tip —- get fitted by a pro. A pro knows, for instance, that manufacturers base their band sizes on the middle hook. "If you buy a bra and hook it on the widest hook," explains Ferro, "I guarantee that band doesn't fit you." Tip number two — get the right bra. "You have to watch the silhouette of the cup. If you have a very broad shoulder line, a bra that cuts in with the straps is going to make you look bigger and heavier, even though the cup is fitting you." Tip number three — Ferro says you shouldn't wear a bra for more than two days without washing it, and letting the fibers rest. Tip number four — "Bras shouldn't have birthdays," claims Ferro. The shelf life of a bra, she says, should be 9 to 12 months.
Enviable Eyelashes
They started with celebrities — long, lush, exaggerated eyelashes. Then non-Kardashians started splurging on sets for weddings or other big events. Talk to local estheticians, and it seems like eyelash extensions are the new mani-pedi — another standing appointment for women to schedule into their beauty routine. "People used to do these for special occasions," says Katie Shane, licensed esthetician at Spa Paradiso. "But now it's an everyday thing. My schedule used to be full with brow waxes; now it's lash fills." So what's the big hairy deal? "It really helps women feel beautiful. It opens up the eye. It gives women more confidence. They don't have to wear mascara. They can look good when they wake up in the morning," Shane rattles off. Curious? Here's what you need to know. Expect that first appointment to run 60 to 90 minutes, since each eyelash is applied one at a time, using a surgical glue. Shane recommends booking an appointment within 2 to 3 weeks of that first application to fill in lashes that have fallen out. And know that you can customize your look — different lash lengths, curl, and thickness -— with your esthetician.
Our Expert Katie Shane, licensed esthetician, Spa Paradiso, 1237 W. Summit Pkwy.
Cost $100
Potential Pull Quote: "People are shocked by how different they look, how the lashes open their eyes and how much prettier they feel."