The move from urban center to rural outpost — from constant noise to omnipresent silence, from go-go rat race to near-solitude — can mess with a person's mind, even when the move is made by choice.
For Robby Martin, who paints under the nom de plume Biscuit Street Preacher, trading in a fully plugged-in life in Las Vegas for a self-built cabin and art studio in the wilderness of North Idaho's Cocolalla was well worth it. But it didn't come without some stresses on him, his wife and his in-laws, who also live on the remote land.
They had to trade in their desert-cruising cars for a truck and a Subaru, along with chains to navigate the Forest Service road to their property. They had to adjust their formerly wired lifestyle away from constant social media surveillance and get used to spotty-at-best Wi-Fi, and trade in staring at a 60-inch TV for staring at a fire pit. And they had to figure out how to sleep without the din of Vegas' 24-hour action outside their window.
"We actually had to get a fan to get a little white noise going because it was so quiet at night," Martin says over coffee at Einstein Bros. Bagels, one of his regular must-stops when he makes his way down the mountain to Spokane for art supplies and a little urban culture. As he quickly notes, despite the dramatic move, "We still enjoy the city. We're city folk."
That much is clear in the colorful paintings that Martin creates in his Biscuit Street Preacher guise, large-scale acrylic works full of images ranging from industrial locales to somewhat random objects from his youth, old record players and refrigerators. Within the paintings — some of which are part of "Arts and Letters," a new Emerge CDA group show opening Friday that's dedicated to artists who use text and numbers in their works — one might find grocery lists, love notes to Martin's wife, album covers or signs in foreign languages. The other artists featured in "Arts and Letters" are Megan Atwood Cherry, Jen Erickson, Otis Bardwell, Bevie LaBrie, Hanna Kuhns, Carrie Scozzaro and Kelly Burton.
Martin and his family have spent much of their three years so far in North Idaho building their living quarters and a barn that houses his art studio, as well as "just trying to figure out how to live in the woods." During that time, Biscuit Street Preacher paintings were still being brokered by galleries in Las Vegas and Los Angeles, but Martin is now intent on making the Inland Northwest his home base.
The first step came last summer when he organized a show at Sandpoint's Evans Brothers Coffee called the Royal Gypsy Takeover. His work was featured along with the work of other visual artists, as well as food trucks and fire dancers. It went over well enough that they'll be doing it again this year, and Biscuit Street Preacher paintings will adorn the Liberty Building gallery in Spokane this summer.
In Spokane's blossoming downtown scene and old architecture ready for new life, Martin sees the potential for a thriving contemporary art scene to go along with the familiar landscapes that dot many gallery walls. It's perhaps a little reminiscent of his early days in Las Vegas, when chill little coffee shops and quirky garage bands were the rule, instead of celebrity chefs' restaurants and big-money DJs. The evolution of his former home into a gigantic city with a lot of crime made Martin and his wife wake up one day and think, "What the hell are we doing?"
"I don't want to bash it too much because as you look at my artwork, you see the color and the influence that Las Vegas gave me," Martin says. "Las Vegas gave me everything I've got. It gave me my wife, it gave me my mentality, it gave me my art career. I'll always be from there. But it was time for something new and adventurous, maybe get a little closer to nature and find out a little about what it means to be a human being."
Now that he's able to focus on his work rather than mere survival in the wilds of North Idaho, Martin can already see new influences seeping into his paintings, even new colors — green, in particular — that rarely made appearances in his older work.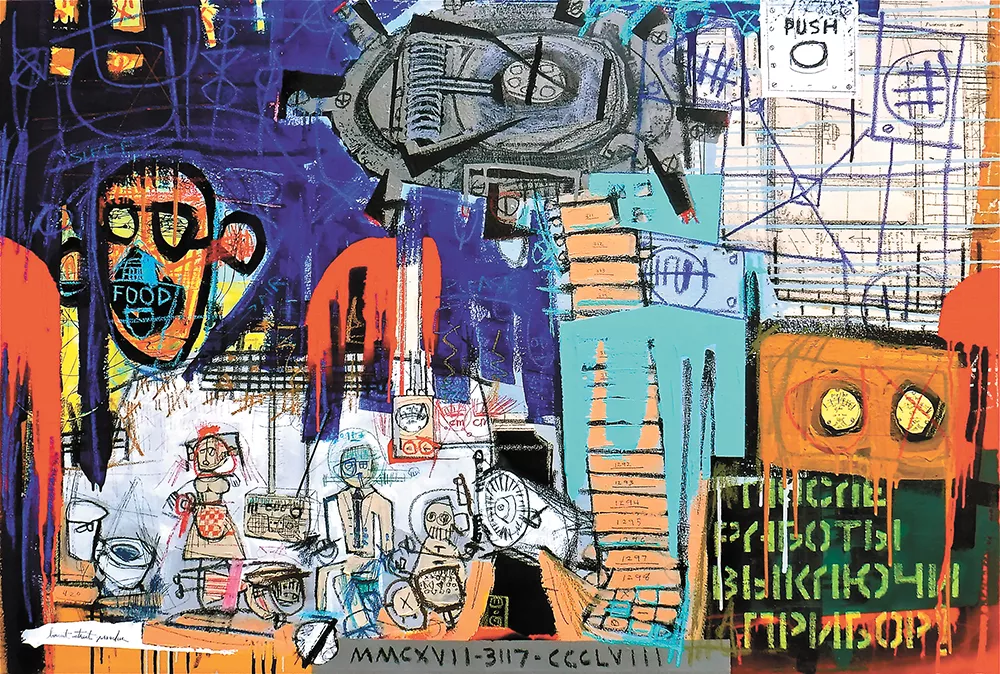 "I've noticed I'm trying to paint trees, and I actually have to think about it," Martin says. "I've put a couple of trees in my paintings, which I've actually never done before.
"My paintings generally tell a story. Even my name, Biscuit Street Preacher, I would coin it as a storyteller/Tom Waits/gypsy/Gogol Bordello-type thing. All my paintings have little stories, and I've got new stories to tell now." ♦
Emerge CDA: Arts and Letters opening reception • Fri, March 10 from 5-8 pm; on display through April 7 • 208 N. 4th St., Coeur d'Alene • emergecda.org