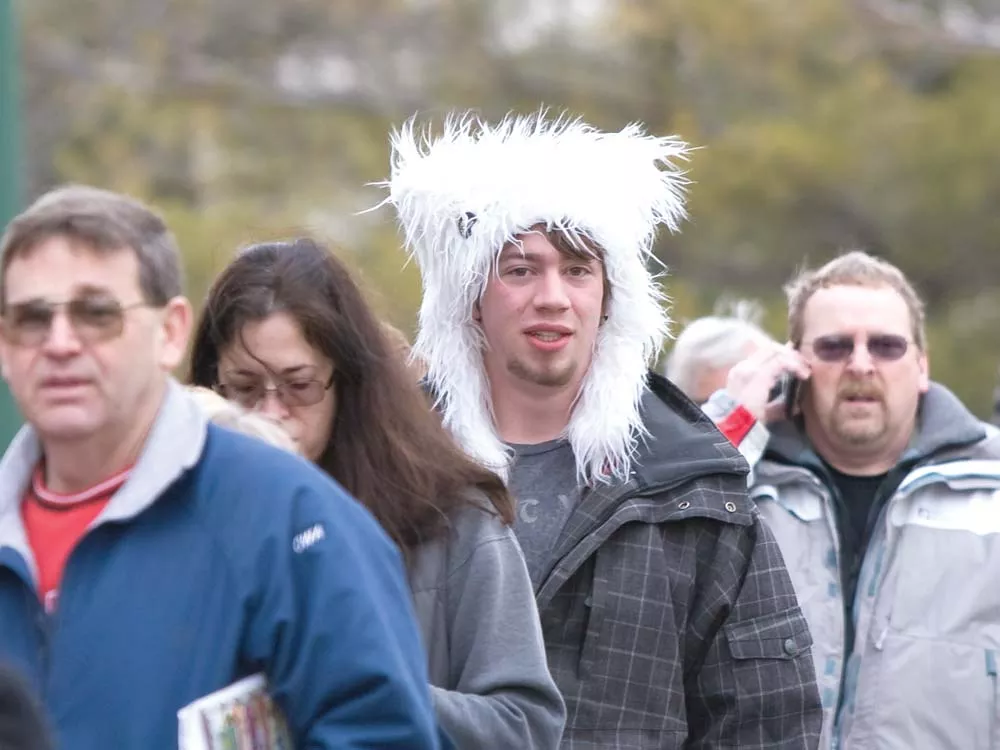 Last Saturday morning, for a brief time, a festive, occasionally flowery row of humanity sprang up along the south side of the Spokane Arena.
They milled around, bundled up, chatting with strangers and the odd news crew, waiting for a chance to buy tickets for Elton John's first concert here in a decade.
An estimated 160 people were in the queue at 9:30 am, and those numbers grew in a trickle.
There had been rain, but it was brief. There was a breeze, but the giant brick-and-steel soapdish protected them from its northerly assault.
"Now, if I was down here freezing my ass off," one man, down-queue, shouted to the entire group, "this would be a much different conversation."
Probably the biggest contributor to crowd cheer, though, was that the majority of the people in line had waited less than two hours. Had Sir Elton John decided to play his inaugural show at the Spokane Arena 10 years ago, this almost certainly wouldn't have been the case.
"Most of our business for a large concert like Elton John occurs via our website," says TicketsWest President Jack Lucas, "and the next impact would be via our [call] center."
Going up the line on Saturday, the reasons for being there were generally two: one cultural, the other practical.
"Anybody can get it online," said John Pederson, midway down the line. "I wouldn't want to miss this ambience." His final statement, though, got at the heart of the matter, "My wife sent me."
Up the row, John Browning ("Like the gun … and the poets") agreed about the communal aspect of waiting in line for a show. He arrived at around 7:45 am also hoping to avoid extra fees. TicketsWest charges a convenience fee for any tickets bought online or through the call center. Lucas calls the convenience fees for Elton John "typical for this type of event," about $15 per ticket for the $137 tickets.
"I have both my hedges," Browning said, "my wife is on the phone at home."
The nearer one got to the front of the line, the more time people had invested.
Randy Bauer, fifth in line, had arrived at 3:30 am. His daughter, Sara, had joined him at 9. Sara wasn't in line to buy tickets. It was her first day selling Camp Fire Candies for the year, and she saw the arena crowd as a captive customer base.
"I have to go [sell them at] the store later," she said, "so why not go down the line?" In about 45 minutes, she had sold her first case of candies.
Only two people actually camped out to score Elton John tickets — Katherine Mickelson and an anonymous man wearing camouflage coveralls and a backwards cap. They were the only people in the line for the first 9 hours.
The anonymous man had arrived at about 5 pm the previous day with a single-person tent. He refused to give us his name, "My wife doesn't know I'm here." He avoided camera lenses and said he had bolted entirely for a moment when a KHQ camera truck pulled up.
He intends the tickets to be a gift, and the man doesn't trust the online system. "Servers get clogged. It's hit or miss," he said, "and you get a great story to tell people."
At 10 minutes to 10 am, security let the first group in. They reassured people that enough tickets had been held at the box office to accommodate those in line.
As they filed in, Sara Bauer, the Camp Fire girl, stood back and called to the crowd. "Remember to buy more Campfire candy on the way out!" Just after 10 am, the first person emerged from the ticket office. Katherine Mickelson, who had been in line since 4:30 pm the previous day, came out clutching a single ticket for row three, seat 16.
"I've been waiting my whole life for this concert," she said.