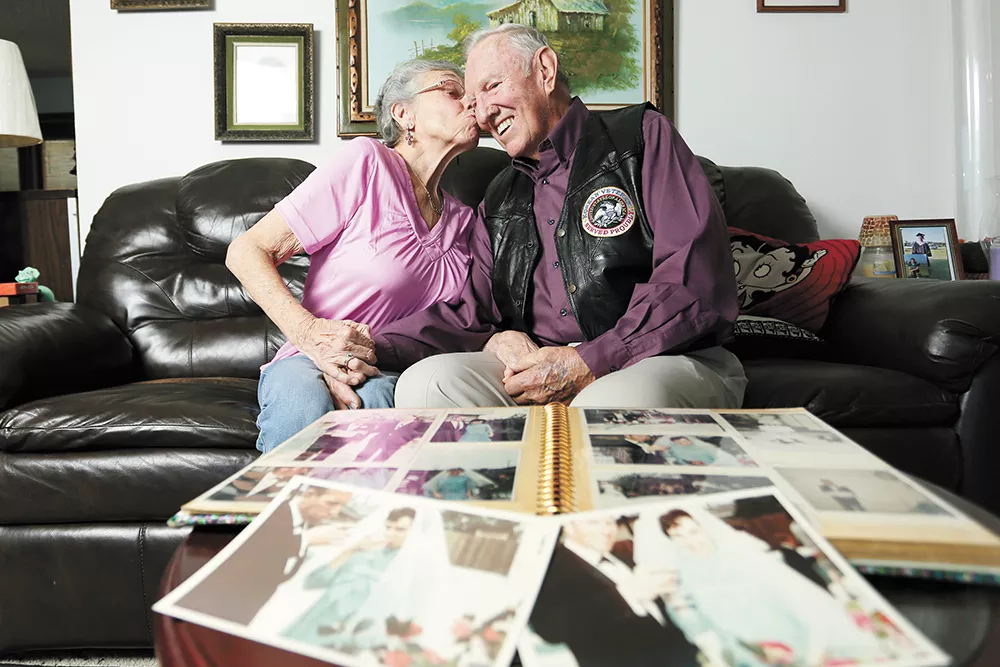 Beth's old '49 Ford Fairlane is literally falling apart, and to make matters worse, now she's got a flat tire.
It's January 1967 in Chino, California, and she asks her brother to take it to a nearby gas station to get the tire fixed. But by the next morning, it's flat again.
Upset, she drives it to the station herself this time to demand they fix it again.
"I was just furious. I told him, 'You fixed the tire yesterday and it's flat today,'" she says. "So bein' very nice, he said, 'Well, if we fixed it yesterday and it's flat, we'll fix it again. I said, 'Not for another $5 you're not!'
"When he got the tire off he says, 'Well ma'am, there's three holes in here,'" Beth continues. "I said, 'Well, why didn't you fix 'em all?'"
What she didn't know then was that Jim, the man she was yelling at, was not the one who had worked on her car. In fact, no one there had worked on her car.
"I went back home and told my brother what had happened and he says, 'You idiot, that wasn't the station I took it to!'" Beth says.
She felt bad for taking her anger out on the wrong guy, so she kept going back to Jim's station for gas.
One day, he told her she had a taillight out. Even though she knew he hadn't flubbed the tire repair, she teased him.
"He says, 'Well, I'll fix it.' I said, 'Oh sure you will, like you did the tire,'" she says. "He said, 'Well if it goes out, I'll take you out to dinner.'"
She agreed, not knowing he would intentionally put the wrong bulb in the car, ensuring it would go out and that she'd be back soon.
After she discovered the dead bulb, Jim said he would very much like to take Beth out to a nice dinner, and they soon started dating.
It turned out they had a lot in common. They each had a son from a previous relationship. They were both a little wild. And, they say, neither of them were the nicest people back then. She was short with him, and he was dealing with the aftermath of his service in Korea, which wouldn't be diagnosed as PTSD until years later.
So it came to be that the next month, as they were speeding down the freeway together, he grabbed her hand and put a ring on it, asking if she'd be his wife and in a way, asking her to be his Valentine: That's his last name.
The Valentines married in March.
"I picked the wedding day," Jim says, sitting in the living room of the couple's Cheney-area home. "I picked Easter Sunday because I'd always remember our anniversary."
What he didn't think about was that Easter doesn't appear on the same date every year: In the 52 years since then, it's only happened to land on their March 26 anniversary twice.
There was some pushback from their families at first, especially because he's 13 years older, but Beth says her mom soon saw how good they were for each other.
Together, they created a wonderful life. They adopted each other's sons and had a daughter together. While living in California, the family would go up in the mountains and play in the snow, then the same day, drive down to the desert, then the ocean and then home, Beth says.
They rode motorcycles and dune buggies, went to Jamaica, and took other adventures like a cruise on the "Love Boat," partly heeding advice they'd gotten from an older neighbor.
"I always pass it onto young kids that are getting married," Beth says. "She said, 'You know, you guys travel and do what you want to do together now, because you'll never know when you won't have each other.' And she says, 'Always, no matter if you're angry with each other or not, you always tell each other I love you before you go to sleep, and you always sleep in the same room.'"
Both gave and took, supporting each other through their careers, and about 30 years ago, they moved to the Inland Northwest. After a crash course in living in a place where it snows, they say they grew to love it. They owned a service station and towing fleet and, later on, volunteered for many years with the Spokane Sheriff Community Oriented Policing Effort (SCOPE).
Now that Jim is 86, they say maybe they're ready to slow down a little. But, after each losing a significant amount of weight recently, they're also feeling better than they have in a long time, and with their sights set on Alaska this summer, they're ready to get back on the road. ♦