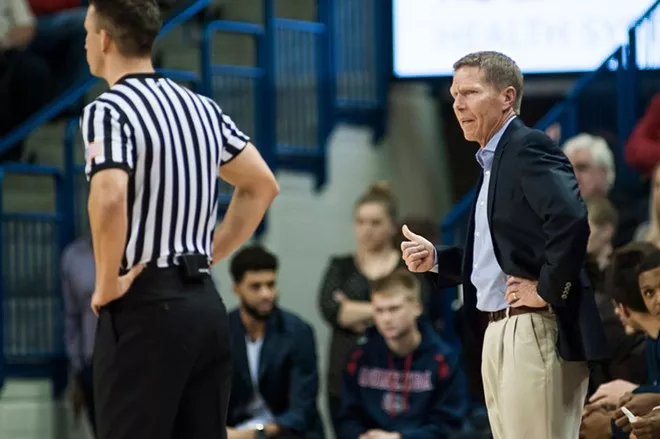 Nov. 23 vs. Ohio State
Zags 86, Buckeyes 59
The Zags blew out Ohio State, and at the time nobody thought much of it. Gonzaga was supposed to be good and Ohio State wasn't. But a lot has changed since Thanksgiving Day. The Buckeyes ended the regular season tied for second place in the Big Ten and boast an unexpectedly respectable 24-8 record. Gonzaga owns just one win over a team in the top-25 of the RPI, and that win came against Ohio State.
Nov. 24 vs. No. 7 Florida
Gators 111, Zags 105
When this game went down in Portland as part of the PK80 early-season tournament, it was Gonzaga's first real test of the season. In a nationally televised game against a top-10 team, the Zags showed they weren't going to take much of a step back after last season's run to the national championship game. They came up short in the end, but this double-overtime thriller was largely considered to be the best game of the season to that point. In what was a clinical display of offense from both teams, Gonzaga's Johnathan Williams led the way with 39 points.
Dec. 21 at San Diego State
Aztecs 72, Zags 70
San Diego State has been one of the West's premier programs for more than a decade, but that doesn't matter to the NCAA Tournament selection committee. All that matters is that this game is, by far, Gonzaga's worst loss of the season according to the RPI rankings that help determine a team's tournament seeding. Losing to San Diego State, which barely ranks in the top 100 of the RPI, might have cost the Zags one or two seed lines in the tournament.
Feb. 10 at No. 11 Saint Mary's Zags 78, Gaels 65
This just might have been the biggest game in West Coast Conference history. With Gonzaga ranked No. 12 in the AP Poll and Saint Mary's ranked No. 11, it was the first top-15 matchup in league history. But that's not why it was the biggest game of the season for the Zags. Saint Mary's had a one-game lead in the standings thanks to a three-point victory in Spokane on Jan. 18. The Zags needed this win to stay in the league race, and they got it in emphatic fashion.
March 6 vs. BYU Zags 74, Cougars 54
Making the NCAA Tournament is basically a foregone conclusion for Gonzaga, but that doesn't make the day the Zags officially punch their ticket to the dance any less sweet. This was a primetime game, nationally televised on ESPN, with Dick Vitale providing color commentary. In short: a big game. Gonzaga played amazing defense, shot well on offense and led by as many as 32 points. And the Zags did it against a good team. It was truly a sight to behold. ♦