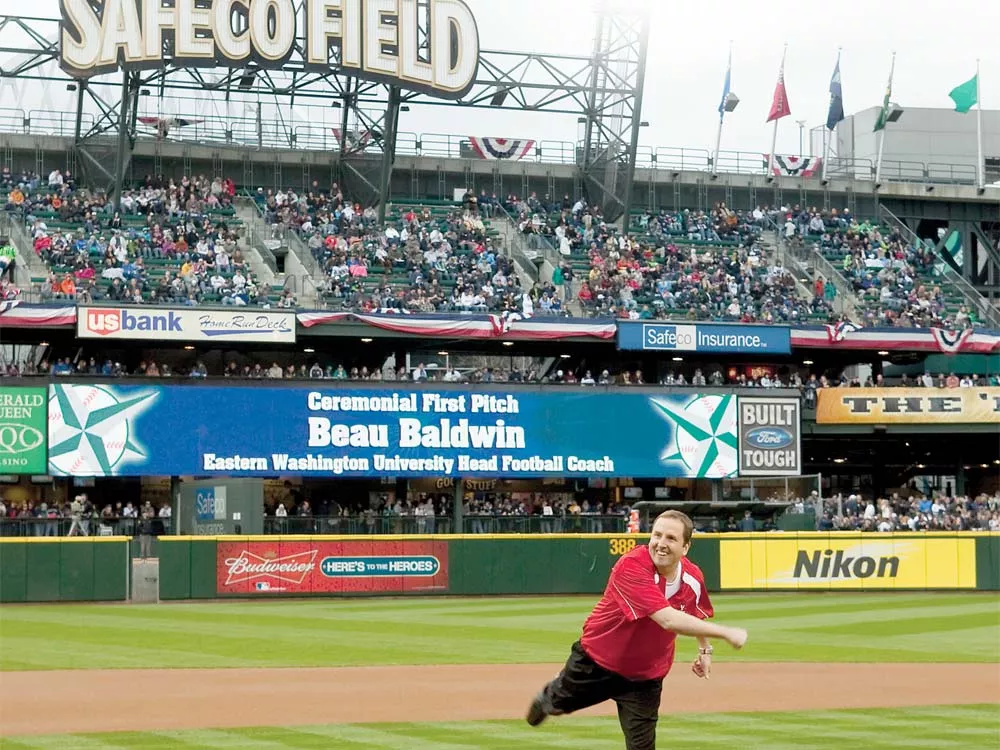 Upon learning that Eastern Washington University football coach Beau Baldwin had been selected to throw out the ceremonial first pitch at the Seattle Mariners game last Saturday, I sat by the phone in eager anticipation of Baldwin's call for advice on mastering his pitching assignment.
Uh, Beau? Beau? Beau! I'm still waiting for that phone call, buddy.
A little background may be in order. Not long after dinosaurs opted for early retirement, EWU had a baseball program, and yours truly pitched for the Eagles.
Contrary to vicious rumors spread by some — OK, probably all — of my former teammates, there is no concrete evidence that Eastern dropped baseball solely because the program had plunged to such depths that a 5-foot-7, 130-pound, submarineand-sidearm, roundhouse-curveball-throwing relief pitcher like myself could make the team.
It was a contributing factor, I suppose. Hey, at least I had an impact. Either way, it seems to me I was well qualified to train Baldwin for the big event.
But the man who stole my glory by helping Baldwin pretend to be a pitcher is some clown named Kerry Pease. Again, Beau, you're missing out on the obvious. I pretended to be a pitcher my entire college career!
Instead, Baldwin settles for this Pease character. Pretty chicken bleep if you ask me, Beau. Anybody can learn how to pitch from a guy who was a good pitcher, who threw overhand, who actually won games at Eastern.
Not that anyone has ever seen Pease actually working, but he allegedly oversees some of Eastern's athletic facilities. Essentially, that means he runs around trying to take credit when the red turf at the football stadium doesn't turn green.
I once introduced Pease to a friend and casually mentioned that Kerry and I pitched together at Eastern. Afterwards, Pease took me aside and told me to never link our names publicly again. Something about guilt by association.
I'm joking, of course. Pease is actually a great guy. I always appreciated the time he thanked me for my contributions to the baseball team my junior year. When I reminded Kerry that I did not play as a junior, he just smiled.
It turns out that Baldwin was a high school shortstop and college quarterback, so he didn't really need any help from Pease regarding basic throwing mechanics. Pease said the coach did have a tendency to take a five-step drop behind the mound before throwing a spiral to home plate.
Anyway, Baldwin took the mound at Safeco Field last Saturday, and he threw an absolute bullet for a strike. None of those 32-mile-an-hour rainbow tosses for our man Beau.
"Nah, I wasn't nervous," said Baldwin, which helps explain all those late rallies his football team pulled off last season en route to the national championship.
Sheesh. I wonder if Beau can give me a few pitching tips.