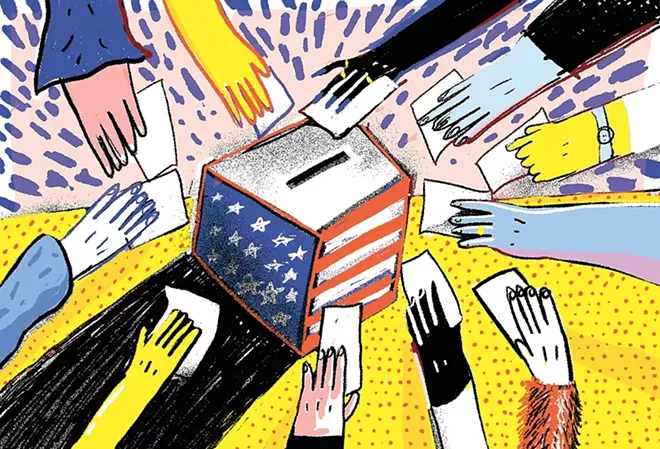 E
lection day, Tuesday, Nov. 5, is almost upon us.
And, as of yesterday, only around 18 percent of eligible voters in Spokane County had turned in their ballots, according to data from the
county elections office
. That means that out of roughly 330,000 registered voters, only 61,638 have returned their ballots so far. (In the August primary, the
final tally for voter turnout
was almost 35 percent, so we already know that most of you don't vote.) To encourage the rest of you to participate in your local democracy, we've compiled a few ways that you can easily return your ballot.
Mailboxes
As long as your ballots are postmarked on or before Nov. 5, you can mail in your ballot. Put those blue mailboxes to good use.
Drop boxes

The Spokane County Elections Office maintains white ballot drop boxes at numerous locations with in the city of Spokane and in other cities throughout the county. You'll be able to drop off your ballot at the following locations listed below up until 8:00 p.m. on Tuesday, Nov. 5. And best of all, you don't need a stamp to do so.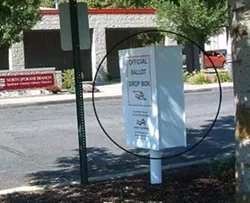 Spokane:
Elections Office, 1033 W. Gardner Ave.
Argonne Library, 4322 N. Argonne Rd.
Downtown Spokane Library, 906 W. Main Ave.
East Side Library, 524 S. Stone St.
Hillyard Library, 4005 N. Cook St.
Indian Trail Library, 4909 W. Barnes Rd.
Moran Prairie Library, 6004 S. Regal St.
North Spokane Library, 44 E. Hawthorne Rd.
Shadle Park Library, 2111 W. Wellesley Ave.
South Hill Library, 3324 S. Perry St.
STA Plaza, 701 W. Riverside Ave.
Spokane Valley:
Spokane Valley Library, 12004 E. Maine Ave.
Airway Heights:
Airway Heights Library, 1213 S. Lundstrom St.
Cheney:
Cheney Library, 610 First St.
Deer Park:
Deer Park Library, 208 S. Forest Ave.
Fairfield:
Fairfield Library, 305 E. Main St.
Latah:
Latah Town Hall, 108 E. Market St.
Liberty Lake
Medical Lake:
Medical Lake Library, 321 E. Herb St.
Millwood:
Millwood City Hall, 9103 E. Frederick Ave.
Otis Orchards:
Otis Orchards Library, 22324 E. Wellesley Ave.
Rockford:
Spangle
Spangle Town Hall, 115 W. Second St.
Waverly
Waverly Town Hall, 255 Commercial St.