Newly opened in the heart of downtown Spokane, Heritage Bar & Kitchen is steadfastly loyal to two overarching themes: family and the city it calls home.
The restaurant's logo prominently features the nearby Monroe Street Bridge. That landmark's iconic arched motif is also showcased in a custom, decorative frame around the bar, which serves only beer brewed in Spokane County and Washington-made wines and has a large focus on spirits from Spokane's Dry Fly Distilling.
Other artwork paying tribute to the Lilac City, including a King Kong-esque mural of a sasquatch climbing Riverfront Park's clock tower, are hung around the pub's basement location (formerly home of Brooklyn Deli), adjacent to Whistle Punk Brewing.
"We wanted to create a place that would be friendly and welcoming, and with a casual pace that still had some class to it without any of the pretense," says co-owner Gabe Wood, who partnered with longtime friend Alex King to open Heritage. The duo met and became close friends while tending bar at O'Doherty's Irish Grille and spent the past three years planning their dream restaurant venture before a mid-June opening.
"We definitely wanted everything about the concept and theme to revolve around the city of Spokane, and to pay homage to the city through our branding and ambiance and everywhere we could," Wood continues.
On the restaurant's concise pub food menu, tributes to the region and the owners' families continue. Several items are based on family favorites, like "the Fancy Nancy," a childhood favorite often prepared by King's mother. The dish ($14) consists of two handheld meat pies; essentially soft pockets of pastry dough stuffed with a mix of seasoned ground beef, onions, tomatoes and cheese, and served with a side of salad, curly or sweet potato fries.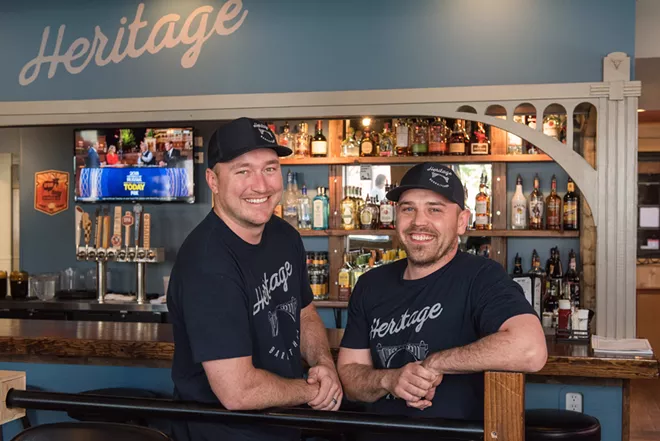 "We knew we wanted pub style, but didn't want to be just another pub, so we tried to make things different and unique," King says, adding that the already popular tenderloin sandwich ($12) — fried pork chop with a cracker crust and topped with mustard, lettuce, onion and pickles — was also inspired by his mother's Midwest upbringing, and is a dish she'd frequently prepare for their family.
To that end, Heritage also put its own spins on a few classics, including the hash brown burger ($14), a smashed beef patty served between two ultra crispy (yet not too greasy) hash brown "buns." For dessert, there's deep fried peanut butter and jelly ($6; $8 with a scoop of ice cream), a concessions-inspired creation that's dusted with powdered sugar and served perfectly crispy on the outside, encasing a delightfully gooey filling.
Continuing Heritage's nod to all things Spokane, the bar's signature cocktail list features mixed drinks named after longtime local television news anchors.
"Alex and I were just bouncing a lot of ideas back and forth... we'd been up late and had a couple drinks and we started rolling with it to see where it would go. We had a recipe set for each of the drinks we wanted to do, and we started pairing them off where we thought was appropriate," Wood explains.
Their old fashioned is named after KHQ anchor Dan Kleckner. A drink of dragon berry rum, pomegranate liqueur, lemonade and 7Up, served as a shot or over ice, and is named after KXLY's Nadine Woodward. When coming up with who'd get a drink named after them, the duo made a rule that each anchor needed to have at least 21 years tenure in the Spokane media scene, and is still on air. Other drinks are named after the likes of Tom Sherry, Stephanie Vigil and others.
Food from Heritage can be ordered from the bar to be eaten inside the adjacent, yet separate, Whistle Punk Brewing. Beer from the brewery, however, currently can't cross over the two business' thresholds.
In the near future, Wood and King plan for Heritage to host a weekly running club, along with a burger-of-the-week special served on Tuesdays. Happy hour, which runs Tuesday through Friday from 3-6 pm and all day Sunday, offers 20 percent off drinks and appetizers. Weekly $10 lunch specials are advertised on the pub's social media pages and on a sidewalk sandwich board outside. ♦
Heritage Bar & Kitchen • 122 S. Monroe • Open Tue-Sun 11:30 am-2 am • heritagebarandkitchen.com • 863-9235