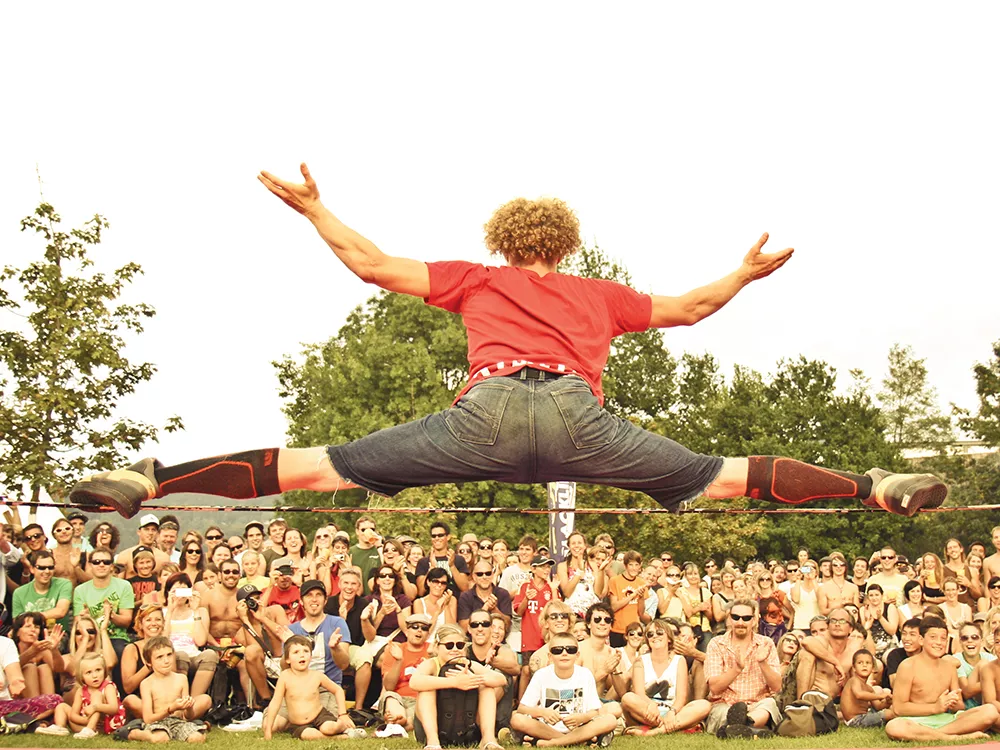 Here are some of the key ingredients in the Hoopfest 2013 soup: more than 7,000 teams, 650 court monitors, two days of play, a slam dunk contest, plenty of food and a whole lot more. Another major ingredient: an elite, world-class event featuring the top athletes in one of the freshest, most electrifying and fastest-growing sports in the world.
Already established as the largest three-on-three basketball tournament on the planet, Hoopfest looks to expand its draw this time around by hosting the Slackline World Cup competition.
What is slacklining? You wouldn't be blamed for asking. Chances are you've seen kids at the park trying to balance on a rope between two trees and assumed they were just training for the circus. That's slacklining. Kind of. On the professional level, imagine this: a hybrid of competitive trampoline and tightrope walking with a dash of NBA Jam-type air.
Tricklining is the sport's most popular style, and that's what you'll see on display this weekend. On a line only 2 inches wide, slackliners pull off wild flips, spins and other acrobatics, all the while trying to achieve maximum amplitude. "They demonstrate what is possible [on a slackline] to the extreme," says Jon Fait, a world-class slackliner from California coming to Spokane for the competition.
After Gibbon, a slackline company, brought an exhibition team to Hoopfest last year, they were eager to return this year as sponsors of the Slackline World Cup.
"They liked the built-in crowds, the community, the reception they received and the built-in energy," says Hoopfest executive director Rick Steltenpohl. "We're happy to bring them back."
Just as Hoopfest is unlike any other sporting event, slacklining is unlike any other sport. Gibbon and Hoopfest feel the two are a perfect match and are excited for people to see something completely new.
"We want the wow factor," says Steltenpohl. "We want people to wonder, 'What is Hoopfest doing this time around?' "
The competition is made up of the 32 best slackliners on the planet, including reigning world champion Alex Mason, a 16-year-old from El Cerrito, California. Nicknamed "The Machine," he does a lot more than the average person (and most slackliners) would dream of doing on a thin piece of rope.
"People expect slacklining to be tightrope walking," says Mason. "Nobody really expects the kinds of tricks that have been developed on the line."
Steltenpohl knows the main event is and will always be basketball. Yet the 250,000 people who make their way downtown for the weekend will be looking for things to do. Steltenpohl and the folks at Gibbon are thrilled to bring something so unique and largely unseen to the community.
"It's one of those things that will stop you in your tracks," says Gibbon events manager Jaime Pletcher. "You'll be amazed by what these guys are doing."
The competition runs throughout the weekend, with the final Saturday at 3:30 pm. As if watching the best slackliners on Earth wasn't awesome enough, a recreational zone will be set up for attendees to try slacklining, with demonstrations and help from some of the pros to get you acquainted with an activity you likely haven't attempted.
"It's a backyard sport on a whole new level," says Pletcher. 
Slackline World Cup at Hoopfest • June 28-29, Fri at 1 pm, 5 pm; Sat at 11 am, 1 pm, 3:30 pm • Free • Red Wagon Meadow at Riverfront Park • 507 N. Howard St. • spokanehoopfest.net • 624-0868