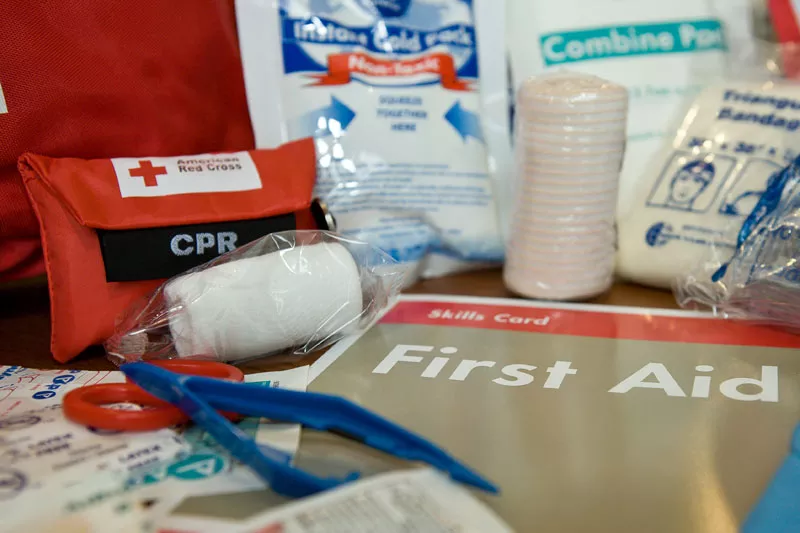 For most people, having some sort of daily routine comes naturally. You wake up, brush your teeth, have some coffee, go to work or school. But then there are those things you didn't expect. You cut yourself while shaving. Making dinner, the steam rising up while you're draining your pasta burns your forearm.
These are the times you will be glad to have a first-aid kit.
"It's like the Boy Scouts say: 'Be prepared,'" says Stacey Bogar, health and safety instructor of the Spokane chapter of the American Red Cross. "You never know what can happen to you or, maybe, to a guest in your home."
Bogar says having a first-aid kit in the home isn't enough. You should also have one for the car and your workplace.
"We recommend putting all the items of a kit in a backpack or something like that," Bogar says. "That way you can keep one in a specific place in your home and one in the trunk of your car. Your workplace may have a kit mounted to the wall, but if they don't, you should have a basic first-aid kit at work."
The Red Cross recommends bandages and gauze pads, antibiotic ointment, and antiseptic wipes, as well as a thermometer, tweezers and baby aspirin.
"Aspirin that is 81 milligrams is a local protocol to help thin the blood," Bogar says. Two baby aspirin should be given to someone you think may be having a heart attack, as long as the person isn't allergic or taking blood thinners already.
But if you want to take your preparedness a step further, first aid has moved beyond adhesive bandages and Vaseline, although those are still recommended for minor cuts and scrapes. Innovative products now offer battle-tested remedies for more serious problems.
Especially if it's likely you might encounter injuries that result in a rapid loss of blood — think chopping wood, working around power tools or recreation involving guns — consider including adding an Israeli Battle Dressing in your kit. This excellently titled multi-purpose bandage includes an absorbent pad, as well as an elastic wrap for applying compression or even to serve as a tourniquet, and it is designed to be used with one hand, no clips or pins.
Battlefield injuries have helped pioneer significant advances in dealing with blood loss, although excessive bleeding can also occur with minor injuries for people taking blood-thinning medications. A variety of trademarked chemical clotting agents are now available for consumers to stanch the flow.
QuikClot offers a variety of styles and mesh bags containing an "inert chemical clotting agent," rumored to be a type of clay, to be pressed against the wound. Kytostat bandages contain chitosan, derived from the shells of crabs and shrimp, which helps blood clot up to 100 times faster than it normally would. Celox offers a version of chitosan in a granule form that can be poured directly into a wound. Earlier problems with the chemicals generating heat that caused burns around the injury seem to have been fixed, and the clotting agents can be washed away after bleeding has stopped.
For burns, it can be handy to have something more than an ice cube and cool water to soothe the intense pain. BurnAid burn gel packs may be familiar to chefs, because they quickly work to soothe burned hands and fingers, but they offer rapid pain relief for all types of burns, including sunburn. Another product, BurnStuff, is a brown paste that instantly relieves pain from minor burns you might get in the kitchen or from crafting with a hot glue gun.
Beyond the products that you should have at the ready, the most important thing is to think clearly.
"The most helpful thing to do is to recognize and respond," says Bogar, "and to call 911 when you're not certain of what you're seeing."