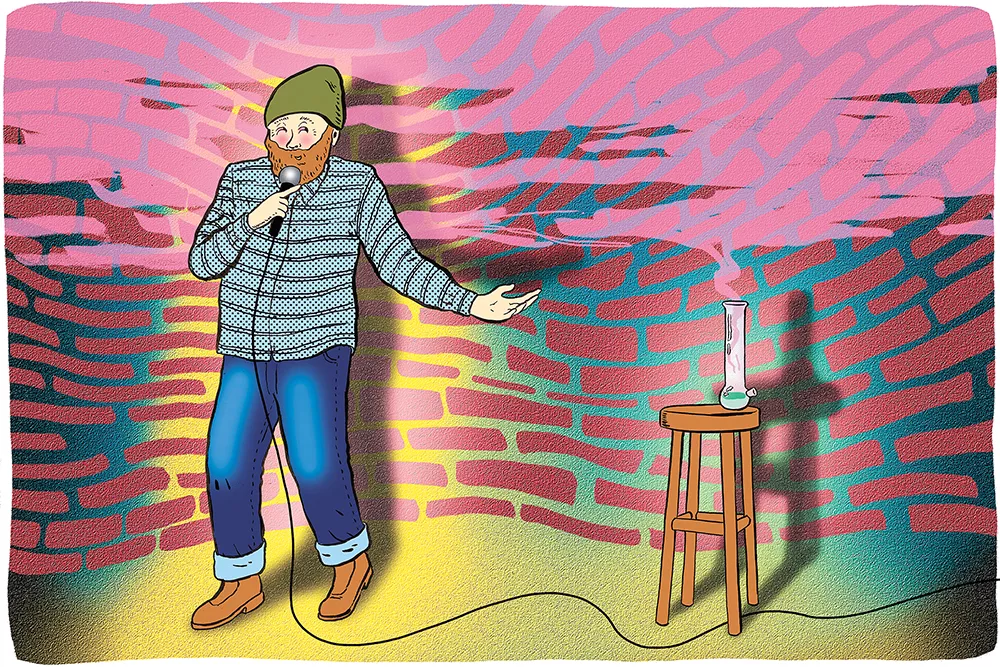 Dwayne Cullen takes the stage for the second time tonight at the Spokane Comedy Club with his hands full of candy and a small tub of popcorn. He giggles a little between jokes and seems to lose his train of thought here and there. The New York-based comedian is definitely not as smooth as he was about an hour earlier, when he won over the audience of nearly 150 with jokes about being the only white guy under the age of 50 named Dwayne, and comparing getting back together with an ex-girlfriend to "getting back into Limp Bizkit."
In between his trips to the microphone, Cullen and the four other comedians for the monthly Dope Show at Spokane Comedy Club have partaken in a bit of marijuana. The challenge for all is to maintain their composure for a second set performed stoned after doing their first sets sober.
For some, the difference is negligible. Show opener Levi Manis has such an off-kilter style even when sober that it's hard to tell much difference in his series of Steven Wright-style one-liners like "I live my life the way I was born — by accident and behind Arby's."
But for Cullen, who doesn't typically use marijuana, there's no question he's a different comic for his second, stoned set than his first. Still funny — "You cannot club a rat to death and make it look casual" — but clearly affected.
"Any time I'm up on the show with people who smoke weed regularly, they're just high, while I get panic attacks," Cullen says a week later about the Dope Show experience. "I had a panic attack once in Amsterdam, and I'll still get flashbacks to that. I had like five or 10 minutes [in Spokane] when I thought, 'Oh no' and my heart was palpitating. I didn't know if I could do it. It's weird, because for the people who smoke weed, they don't feel the same way. But for me, it's a bit of a roller coaster."
That roller coaster is by design, according to comedian Tyler Smith, who created the Dope Show back in January 2016. The self-described "pretty big stoner" likes to put together shows mixing avid pot smokers and non-users, giving the audiences a wide range of reactions to the comedians' mid-show indulgence. Smith tours the Dope Show through several clubs in the Northwest monthly, and says the Spokane Sundays regularly draw in the 100-to-150 range.
At late April's show, Smith opens with a few minutes of his own jokes about working at a medical marijuana dispensary before telling the crowd how the show works. Four comedians, sober through the day, will do short sets, then go get high and return to the stage, with nary a pause in the action. "There are no guarantees for the second set," Smith says with a giggle, then asks the audience to refrain from any heckling of the comedians because "it's scary up here, and then you throw drugs in the mix."
"Some of them smoke weed like me, every day," Smith says. "And some of them only smoke when I pay them."
Smith books different comics for each month's run of Dope Show gigs, so the audience is constantly being introduced to new comics. On occasion, as happened in April in Spokane with Gabriel Rutledge, the weekend's regular headliner will stick around and join the Sunday smoke-out.
Because pot affects everyone differently, even experienced users, every Dope Show set is different. The teetering dance between hilarious and disaster is something Smith loves. As an audience member, it's fun to watch, too.
"We have a shorter set for the second half because some people, when they get really baked, they get really rambling and keep talking. And not necessarily funny," Smith says. "For some other people, the silence between punch lines is so deafening, and when you're standing there waiting for people to laugh, you're thinking, 'How long have I been telling this joke? Are they still on board?'
"You can get lost, and there's real paranoia that you're not telling the joke right. And then we have some people who just have giggle attacks, and those can be the most fun."
For Cullen, the stress of a potential panic attack subsided in time for him to deliver a solid second set, even if there were more giggles between jokes than his sober first one. And all those candy bars he brought on stage were there for a reason beyond the munchies — even though getting stoned ended up killing the joke.
"The green room in Spokane has an apothecary table full of candy bars, and I discovered it after I got high," Cullen says with a laugh. "I think my plan was to take a bite of each one [during the set], but I didn't remember to do it." ♦
The Dope Show • Sun, May 21 at 8 pm • 21+ • $14.20 • Spokane Comedy Club • 315 W. Sprague • spokanecomedyclub.com • 318-9998