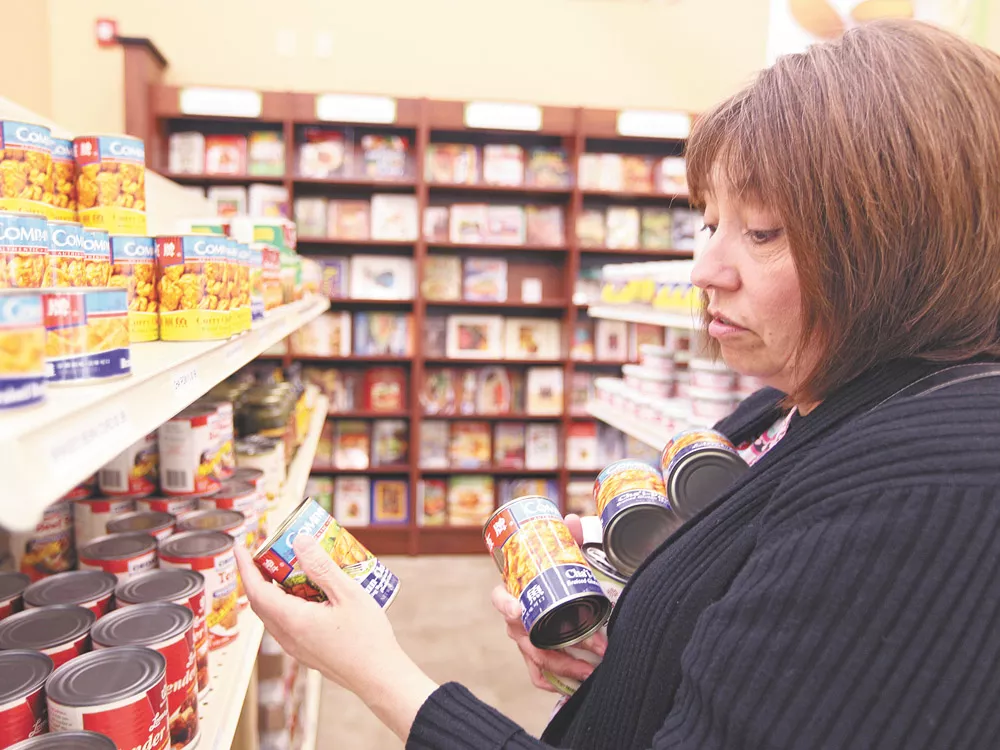 Herman Schreven leans back in his chair and swings his gaze outside — past green lawns and through a thicket of tall, swaying trees — toward a set of black iron gates.
"I put myself in my customer's place every day, and just driving in that gate would be intimidating," he says.
The 47-year-old is the long-time manager of ABC Christian Bookstore and Vegetarian Outlet, a store operated by the Upper Columbia Conference of the Seventh-day Adventist Church in an area far past the Spokane city limits, off I-90's Geiger Field exit — a place reserved for truck stops and John Deere tractor outlets.
It sits among a spread of buildings that are home to the Upper Columbia Conference of Seventh-day Adventist's administrative offices and other branches it operates: a Christian television station, a disaster relief organization, Positive Life Radio.
Schreven says he's well-aware of the stigma that his store — its location, its philosophy, its iron gates — carries.
Unlike a co-op or a natural food store, Schreven's store sells vegetarian staples alongside Christian witnessing guides. Bible lessons. Marriage books. There are no produce bins or dreadlocked staff members here. Just aisles of cans and a few refrigerators beside a spotless bookstore manned by a conservatively dressed middle-aged woman and Schreven, in a spotless lime green polo shirt embroidered with his first name.
Schreven knows that customers can feel threatened by the store's Christian roots — just like he might in a similar situation.
"I try to put myself in their shoes," he says. "If I needed a specific product and the only place to get it was a Mormon church, or — let's go to the other end of the spectrum — an occult shop that sold beads and moons and crystals and vegetarian food. I might be uncomfortable going in there. So that part of it really bothers me, and I would like to find a way around that.
"I do not want to use this as a tool to proselytize."
The store, which was founded in 1894 in Walla Walla, originally existed to serve vegetarian members of the Seventh-day Adventist Church — a Protestant Christian sect that celebrates the Sabbath on Saturdays and encourages members to practice healthy lifestyles, like vegetarianism. But it's not required, Schreven says.
"We believe the Bible teaches that the body is a temple of God, and as such you should take good care of it," he says. "And that pretty much means don't put toxins and poisons and unhealthy stuff in it. … The philosophy is, if your body's in good shape, you're going to be sharper mentally, you're going to be sharper spiritually. Your physical being affects every other part of your life."
It's a lifestyle that was hardly mainstream when it was introduced in the mid-1800s. John Harvey Kellogg — who would later lend his name to the Kellogg cereal brands — drew Adventists from across the nation to his Michigan-based Battle Creek Sanitarium for health treatments, where a vegetarian diet was encouraged.
"[Sanitariums] were, at the time, the forerunners of homeopathic medicine and diet," Schreven says. "They were places where people could come and they could get systems cleansed and put on a new diet. And they were quite successful."
Kellogg's health craze (which advocated for abstinence, as well as experimental health treatments like enemas of yogurt and water, and electrotherapy) drew people to Battle Creek from far beyond the church. President Warren Harding, Amelia Earhart and Henry Ford all were patients there.
It was around that time that Kellogg started experimenting with replacements for meat, and that is "when he discovered the amazing health qualities of soy," Schreven says.
Today, at the Spokane store, a direct link to those Battle Creek Sanitarium days lines the shelves. Schreven carries the most exhaustive supply of Worthington products — a brand of canned vegetarian meat substitutes owned by Kellogg's — in Spokane.
"In an attempt to get people off of a meat-based diet, even back 100 years ago, that's where a lot of these [Worthington] products were developed," he says. "And some of them, really the formula has not changed for over 100 years. It's tried and true."
ABC Vegetarian Outlet's vegetarian meat-substitute supply is staggering: hot dogs, chicken patties, hamburgers, tuna, ground turkey, scallops, bologna — even Peking Roast Duck. Most of it is in a can or frozen. There's no produce, and few perishable items here — Schreven says that's because ABC's niche is meat replacements. There are 25-pound bags of lentils and oats, animal-product-free gelatin, mock jerky snacks and bottles of non-alcoholic wine (labeled "Pinot Noir Juice" or "Chardonnay Juice"). He opens the door to a warehouse stacked to the ceiling with vegetarian hot dogs and bags of beans and oats.
"Truckers pull in here and they unload and they're just stunned. They're like 'You're really gonna sell all this?' And I'm like 'Yeah in about a month.'"
Schreven says his clientele is slowly changing. More people are coming through the gates.
"Everything from full-blown hippies to very conservative evangelicals," he says. "I would say 40 to 50 percent of our customers for the food have no religious connections, convictions, ties of any shape or sort. They are strictly in it for health reasons, environmental reasons, animal rights."
"We love all of them."

ABC Christian Bookstore and Vegetarian Outlet • 3715 S. Grove Rd. • Open Mon-Thu 9 am–5:30 pm, Sun 10 am–3 pm (838-3168)