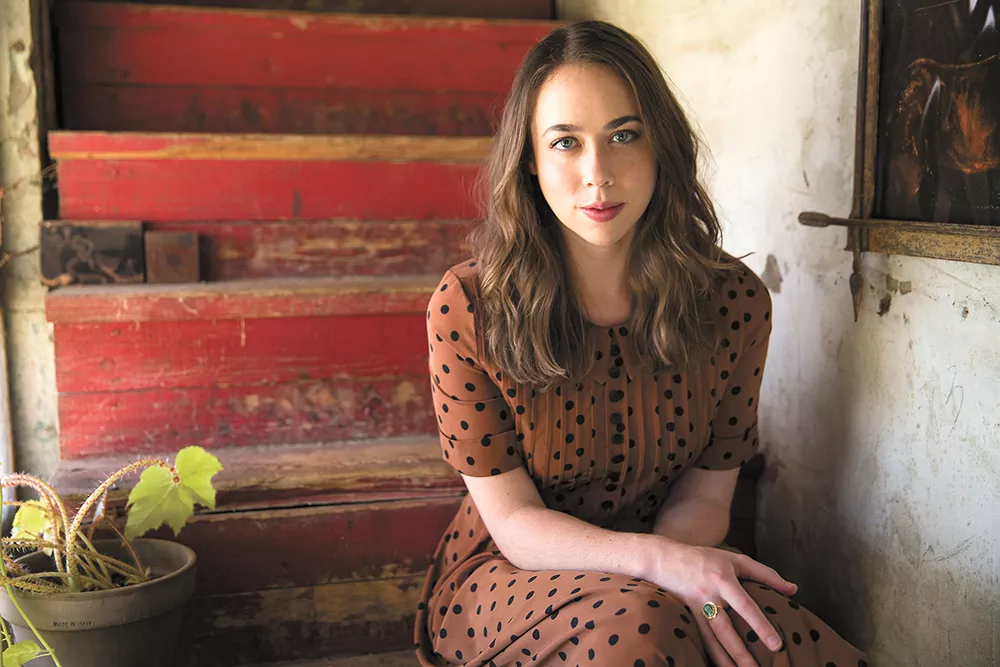 Sarah Jarosz has already had a lot of career highlights, starting as a pre-adolescent bluegrass prodigy, landing a record deal when she was still in high school and evolving into a daring multi-instrumentalist and songwriter who collaborates with some of the biggest names in acoustic music circles.
Even with critical accolades and the respect of her musician peers, there was no denying the excitement she felt at this year's Grammy Awards, where she took home the trophy for Best Folk Album for her 2016 release Undercurrent. She also won in the Best American Roots Performance category for one of the album's best songs, "House of Mercy."
"It was such a thrill, I won't lie," Jarosz says from her New York City home, on a rare day off from the constant touring she's been doing since Undercurrent's release. "I've definitely dreamed of that happening since I was a little kid, so it was pretty special."
The Grammys typically include about 100 categories, so Jarosz's big moment happened at a ceremony before the televised awards. Even so, she got to walk the red carpet and present a few awards in the classical categories.
"When we went to the actual televised ceremony, I was sitting in front of Chance the Rapper's mom," Jarosz recalls. "It was really sweet because he was performing and he won an award, and the whole time she was like, 'That's my baby!'"
Undercurrent is a worthy winner; the album, her fourth full-length release, is an assured step forward. While her talent was obvious when her 2009 debut Song Up in Her Head arrived, each subsequent release has showcased an artist becoming more fully herself. Undercurrent is Jarosz's first album of all original songs, her first since moving to New York City from her native Texas, her first since graduating from the New England Conservatory of Music and her first for which she's co-written many of the songs rather than working on her own. Parker Millsap, Aoife O'Donovan and the Milk Carton Kids' Joey Ryan all co-penned tracks on Undercurrent.
Jarosz puts a lot of the credit for Undercurrent's success to a period she took away from her solo career to work with other artists. In 2015, she spent time touring as part of I'm with Her, a trio she formed with O'Donovan and Nickel Creek's Sara Watkins.
"I feel like 2015 was an important year for me in terms of having the opportunity to do other projects, [I'm with Her] being one of them," Jarosz says. "Also being really involved with A Prairie Home Companion with both Garrison Keillor and Chris Thile.
"That year was the first time I really stepped away from my own thing in a while, and I think ultimately being in a more supportive role — or equal role with I'm with Her — I think you become a better musician when you're put in more of a 'listener' mode and aren't necessarily at the helm the whole time. I learned a lot."
After she winds up this fall's tour, Jarosz will again focus on outside projects before thinking about an Undercurrent follow-up. The attention that came with the Grammys has led to bigger shows and new fans, and inspired her to "spread my music to more people." It's also meant she hasn't seen much of her house lately.
"I've rarely been home this year," Jarosz says, noting that on the rare day off she goes for runs, sees her friends play music or stays in to watch Netflix. Pretty typical stuff for a 26-year-old, Grammys or no. "I think it's important to at least sometimes unplug a bit." ♦
Sarah Jarosz with Brother Roy • Sat, Sept. 30 at 8 pm • Sold out • All-ages • The Bartlett • 228 W. Sprague • thebartlettspokane.com • 747-2174