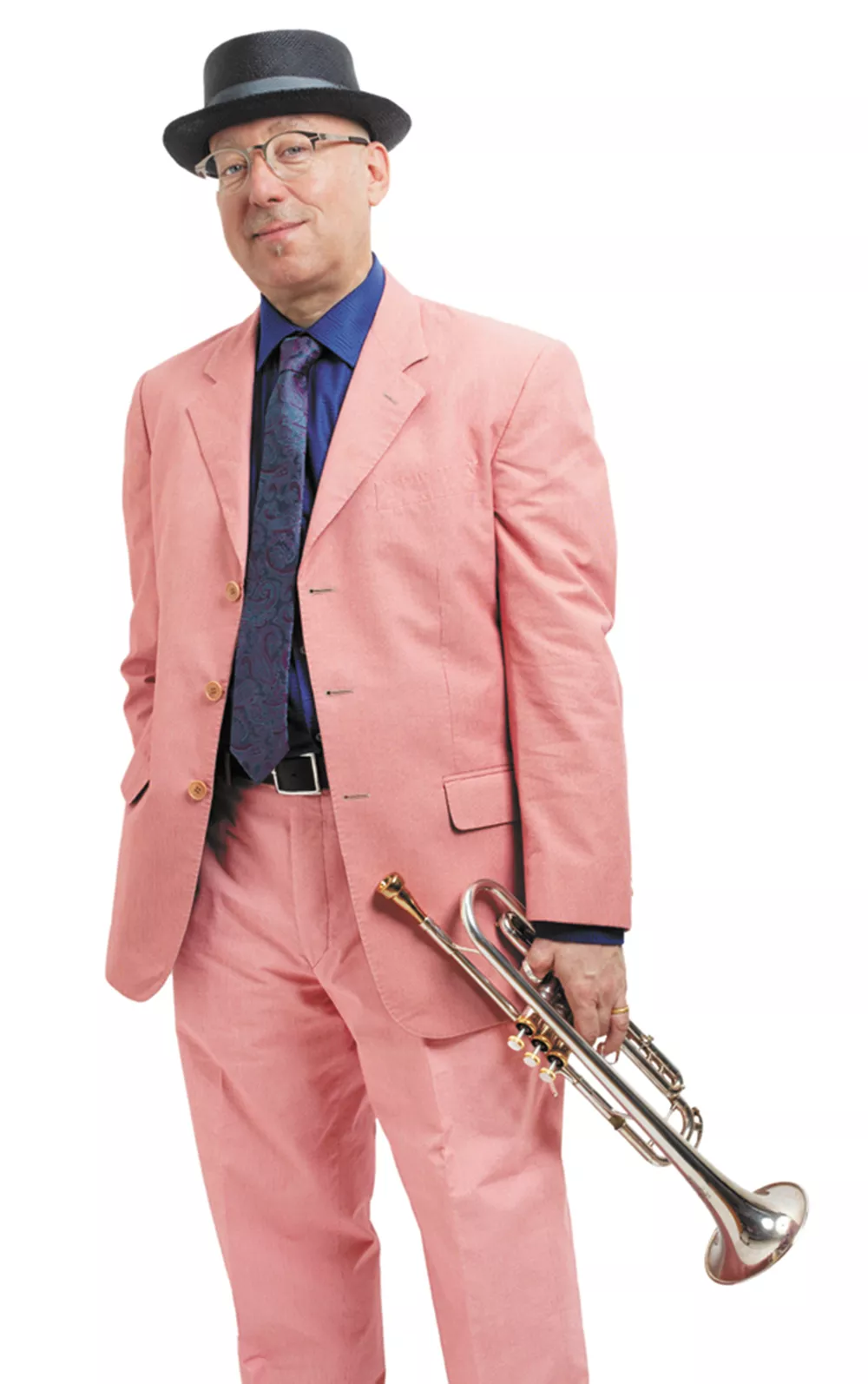 There are no auditions here. At Spokane Falls Community College, jazz ensemble enrollment is open for all. An overachieving Running Start program student will sit next to a 20-year-old just learning how to read music, or a grandmother dusting off her saxophone for the first time in years.
Kevin Woods sees this as a beautiful dynamic, it's one of the reasons he says he loves teaching at a community college — his students, coming from a wide variety of backgrounds, teach him new things almost on a daily basis. But he also wants to improve a jazz program that's currently the smallest of the programs offered in the pristine, newly remodeled music building.
"We've been in an ebb and it's about to move into a flow," Woods says.
Enter the resurrection of the SFCC Jazz Festival. Back for the first time since 2011, Friday's festival seeks to influence a whole new generation of jazz lovers. The event is split into two sections: Clinics and noncompetitive performance opportunities for local middle and high school jazz bands during the day, ending with an evening concert from high-caliber national jazz talent Brian Lynch, Kathy Kosins and Eyvind Kang.
"My vision is to bring in clinicians who are not only great players but great teachers," says Woods, who also teaches music history and plays with the Bob Curnow Big Band. "And with this lineup, I've achieved that."
In 1981 the SFCC Jazz Festival began as a partnership between the school and the Spokane Jazz Society. Over the decades, the Spokane Jazz Orchestra was connected to the event, along with a parade of jazz stars. But after some turnover in faculty and administration, the festival fell by the wayside. Woods came on board in 2012 and has since helped push to resurrect the festival and ensure that it exists for years to come.
The SFCC jazz ensembles won't be performing this time around. Woods admits it's tough, with a revolving carousel of students nearly every quarter. He's currently playing the electric bass with one group, an instrument he didn't know how to play until a student dropped out.
"It's hard to bring in some of the talent of the four-year universities," admits Pam Meyer, the advisor for Jazz Presents, a club that puts on jazz events throughout the year, including Jazz Fest. "We may be cheap, but we're not easy. We have really great teachers."
Growing up with musician parents, Woods didn't know pop music existed until a classmate handed him an MC Hammer tape that rocked his world. But the free-form coolness of jazz always stayed with him, leading to a stint as a music education major. Soon, he dropped out of school and headed for the high seas, where he performed on cruise ships. Eventually, he returned to land and finished his education, this time in jazz trumpet performance. Yet his yearning to teach never disappeared.
As with recently learning to play the bass, Woods is teaching his students that being a master of one thing is important, but so is being able to do it all.
"Maybe these kids will go on to another program, maybe they won't," Woods says. "But what matters is what they learn while they're here." ♦
Spokane Falls Community College Jazz Festival • Fri, May 1, public concert at 7:30 pm • $15/$10 students, seniors • SFCC Music Building 15 Auditorium • 3410 W. Fort George Wright Dr. • TicketsWest.com
---
When SFCC began its jazz festival in 1981, it was the only one in the Spokane area. Now many colleges with jazz studies programs offer a festival or an outreach performance as a way to recruit new students and open the jazz scene to the local community.
Eastern Washington University: EWU Jazz Dialogue summer camp offers public concerts every evening. This year's event runs from July 26-Aug. 1.
Washington State University: WSU Jazz Festival happens in November. Last year's featured percussionist and composer was Tom Morgan.
University of Idaho: The Lionel Hampton International Jazz Festival every February is one of the region's oldest and most renowned festivals, bringing international talent to Moscow, Idaho.
Brian Lynch, trumpet
The Grammy award winner was last at the SFCC Jazz Festival in 2011. His playing constantly inspires and uplifts, which is why SFCC professors wanted him back. He's especially skilled in the ways of Afro-Cuban jazz, melding the flair of more classic jazz with Latin coloring.
Kathy Kosins, vocals
The Detroit-bred alto has a voice that reminds you of smoke-filled rooms with comfortable, dark corners. Kosins is sultry and sexy and above all, cool. Originally a composer, writing for commercial jingles and boy bands, she writes her own music while putting a new spin on old classics.
Eyvind Kang, viola
There aren't many jazz violists, and Kang isn't necessarily trying to change that. The Seattle-based musician, who performed at SFCC last year with one of his many ensembles, simply proves that jazz transcends preconceptions. ♦
The evening also features local artists Kevin Woods, Brent Edstrom, Scott Steed and Dru Heller.