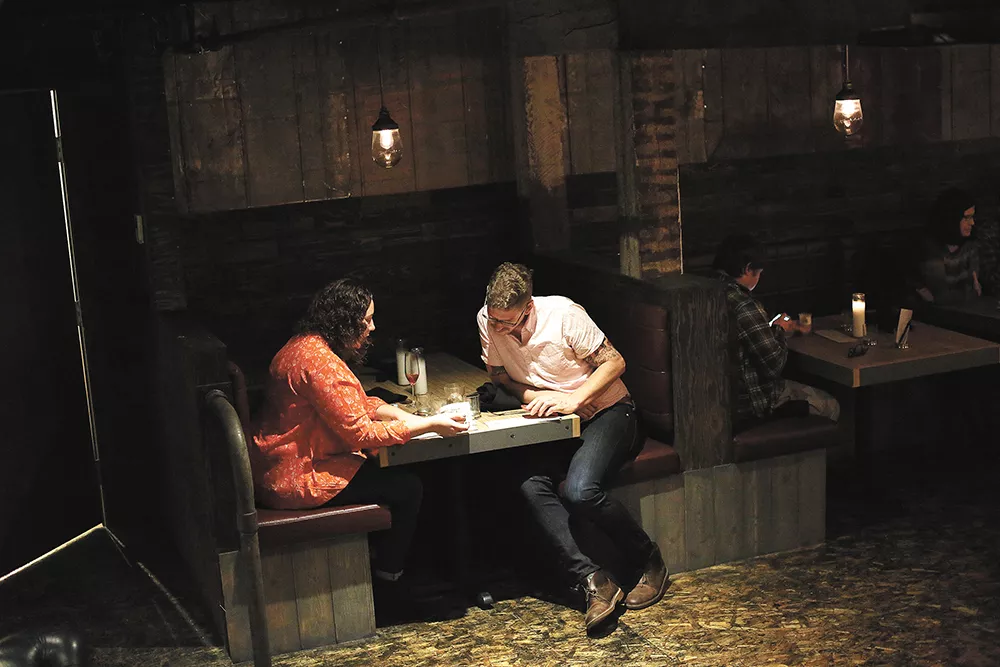 In several respects, the timing of Hogwash Whiskey Den's debut in the days directly after last year's Thanksgiving holiday couldn't have been better.
Opening to the public over a long holiday weekend gave locals a new place to show off to their visiting friends and family, as an example to say: "Look how cool our city has become!" But also, at the onset of one of the snowiest winters the Inland Northwest has seen in years, Hogwash immediately became a place for us to hibernate — like drowsy bears in a snug forest cave — and wait out the long, dreary months of cold.
There, we could warm our bodies from the inside out with carefully crafted, whiskey-focused cocktails by Hogwash's skilled bartending team, a list of familiar names headed up by bar manager Simon Moorby. A menu of decidedly comforting American classics fills diners' bellies. Staples include two cheeseburgers (one featuring a decadent square of battered and fried cheddar), cornbread, steamed veggies and other Southern-inspired fare on a list by chef-owner Jeremy Hansen, yet Hogwash's food stands apart from the award-winning local chef's other culinary operations, including Inland Pacific Kitchen, his latest project located across the hall.
And then there's the dimly lit, rustic space inside a cozy corner of the historic Washington Cracker Co. Building's basement that's been styled with an antique-inspired, masculine vibe. It's a den in every sense of the word, and residents have been filling its booths and bar top on a regular basis for the past four months.
"I don't think any of us anticipated the high volume we've had, especially on weekends," Moorby says. "I feel that most craft bars tend to be sort of a slower, more intimate pace, but we're serving upwards of 70-plus people on any given night."
Joining Moorby behind the bar are some faces — including Ariel St. Clair, Cabby Barnard and Jimmy Curran — recognized by locals who frequent other venues in Spokane's burgeoning restaurant and bar industry.
With its focus on whiskey-based cocktails — which is all you'll find on the Den's menu — Moorby says that Hogwash's top seller has been, naturally, the Old Fashioned; theirs is based on the famous 1881 recipe from the Pendennis Club in Louisville, Kentucky, that's said to have popularized the drink. Both the whiskey-curious and connoisseurs, though, have enjoyed the bar's version of a whiskey sour with the addition of egg whites.
"Guests are willing to get adventurous and trust in what we can do as bartenders. There is off-menu ordering, and requests to fill out what we can do with the spirits we have on hand," Moorby says. "We're able to get pretty whimsical, which is great for us. It keeps us creative and honest in our craft."
2nd PLACE: Spokane Comedy Club; 3rd PLACE: The Reserve