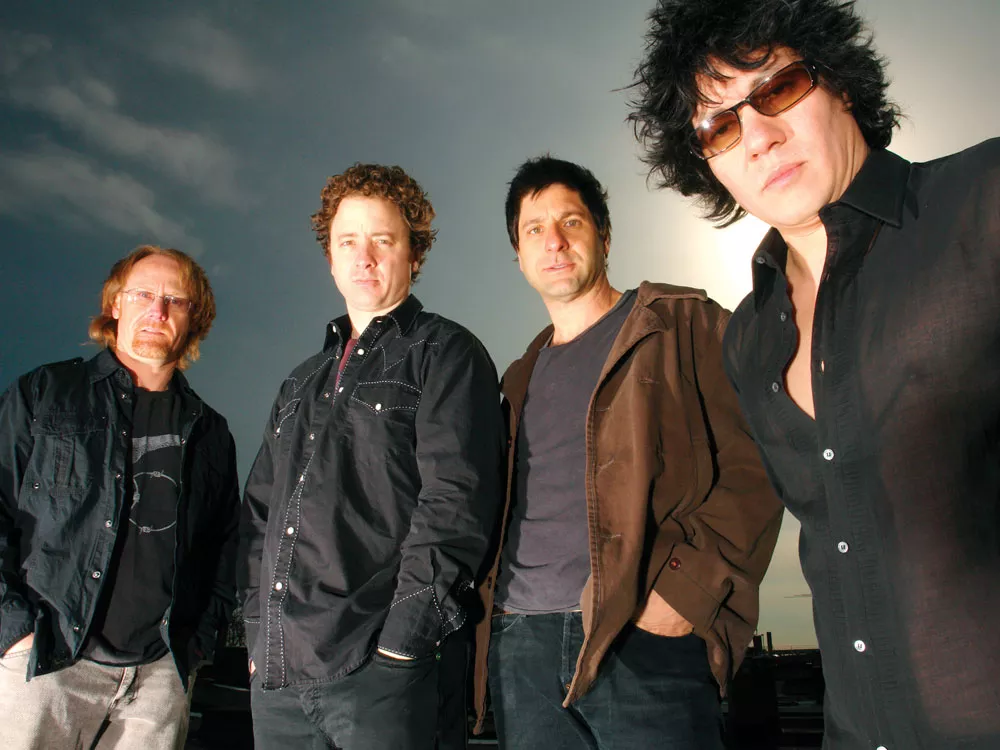 As they gear up for the release of Rocksteady, the band's 11th LP, Big Head Todd and the Monsters are doing what they always seem to be doing. Touring.
"Touring hasn't gotten old," says Todd Park Mohr, the band's eponymous front man. "The tiredest I've ever been was when we first started, and as the years have gone on, I've learned to enjoy what I do more."
Mohr says the band — which still boasts all three original members — has crisscrossed the United States "a couple hundred times" over the past 25 years. Around 400,000 of those miles were logged in the Colonel, a beat-up van that was recently resurrected for a stage gag during one of the band's acclaimed live shows.
"Yeah, and it still smells like it," he laughs. "We upgraded to a bus around 1993 or so, and the novelty still hasn't worn off."
Their life on the road is both necessitated and made possible by a devoted following — many of whom engage in routine tape-trading á la fans of Phish or Dave Matthews and plan their own travel itineraries around the band's touring schedule.
"We're super pleased to have such loyal fans. It's all about our relationship with them and their relationship to the music," Mohr says.
"This'll be our ninth studio album, so they have a lot of songs to choose from to make our shows pretty diverse. We're known for our catalogue and our performances as a live act more than just 'Bittersweet' or 'Broken-Hearted Savior,'" he says, referring to two radio hits from the band's 1993 platinum-selling album, Sister Sweetly.
The band might be known for yet another hit soon: "Beautiful," the first single from Rocksteady, is already getting significant airplay in major cities.
"It's actually done better than anything we've experienced since Sister Sweetly almost 20 years ago," Mohr says. "It's been super encouraging — this feeling that we might have a hit single on our hands, which is very unusual in today's market. I haven't heard anything but positive comments about it."
The song's style has even re-energized longtime fans with its uncharacteristic blend of Motown and island influences. If the "tropical soul rock" genre didn't exist before, Big Head Todd and the Monsters have ensured it does now.
"As a single, it's not so far out from some of our catalogue. We have songs like 'It's Alright,' which are pretty R&B-based. But [listeners] might be surprised when they get the album," he says.
Rocksteady is more like two records; 30 songs that were ultimately grouped and divided.
"We had so many songs and they were so all over the map, about midway through the process we split all of the rock and hard rock and all of the more soul and R&B stuff into two different camps. It was really wonderful when that happened, because we sort of had a eureka moment."
Between their back-to-back shows, Big Head Todd and The Monsters continue to rack up frequent flyer miles and put the group's seemingly indestructible unity to the test.
"Our friendship is one of the reasons why we've endured," Mohr says. "I mean, we disagree on a lot of things all the time. That's part of being in a band. But at the end of the day, you make compromises that end up being your strengths."
Big Head Todd and The Monsters play with Truth & Salvage at Pavillion Park in Liberty Lake on Saturday, July 24, at 6 pm. Free. Allages. Call 755-6726.