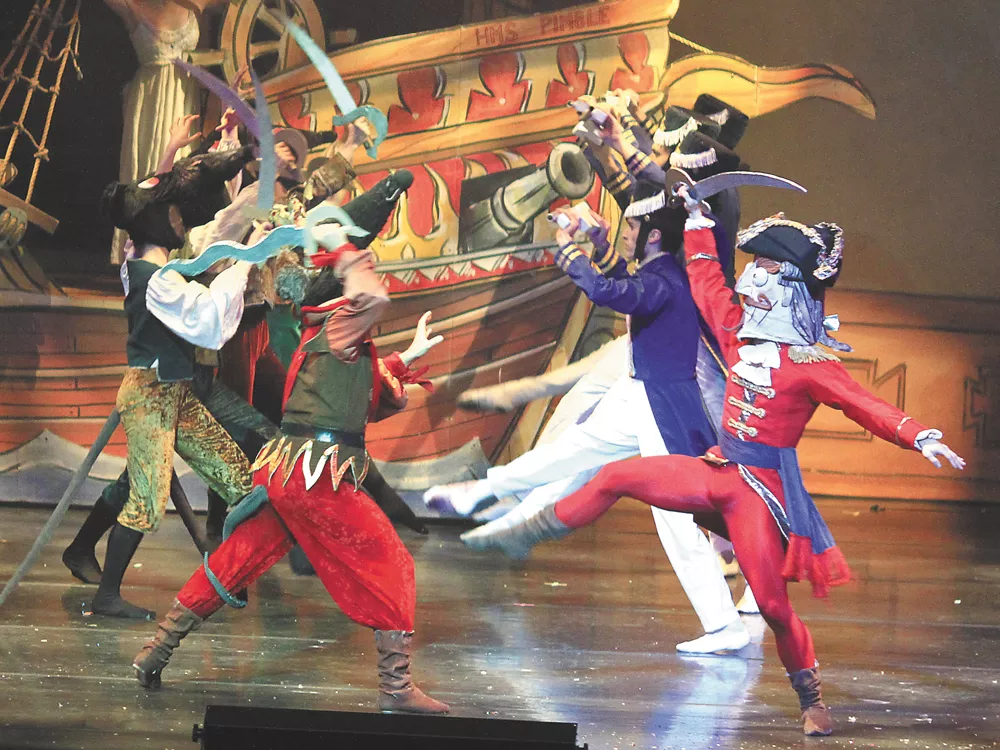 Sunday, Dec. 2
Wonderful Life
Frank Capra's It's a Wonderful Life has been making worried mothers cry for more than half a century now, and who could blame them? The story of George Bailey, a compassionate and desperate man, rising from desolation with the help of his community is a story perhaps too truly wonderful to ever go unappreciated, especially amidst the recent years of economic recession.
Now you can come out from your tissue- and wreath-strewn living room to see just that story on stage. Interplayers Theatre's It's a Wonderful Life: A Live Radio Play aims to reorient the holiday classic as a radio play, with five actors performing the characters as well as doing live sound effects.
Tickets are $28 adult, $22 military/senior, $15 student. Showtime is 2 pm. Check out interplayerstheatre.org for alternative dates and ticket information or call 455-7529. (CHRISTIAN WILSON)
Monday, Dec. 3
Oregon's Nutcracker
In almost every theater in every city everywhere, a rendition of Tchaikovsky's Nutcracker is performed. No different in Spokane, where the symphony is putting on a show (Dec. 6-9). But there's another option, too. The Eugene Ballet Company is performing the classic at Sandpoint's Panida Theater as part of a larger U.S. tour, delighting audiences with the well-known tale of the Sugar Plum Fairy and Mouse King, and giving you a chance to find a different venue for your traditional holiday fix.
Showtime Monday is 7 pm, with $25 tickets for adults and $10 for youth 18 and under. Visit artinsandpoint.org. (CW)
Tuesday, Dec. 4
DIY Ornaments
You know what? The Christmas season is too much damn work. Take an arts and crafts break!
Presenting... do-it-yourself Christmas ornaments for under $10, courtesy of Spoonful.com.
Indestructible Yarn Canes. What you'll need: two cotton skeins or rolls of yarn (red, white), scissors, red pipe cleaner, fancy-schmancy ribbon. What you'll do: open a skein of cotton and snip the loop at the end, repeating with the other color. Take one red and one white bunch, tying them together around the end of your red pipe cleaner. Simply twist the strands around the pipe cleaner until you near the end, then tie off the strands and trim any excess cotton and pipe. Bend into shape and adorn with a bow.
Graceful Paper Drops. What you'll need: assortment of colored paper, scissors, stapler complete with staples, maybe a ruler (I just eye-balled it), fifth-grade literacy. What you'll do for an ornament: Cut two 12-inch strips, two 10-inch and one 9-inch strip. Line them up in the order of 12, 10, 9, 10, 12 with the top ends even. Staple the top end. Line up the bottom end, bending the outer strips as required. Staple. For a heart: cut two 12-inch, two 9½-inch strips. Line them up in the order of 12, 9 ½, 9 ½, 12. Staple one even end. Even out the opposite side. Staple. For a teardrop: cut two 12-inch strips, two 10½-inch, one 9-in strip. Arrange 12, 10 ½, 9, 10 ½, 12. Repeat stapling procedure. (CW)
Wednesday, Dec. 5
M&M Chocolate-Covered Pretzels
What you'll need: 16-ounce pretzels, or comparable; bag of M&Ms of your choosing (variety preferable, mint suggested); baking chocolate or chocolate chips; wax paper; microwave; microwave-safe bowl; fork/tongs or comparable utensil for dipping.
Using the microwave, melt your baking chocolate/choco chips in your handy microwave-safe bowl. Make sure the chocolate is well-melted and stir for consistency. Using your utensil of choice, dip each pretzel into the chocolate and place onto a length of wax paper. Immediately adorn the pretzel holes with M&Ms so that they're pretty and to your taste. Let them sit until cool. (CW)
Thursday, Dec. 6
Sock Sleeves
Winter weather means hot beverages, whether it's coffee, hot cocoa or warmed eggnog. Hot beverages mean holding a potentially scalding cup. Holding a potentially scalding cup means... I'll skip to the point: cup sleeves! A surprisingly useful craft idea, and possible gift for the Starbucks addict in your life.
Assemble the components: fancy holiday socks you don't mind gutting, assorted buttons and small holiday decorations that can be sewn on or glued, sewing needle and thread and/or hot glue/comparable adhesive, glitter, sugar (for white snow-like effect), ribbon, etc.
Then, cut a circular strip out of the neck of the sock. Decorate the strip with whatever your little heart desires. Put on a hot mug or cup and enjoy! (CW)
Friday, Dec. 7
Manito Lights
Flowers are pretty enough on their own, but for one week in December, Gaiser Conservatory in Manito Park decides to make them even better. Thirty-thousand holiday lights fill the greenhouses, covering the wide variety of flora housed there. Seasonal flowers, including poinsettias and chrysanthemums, are brought in to suit the season, and be sure not to miss the century-old Christmas cactus.
The conservatory at Manito Park is open from noon to 7:30 pm, Dec. 7-16 and is free, with donations accepted. (CW)
Saturday, Dec. 8
Film Fest
The seventh annual Bing Crosby Holiday Film Festival is an all-day showing of three selected Bing Crosby films: White Christmas, Bells of St. Mary's and Holiday Inn. Accompanying the films will be a gallery of photographs of the entertainer as well as the Oscar statue from Crosby's best actor performance in Going My Way.
Doors open at 11 am, with White Christmas starting at noon, Bells of St. Mary's at 2 pm, Holiday Inn at 5 pm and a White Christmas repeat rounding off the night at 7:30 pm.
Tickets are available at TicketsWest or at the door: $7 for adults (good for all day), children 12 and under free. Snacks are available in concession where beer and wine will also be served. (CW)