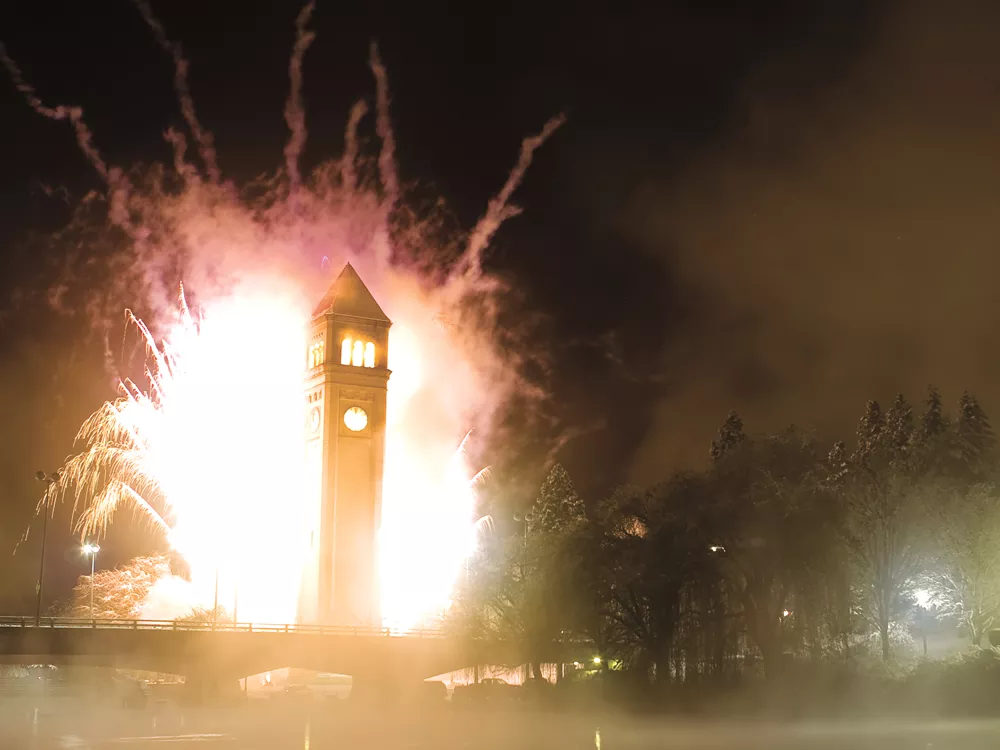 Sunday, Dec. 30
De-holiday-ize
In my household, the official rule has always been that every shred of Christmas décor comes down before the New Year rolls in. It's super tacky to leave up your tree and outdoor lights any longer, so all you procrastinators — take the hint. The day before New Year's Eve is the perfect opportunity to bid the holiday season farewell, so you can spend tomorrow prepping for whatever festivities are in store for the night. And, if you do happen to wake up with a hangover on Tuesday, you'll thank yourself for having this foresight. Even better, your abode will be fresh and free of Santas, snowmen and snowflakes on Jan. 1. (CHEY SCOTT)
Monday, Dec. 31
Ring in 2013
We all know there's lots of ways to celebrate the arrival of the New Year — hit up a friend's house party, get fancy and go to a formal affair or stay home and watch New Year's Rockin' Eve.
But if all those suggestions sound flat, you can always take to the streets of downtown Spokane for the annual First Night arts and entertainment celebration. Spokane started hosting the family-friendly, non-alcohol event in 2001, and this year's theme is "Across the Universe: Year of the U.F.O."
Festivities start at 6 pm with a masquerade parade down Spokane Falls Boulevard to River Park Square. From 7 pm until 20 minutes before the midnight fireworks show, venues around downtown will host everything from live music and dance groups to comedy shows, art exhibits and demos, theater performances and film screenings. There's really something for everyone, and the best part is that passes for the night are $12 if purchased before the event, and $15 the day of. Get your pass now online at firstnightspokane.org. (CS)
Tuesday, Jan. 1
Pamper Yourself
It's the last paid holiday off work for most of us for a loooong time. We hate to be downers, but Memorial Day is five months away. That means you should make the most of this day by doing absolutely nothing except pampering yourself!
If, perhaps, you wake up still feeling those four glasses of champagne you downed last night, start out by nursing that headache with a delicious Bloody Mary, the classic hangover antidote. Here's a standard recipe from Chow.com, which also encourages imbibers to experiment with ingredients to fit their own taste.
Bloody Mary
2 ounces vodka
4 ounces tomato juice
½ teaspoon of freshly grated horseradish
2 to 3 dashes of Worcestershire sauce (vegetarians, use clam juice)
3 dashes of Tabasco Sauce
Pinch of course salt or sea salt
Pinch of freshly ground pepper
¼ ounce lemon juice
Pinch of celery sale or seeds, crushed
Wedges of lemon and lime
Combine the vodka, tomato juice, horseradish, Worcestershire sauce, Tabasco, salt, pepper, lemon juice and celery salt in a cocktail shaker over ice and blend. Strain over fresh ice into a highball glass. Garnish with a wedge each of lemon and lime, and add a celery stalk if you like.
Now, on to the real pampering! Treat yourself to a facial, massage or an entire spa day to physically and mentally refresh for the New Year. While there are many health and beauty spas across the Inland Northwest, it's advised to make an appointment for today a couple weeks ahead of time. Try Northern Quest Resort & Casino's La Rive Spa. Packages range from $90-$295. (CS)