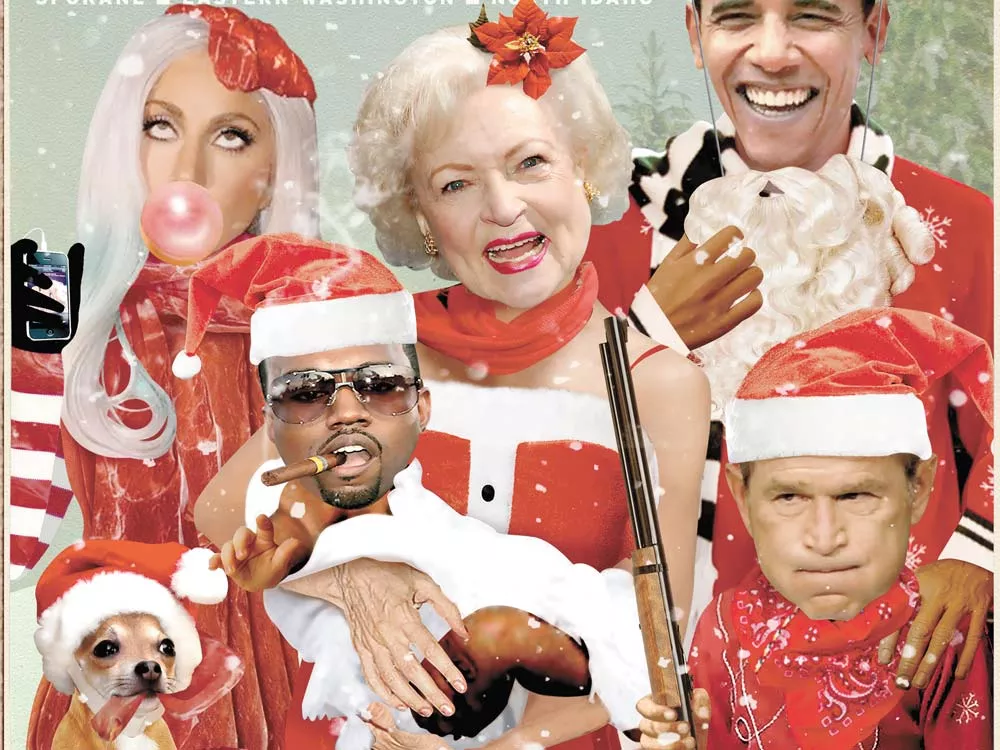 Thursday, Nov. 25
Buy a Red Ryder BB Gun
You can get an early jump on yuletide fervor by taking in the Spokane Children's Theatre production of A Christmas Story (Nov. 26-Dec. 12 at SCC; $12, adults; $10, children). But there's no performance on Turkey Day, silly! That's why, once the post-turkey-dinner nap is over, you're going to plunge into rush-into-Christmas mode by studying up on Red Ryder BB guns, Scut Farkus and leg lamps. Since the '80s, the movie has played so often on TV that everybody thinks he's a Christmas Story expert. So, sure, you know all about licking frozen flagpoles and eating Chinese turkey. But would you bet that you know the contents of the decoder pin's secret message? We triple dog dare you. (MICHAEL BOWEN)
Friday, Nov. 26
White Christmas
The Christmas tune of Spokane's favorite son was a song first, then a movie, then a stage musical. The original, now-deleted introductory verse of the song, as many know, is sung by a guy who's in a sunny place with palm trees. He's nostalgic for "sleigh bells in the snow" much like the servicemen stationed far from home in 1942, when the song was initially released. That blend of sadness and beauty suggests why "White Christmas" became so popular.
For the Civic's production (Nov. 19-Dec. 19), Kevin Partridge, who in past shows has played roles associated with James Stewart and Robert Goulet, steps into Bing Crosby's shoes in Der Bingle's hometown. Partridge will play the Broadway-star half of the Army-boy duo who put on a fundraiser for their former commanding officer in the piney woods of Vermont.
The Civic, expecting a local blockbuster, has raised ticket prices for this show by $4 ($32, adults; $30, seniors; $24, students). Demand is still going to surge, and tickets will sell fast because few things arouse the Christmas spirit better than a formal-wear chorus singing a beloved Christmas song as stage-snow softly descends. (MB)
Saturday, Nov. 27
Honky Tonk Angels Holiday Spectacular
For their holiday sequel show at Interplayers (Nov. 24-Dec. 11), the Angels have added a fourth wheel for their revue, set at the fictional Hillbilly Heaven Club in Nashville, Tenn. (The new girl is a psychic manicurist.) You'll hear classics like Dolly Parton's "Coat of Many Colors," a Motown Christmas medley, and the greatest of Elmo and Patsy Shropshire's hits from 1979, the immortal "Grandma Got Run Over by a Reindeer" all of $16-$22 a seat. And the satin of the Angels' dresses will be almost as shiny as their bright smiling faces. (MB)
Sunday, Nov. 28
Easy Mulled Wine
Making mulled wine doesn't have to be an elaborate process it can be done swiftly while still maintaining deliciousness. Below are two delightful recipes, arranged in order of most to least classy. Please enjoy.
Simple Mulled Wine
1 bottle (750mL) red wine
1/2 cup water
1/2 cup sugar
2 sticks cinnamon
4 whole cloves
1/2 orange, cut into 1/4-inch rounds (remove seeds)
1/4 cup Triple Sec (optional if you're a pansy)

Mix all this stuff together. Heat on a stove for 30 minutes, making sure not to boil, as this will burn off the precious alcohol.

Linda Louise's Ghetto Spiced Wine
2 cups red wine
1 packet cider mix
1 cinnamon stick (optional if on sale)
Pour wine into mug and microwave on high for 1 minute. Dip index finger into wine to check temperature. If your finger sustains a mild burn, the wine is ready. Add cider mix. Stir with spare index finger. Garnish with cinnamon stick. (TIFFANY HARMS)
Monday, Nov. 29
Ugly Holiday Sweater Extravaganza
You're an adult and are therefore capable of something children are not: intentional comedic irony. Ugly Holiday Sweaters are conceivably the best and easiest way to enjoy your adulthood this festive season.
Here's the rundown.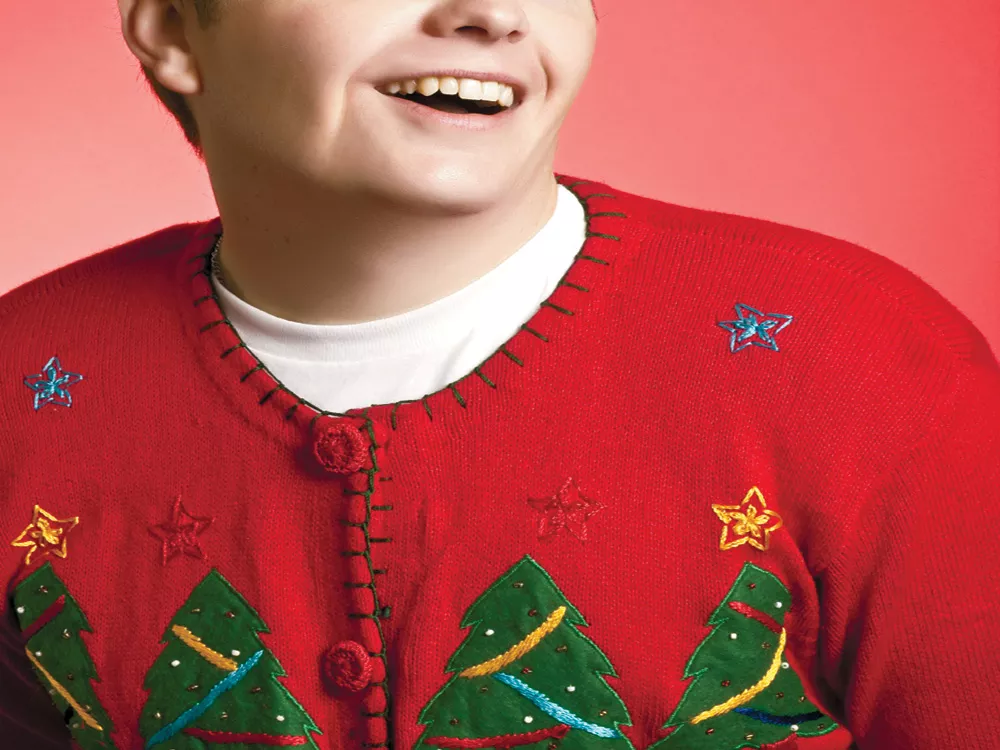 Step 1: Corral a UHS posse. There is strength in numbers, especially if you're about to make yourself look like a fuzzy turd.
Step 2: Locate the ultimate UHS. You are blessed with many a local used clothing establishment. They'll have the goods. Bonus points if the sweater includes kittens. Just because.
Step 2.5: Let's say you've found a UHS that's just not quite horrible enough to be funny. Fix it with the following from a craft store: glitter puff paint, tassels, fake fur, sequins or felt.
Step 3: Party. Ugly holiday sweater parties are perhaps the best kind of party, mostly because the normal social order is reversed: Those who look the ugliest reign supreme. You can either throw your own, or hunt down another in the community. Now that you're prepared ahead of time, those 21 and over can attend the Aclub's Ugly Xmas Sweater Party on Dec. 4 at 9 pm. Admission is free with UHS, and prizes are given to the best of the worst. (TH)
Tuesday, Nov. 30
Christmas Tree Elegance Lighting Ceremony
Entering the Davenport will make you see yourself in one of two ways: royalty or ragamuffin. That being the case, those who plan on attending the Davenport's tree lighting ceremony should be ready for some fancy, because it even has the word "elegance" in the official title of the event. When you think about it, though, wearing some nice clothes to a free tree lighting ceremony is a small price to pay considering it allows you to avoid the mayhem of the River Park Square tree lighting. The Davenport Hotel Lobby, free, 5:30 pm. (TH)
Wednesday, Dec. 1
Christ Kitchen Holiday Baskets
If you're looking for a unique charity to support this season, check out Christ Kitchen and their festive food baskets. The nonprofit organization provides work, job training and community fellowship for Spokane women living in poverty. Most don't realize that it's nearly impossible to get a job if you don't have already have money nice clothing and reliable transportation are a must, as is a phone and/or an email address.
Those struggling don't always have access to these necessities, keeping them trapped in poverty. That's why Christ Kitchen has stepped in, helping women find a way out of the vicious cycle and into a position to achieve their goals and support themselves, their families and one another.
The baskets go on sale today at River Park Square and will be available through Dec. 24. If you have questions, contact Christ Kitchen at 363-0304, or visit their website at christkitchen.org. (TH)
Thursday, Dec. 2
Snow Cone Revival
Screw blenders. You don't have to put up with ice chunks in your frozen beverages any longer. Nature is here with the assist it's time to emerge from the paranoid cocoon that snooty adulthood has built around you and eat some snow. Many things taste good over snow, but below is an especially nice starting point. And really, a teensy bit of frozen atmospheric pollution never hurt nobody.
Mama E's Margarita
This drink is the ultimate consistency for those who like their margaritas blended the way Mother Nature intended.
Tequila
Triple Sec (orange liqueur)
Margarita mix OR limeade OR citrus juice

Take the snow and place it into a large glass or mug, preferably chilled in the refrigerator beforehand. Begin to pour the mix (also chilled) into the glass, stopping when it reaches about three-quarters of the way up the glass. Stir into the snow. Add booze to taste. Stir.

Note: Soda does not make a good snow flavoring. The carbonation doesn't hold up and it ruins the snow, leaving you with a pathetic wad of ice floating in a glass of sugar water. (TH)
Friday, Dec. 3
Kidnapping Christmas Dinner Theater
For some reason, there has always been a draw to watch interesting stuff while eating. We do it today with microwave dinners and TV, but in the olden days, they had dinner theaters, which are way better. See for yourself over a five-course meal at the Lion's Share's presentation of Kidnapping Christmas, a play about three children who attempt to pawn off their new baby brother 'round Christmas time. Check out the lovely intimate setting of the Lion Share, 1627 N. Atlantic, $45, 5:30 pm. Call 327-1113 to make reservations for the Fridays and Saturdays of Dec. 3-4 and Dec. 10-11. (TH)
Saturday, Dec. 4
Nutcracker Mini Performances
We like our stuff streamlined nowadays, and it seems ballet is no exception. Parts of the famous Nutcracker ballet will be performed at River Park Square, 2-4 pm on Dec. 4-5, and Dec. 11-12. Totally free of charge. (TH)
Sunday, Dec. 5
'Twas the Night
OK, so it's more like three weeks before the night before Christmas, but chronological accuracy's never been a big part of the yuletide season, anyway. The Spokane Civic Theatre Academy students are putting on a production of 'Twas the Night Before Christmas, the play based on the classic poem by Clement Clark Moore.
In addition to the play, a silent auction, desserts and pictures with Santa will be offered. All proceeds from the event will go to the scholarship fund for the academy, which helps children who may not be able to afford classes. The silent auction/dessert starts at 6 pm at the Civic, and the curtain will rise at 7. Tickets for the play are $15 and it'll probably be way better than the normal Christmas pageants put on by the young'uns. There are only so many ways we can learn the true meaning of Christmas. (DAN HERMAN)
Monday, Dec. 6
Gonzaga Symphony Orchestra
You've been bombarded by cheery Xmas tunes since November, so maybe it's time to give your ears a Christmas respite. Check out Elmira Darvavora, who will enter on the violin while being accompanied by the GU symphony orchestra at 7 pm.
The program includes Franz Liszt's Les Preludes, the intermezzo from Pietro Mascagni's most famous opera, Cavalleria rusticana, and the fan-favorite overture to William Tell, concluding with Brahms' Violin Concerto. Even if you're not familiar with these standards of classical music programming, it's a chance to get out and enjoy some (non-commercialized) culture without having Santa's beard shoved down your throat. Tickets are $10, or $8 for students and seniors, and the performance begins at the Fox at 7:30 pm. (DH)
Tuesday, Dec. 7
Music in Historic Homes
Old music, old house. That sounds about right. Classy, beautiful music in elegantly appointed homes that have been restored to their original splendor? That sounds even better. Allegro Baroque and Beyond is celebrating their 20th anniversary series by returning to homes they've gone to before (and presumably had great success at).
You've got two days to enjoy the sounds at the Jasper-Nuzum House this time around, on Dec. 7 and 8. The Tudoresque manor was designed by Kirtland Cutter (who was kind of a big deal for Spokane architecture) and Karl Malmgren (medium-sized deal). For $25, you can hear melodic strains in the comfort of opulence at 3, 4:30, 6 and 7:30 pm. Better hurry, though three of the performances are already sold out. (DH)
Wednesday, Dec. 8
Holiday Pageant Scramble
You're relaxing peacefully at home, sipping your goblet of mead, when you remember that your child's school holiday pageant is tomorrow, and you haven't bothered to put together a costume yet! Buying something from the store isn't an option, as all the traditional holiday characters (Santa, Rudolph, zombie Seinfeld) have religious connotations. What to do?
Thank god for Halloween. Here's a handy guide for repurposing all those topical costumes into their secular "holiday season" equivalents:
Na'vi outfits: Those blue skinsuits will come in handy when you're portraying Unlucky, the heavily frostbitten elf.
Lady Gaga: Don't do anything. You're a postmodern snowman!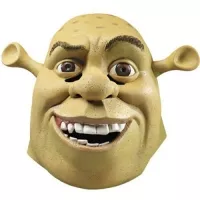 Shrek: He's a little too tall to be an elf, but not too tall to be the Yao Ming-esque elven star of the North Pole Basketball League (bonus points for going multicultural). Good luck working that into the script. (DH)
Sarah Palin: Add a black top hat, and immediately find your child transformed into the wicked witch of the north. It's the perfect holiday villain who everyone can relate to. And, appropriately enough, she can see Russia from the North Pole. (Not really.)   
Steampunk anything: This is more likely to come out of (nerdy) Dad's closet, but who says Chaz Dickens can't make an appearance in his own fictional story?
John McCain: Probably had to dig this one out of storage from two years ago, but you can never go wrong with having Old Man Winter hang around the festivities.
Snooki: Every holiday morality tale always needs a rat fink. At least you've got the "rat" part down pat.
And hey, if you're really in a pinch, you can always go the old-fashioned "ghost" route and throw a sheet over your child's head to create a snow monster. Lazy? Yes. But really, who are you to complain? (DH)
Thursday, Dec. 9
Call Santa
He's probably checking his list (twice) on his iPad, but Santa hasn't quite been taken hold by the email or texting revolution just yet. As a result, the only way the kids can get ahold of Big Red is to drop him a line through snail mail or give him a ring the old-fashioned way, via telephone. They have to ration calls, but the Inland Northwest will have a direct line to the North Pole open from 6-8 pm by dialing (208) 687-2399 or (208) 637-2700. (DH)
Friday, Dec. 10
Shop 'N' Drop
It's hard enough keeping presents a secret when kids are poking around in closets, attics and snooping around under the bed for them. But if they're actually in the store when you're buying them, it's pretty much a lost cause. That's why Mobius Kids offers three Shop 'N' Drop events where they can watch The Polar Express while you go out and buy it for them on DVD. There are different activities every time, but if you need some alone time with ghost of consumers present, fork over your kid and $15 on Dec. 10 from 5:30-8:30 pm, Dec. 20 from 9-11:30 am, or Dec. 22 from 3-5:30 pm at Mobius. (DH)
Saturday, Dec. 11
Celebrate with Bing
It's the Fifth Annual Bing Crosby Film Festival, held (appropriately enough) at the Bing Crosby Theater downtown. It's a full day of everything Bing-related, from screening movies (including Road to Morocco and a documentary, The Legendary Bing Crosby) to chatting up people who knew Bing personally out in the lobby.
Doors open at 10 am, and the films begin with a showing of the classic White Christmas at 11. The legendary film will also conclude the program with an encore showing at 7:30 pm. Admission is free, but a $5 donation is suggested to support the nonprofit Advocates for the Bing Crosby Theater. Baby, if it's cold outside, here's a place to go to make your evening so very nice. (DH)
Sunday, Dec. 12
Paws and ClaWs
Santa's got a big lap, and children aren't the only lucky (or tortured) little ones who get to have their photo taken with the big guy. Bring your dogs, cats, iguanas and parrots for a photo that will gleam on your refrigerator for years to come. And don't worry, Santa doesn't belong to PETA. You can probably pick up a sweet holiday sweater or vest for your St. Bernard or obese kitty at Value Village. Bring your furry and feathered friends to River Park Square, $20-$30, 6-9 pm, all breeds. (JORDY BYRD)
Monday, Dec. 13
Eco-Christmas Tree
There is a long-held debate concerning real Christmas trees versus fake ones. One option requires cutting down a live tree and pretending to water it for a month like it's going to live. Then you stuff it into a dumpster or sneakily toss it off the side of the road. Option two requires you to fake it with an artificial tree made from non-renewable plastics. As an added bonus, the tree may even contain a hefty dose of toxins and other nasty chemicals.
Feeling guilty? Luckily for you, there is a variety of other yuletide options if you're willing to turn your back on unsustainable holiday traditions, like buying a potted live tree. These green little guys will stay small enough to last a couple holiday seasons, and can be permanently planted (or donated for transplant) once they get too big.
You can even pull together your imagination, scissors and craft glue to make a recycled Christmas tree. Ingenious crafters have used recycled cans of Pabst Blue Ribbon, jars of baby food, cardboard boxes and recycled plastic bottles to create their very own holiday centerpiece. Start from the bottom up and build a cone. Poke a few holes through the exterior and use thumbtacks, needles or paper clips to hang your grandmother's vintage ornaments. She would be proud of your resourcefulness. (JB)
Tuesday, Dec. 14
Christmas Movie Marathon
If the weather outside is frightful and, like most Spokanites, you don't have a fireplace, pop in a slew of Christmas movies and vegetate. You don't have to go out in public to feel the spirit of the holidays everything can be experienced from the comforts of your saggy floral couch. But be forewarned, this will be a long, teary night, so don't skimp on snacks and refreshments.
The endless collection of holiday classics can be categorized into crude animation, heart-warmers and comedic interludes. The crude animation category includes a retro list of movies like Rudolph, the Red-Nosed Reindeer, How the Grinch Stole Christmas and A Charlie Brown Christmas. No, the films aren't available in 3-D and each frame feels a bit shaky, but the nostalgia and sugary-sweet messages never expire.
As for the heart-warmers: There's Miracle on 34th Street, A Christmas Carol and It's a Wonderful Life all of which will make the season seem less about parties and presents, and more about the human spirit. But if you need a comedic interlude, check out National Lampoon's Christmas Vacation, A Christmas Story or Bad Santa. Because the truth is, the holidays are stressful, relatives drink too much and some children deserve lumps of coal. (JB)
Wednesday, Dec. 15
Second Harvest Food Bank
Take action this holiday season by donating your time, food and money to Second Harvest Food Bank. The organization provides 1.5 million pounds of donated food each month to feed hungry people. Volunteer, even for just one evening, to sort produce, pastas and other food items.
The time commitment will feed your own holiday karma. Be good, because you never know who's watching. Oh, and don't forget to bring a bag of groceries (and closed-toed shoes). Join Second Harvest Food Bank at their distribution center each Monday and Wednesday evenings from 5:30-7:30 pm, 14 and older. (JB)
Thursday, Dec. 16
Singing Nuns
Their website claims they're so rare nowadays that you've probably only seen one in an old movie or on a list of endangered species. But these zealous women nuns in their full cape-and-blue-gown glory exist throughout Spokane. In addition to their lives of teaching and servitude, some of them like to belt it out.
The traditional Catholic sisters from Mount St. Michael's Convent will woo you with the sound of music and the joy of the holidays. Don't miss the chance to see a nun in the wild. Join the singing sisters at the Bing, $16-$20, 2 pm and 7:30 pm, all-ages. (JB)
Friday, Dec. 17
Build a Fortress
Frosty the Snowman is for chumps. Anyone with two arms, disposable thumbs and access to carrots can build that lump of slush. Adults and teenagers need to take their artistic winter expressions a bit more seriously weather permitting, of course. Outshine your neighbors with an honest-to-goodness igloo. Sugar cube squares, one small door and a massive structure will make up for your lack of Christmas lights and holiday flair.
Then again, snow castles are pretty cool, too. A brief history of ancient German or Irish architecture will brief you on window sizes, columns and moats. You can even add a modern-day twist by building your own army of Avatars. Snowy dreadlocks and blue food coloring should do the trick. (JB)
Saturday, Dec. 18
Holiday Drink Bar Hop
You don't have to roast chestnuts on an fire to get nice and toasty this holiday season. Local pubs and bars always have a tasty selection of winter ales and warm mixed drinks to keep you company.
Why not try them all? Spend an evening with family and friends bar-hopping from one holiday drink to the next. Your cheeks will get rosy and your disposition merry as you learn with each sip that no two hot buttered rums or Kahlua blends are alike. (JB)
Sunday, Dec. 19
The Nutcracker, with the Spokane Symphony
Remember your New Year's resolution? You promised you'd support the arts, going to at least two cultural events a year. Well, it's December. You haven't gone to crap, but you're in luck. With both the Spokane Symphony (playing the classic Tchaikovsky score) and the Memphis Ballet (dancing majestically to it) performing the Nutcracker, this event counts double.
The Spokane Symphony has performed this show for 25 years. Those who were infants at early performances are now bringing their children. And even though the main characters are Memphis-based professionals, 70 young Spokane-area ballet dancers will be performing as well.
Performances are on Dec. 17 at 7:30 pm, Dec. 18 at 2 pm and 7:30 pm, and Dec. 19 at 2 pm. Ticket prices range from $22 to $39 for adults, and cost $14 for children ages 12 and under. (DANIEL WALTERS)
Monday, Dec. 20
Go on a Christmas Light Tour
Maybe your family doesn't put up Christmas lights. Waste of power, Dad says. Waste of money. Waste of time. Why, back in Dad's day, dadgumit, President Jimmy Carter got on the television in a sweater and
"Daaaaad."
"Fine. We can go look at other wasteful families' shrines to materialism."
The city, in all its glorious excess, awaits. Our family religiously stops by the North Spokane house on Whitehouse Street, where the setup is always classily elaborate, and never garish.
For more locations, the Spokesman runs a user-generated guide to holiday lighting at spokesman.com/holidaylights. In the spirit of Miracle on 34th Street, we recommend you check out our competitor.
Enjoy the extraordinary displays of light and music throughout Spokane. Because we guarantee their neighbors don't. (DW)
Tuesday, Dec 21
Write a Christmas Carol Parody
Don't worry. You don't need to be a Weird Al or Tom Lehrer-grade genius. You don't need wit for a Christmas carol parody. Jeff Foxworthy and countless wacky radio morning show hosts proved that long ago. All you need is a sense of rhythm, a lyric sheet and a web browser open to rhymezone.com.
Heck, for the easiest and longest Christmas song to parody, "Twelve Days of Christmas," you don't even need those. Just slap in a few easy substitutions ("seven mom's a-yelling," "eight brothers bugging") and you've got a Christmas classic.
Lame? Perhaps. But my grandparents, on occasion, still put on their spectacles and pull out a parody of "The Night Before Christmas," written on now-yellowed notebook paper. And even though the inside jokes all need re-explaining, and even though the old characters all need reintroducing, we all laugh just as hard. Sometimes, being a family is about learning to embrace the lame, and love doing it. (DW)
Wednesday, Dec 22
Northwest Sacred Music Chorale
For some, listening to jaunty Christmas music through the tinny Old Navy speakers isn't enough. They want more. They want to hear the glorious melodies of the Northwest Sacred Music Chorale at the Kroc Center in Coeur d'Alene at 5 or 8 pm. Tickets: $8 for children and seniors, $10 for adults. Visit www.nwsmc.org. (DW)
Thursday, Dec 23
Bake Daniel's Mom's Chocolate No-Bakes
Or don't bake them, rather. What chocolate no-bakes lack in Rudolph-shaped gimmickry or cheap peppermint ploys they make up for in incredible chocolaty goodness.
Combine 1/2 cup of melted margarine, 2 cups of sugar, 1/2 cup of milk and 1/3 cup of unsweetened baking cocoa in a medium saucepan. Put it on medium to medium-high heat, bring it all to a boil, and keep it boiling for three minutes. (Reduce heat if needed.) Remove from heat and add 1/2 cup of peanut butter and 1 teaspoon of vanilla. Mix it well. Then add 3 cups of old-fashioned rolled oats and stir. Quickly! You haven't much time. Drop cookie-sized scoops onto wax paper and then let it cool.
Then eat.
But be forewarned, gentle no-baker. The pure addictive qualities of each cookie, combined with their inevitably finite supply, can tear your family to pieces. Together you will burn the remaining cookies on a pyre swearing never again to let such deliciousness come between you. (DW)
Friday, Dec. 24
Santa Skis at Schweitzer
Even as a young child, you can sense the artifice. Santa really doesn't spend time hanging out in malls, does he? And he certainly doesn't ride around in a fire truck not when he has flying reindeer. "And why is Santa hanging out around town in November?" the cynical 5-year-old asks. But ah, it makes sense to the children that Santa would spend a considerable amount of time in a winter wonderland like the Schweitzer Resort. It makes sense he would spend the day before his big night relaxing on the slopes. He'll be skiing and handing out treats from 11 am-1 pm with Mrs. Claus, lead a parade at 2 pm and hang out at Selkirk lodge from 3-4 pm.
Clever, deceitful parents can even weave a tangled web of lies to perpetuate the illusion, pretending Schweitzer is an actual suburb of the North Pole. (DW)
Saturday, Dec. 25
Do Christmas
"It's the most wonderful time of the year."
Maybe you read that sentence with childlike earnestness. Maybe you read it with dripping, bitter sarcasm.
Christmas, after all, is a forge-your-own-tradition holiday. Maybe you celebrate it the traditional way, in a tornado of flying wrapping paper, crying 5-year-olds, brunch dishes growing cold, arguing siblings and, naturally, figgy pudding.
Or maybe you celebrate Christmas your own way. You might celebrate it by yourself, with a sleepy smile on your face, an especially alcohol-laden glass of eggnog in your hand and a fuzzy VHS of Santa Claus vs. The Martians in the DVD player. Maybe your personal "reason for the season" is family or generosity or Jesus or love or economic stimulus.
Maybe you don't celebrate Christmas at all. That's cool, too.
But all we ask is, on this day, for one moment maybe even a few seconds filter out the yuletide chaos. Choose to feel peace, relaxation, maybe even a touch of happiness. Force it if you have to.
That's your assignment. Get to it. (DW)
Sunday, Dec. 26
Recycle your Christmas gifts
Too-small sweater? Wrong-colored coffee maker? Did Santa fail to deliver that long-desired laptop? Join the throngs of other Christmas malcontents on this, one of the biggest shopping days of the year. Take advantage of deep clearance discounts as stores offload the stuff that didn't sell, and hit the thrift stores, which sometimes see a surge of new inventory from donators eager for last-minute 2010 tax write-offs. (JOEL SMITH)
Monday, Dec. 27
Join all your rowdy friends, one last time
Christmas is over. The gifts have been opened. The suspense has gone slack. It's cold and messy outside. And now you're back at work. But at least the football playoffs are only now beginning! (Just wait until the season ends, in early February. Those are the real winter doldrums.) After work tonight, assemble your snacks and beer. This final edition of Monday Night Football, pitting the New Orleans Saints against their division rivals, the Atlanta Falcons, is the last game of the regular season. It could be do-or-die for either team. (JS)
Tuesday, Dec. 28
Jim Brickman at INB
Considering Jim Brickman's platinum popularity, there's a good chance that his holiday album, The Gift, was the soundtrack to your Christmas morning. Brickman's piano-based instrumentals lend themselves perfectly to such occasions they're banal enough not to distract you during gift time, while their unapologetic sentimentalism imbues every otherwise meaningless act (shredding gift wrap, fighting over toys) with an artificial, cinematic profundity. If you're tempted to try to keep that warm and fuzzy feeling alive after Christmas by seeing him perform tonight, you'd be wise to jack yourself up with caffeine first. Brickman's saccharine noodling may play well in the background, but watching it with (perhaps) 2,600 other warm bodies could bring on a long winter's nap. $32-$75, 7:30 pm (JS)
Wednesday, Dec. 29
Skate in the Park
It's no Rockefeller Center (in fact, it's about twice as big as Rockefeller), but the Ice Palace in the heart of Riverfront Park provides one of those cool little civic experiences that Spokanites should partake in every winter. It's good for you. It's open today from 11 am-5 pm and 7-8:30 pm. Cost: $4.50; $3.50, 17 and younger; $3.25, skate rental. If you can't make it out, you've got until Feb. 27. (JS)
Thursday, Dec. 30
Myles Kennedy (and Alter Bridge) at the Knit
See Myles Kennedy, a hometown boy who has found success in rock music. The Mead High grad first struck fame with the Mayfield Four, went on to help form Alter Bridge (with former members of Creed), almost replaced Robert Plant in a Led Zeppelin reunion project, and served as the frontman for former Guns N' Roses guitarist Slash's solo project. This will be Alter Bridge's penultimate show in a monthlong tour that begins in Vienna next week and then hits Germany, Switzerland, Austria, Italy and a handful of North American cities. (JS)
Friday, Dec. 31
Pants, Preu, Diamonds, Ballet, and the last/First Night of the year
It shouldn't be hard to find something to do tonight, in the twilight of 2010. There's stuff happening all over town.
For the young and dance-prone, there's DJ James Pants at Aclub. The Spokane-bred DJ, popular for his bizarre and inventive original work as well as his flawless mash-ups of everything from metal to Motown, has made a number of return appearances since moving to Colorado with his family last November. But this one will be different. Pants (aka James Singleton) will soon move his operations to Cologne, Germany, where he's taken a job with the Red Bull Music Academy. Meaning he may not be coming back to town for a while. "I personally guarantee mayhem," he writes on his Facebook page. Anarchy is scheduled to ensue at 9 pm.
For the upper crust, there are three pretty good events, chief among which is the Spokane Symphony's performance of Beethoven's Ninth Symphony. Playing this powerful, uplifting masterpiece is a New Year's Eve tradition in Germany (the kind that still gets conductor Eckart Preu a little choked up), and hearing it could start a new tradition for you, too. Plus, it's relatively affordable, at $25 a pop ($14 for youth). Hit up the Fox at 7:30 pm to give it a listen.
The other two chichi events are Ballet and Bubbly (a combination of dance, booze and chocolate at the Bing for $20), and Diamonds and Divas, a black-tie gala and wine auction at the Davenport Hotel that will feature performances by Spokane's opera group. (Better start saving now. The tickets are $175.)
For the rest of us riffraff, there's the (misnamed) First Night celebration, now in its 10th year. The hours-long, blocks-wide downtown party features local music, arts, crafts and fireworks as usual, but this year adds a 6:45 pm "Resolution Run," in which participants are encouraged to write down their resolutions, run an as-yet-undisclosed distance, then burn the resolution in a bonfire at the end. (Tickets/buttons for the whole First Night shebang run $12, or $15 the day of.)
Our recommendation: Resolve to be even less boring next year, run the run, do the bonfire, shower (or not), catch Beethoven's Ninth, cruise the First Night festivities and then Pants-dance into 2011. (JS)