In five years touring with the Broadway musical adaptation of Dr. Seuss' How the Grinch Stole Christmas!, Bob Lauder has missed more than a few family holidays.
This year, Lauder — who plays an older, nostalgic version of the Grinch's unapologetically obedient mutt, Max — is spending Thanksgiving in Spokane. The touring production opens here the day before the holiday, Nov. 26, and resumes for shows from Nov. 28-30.
By now, his family is accustomed to planning their holiday celebrations around his absence.
While the Grinch's 2014 season tour started back on Nov. 11 in Albuquerque, New Mexico, Lauder says the crowds were already eager to get in on the holiday spirit.
"As far as the commercial side of [Christmas] goes, that is one thing that kind of makes me go oh my, that's early, isn't it," Lauder says. "But as far as entertainment goes, if people want to see it — and that is what people want — it makes me happy."
Being committed to work during the holiday season is something Lauder, like so many other performers, is used to. Before landing his role with Grinch, he played Santa in a Las Vegas Christmas show. That was a little different, though, since the 59-year-old entertainer lives about an hour from the Strip, in Pahrump, Nevada. If he can't get home for Christmas (this year he'll be in Denver), his wife and kids come to him, or they'll postpone their celebration until he can come home.
"This is our reality," Lauder says. "Other people say, 'Oh my gosh, I've got to get home,' but this is what I'm doing, and this is where I have to be."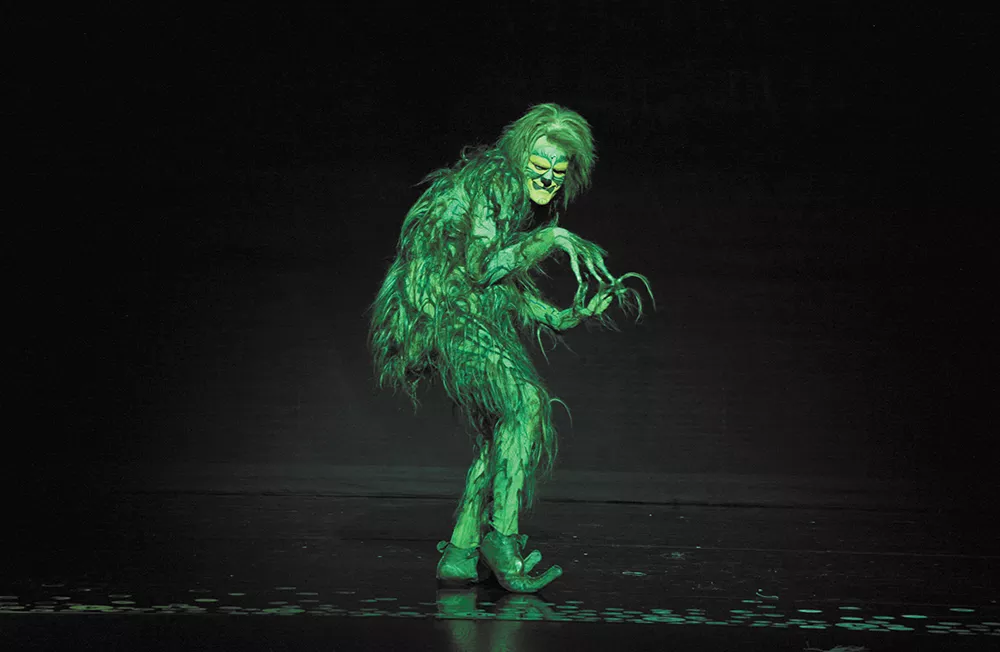 For Thanksgiving, it just so happens Lauder has a cousin in Spokane, but he says the rest of the cast is being treated to a traditional dinner spread at a to-be-determined location.
In this post-recession era, where Christmas décor fills store shelves before the Halloween candy goes on clearance and holiday shopping starts before the mashed potatoes are cold, Americans' hype over the season has topped itself each year.
The same night that Santa takes his post under the already erected Christmas tree (work began on Nov. 12) in River Park Square's atrium, the INB Performing Arts Center is hosting its first of three pre-Thanksgiving holiday shows.
Cirque Dreams Holidaze is a mashup of dance, music and circus acrobatics, with every bit as much holiday cheese and charm as anyone would expect. The one-night performance on Nov. 21 boasts more than 300 elaborate costumes, from life-size toy soldiers and gingerbread men to dancers donning 3-feet-wide poinsettia headpieces.
Given the choice, promoters with Spokane-based WestCoast Entertainment, which includes the Best of Broadway brand, would book holiday-themed shows like these closer to Christmas, but that usually doesn't happen.
"It's truly based on the national tour for each show and where they're at, at what time," says Lerria Schuh, WestCoast's vice president of marketing and sales. "This year, it turned out that Cirque and the Grinch are traveling through this part of the country at the same time."
The other challenge, she says, is that holiday shows obviously don't tour for as long as non-holiday shows.
For those who'd rather see a more traditional tribute to the Christmas holiday, a few days after Cirque Dreams another one-night show hits the INB's stage, with The Forgotten Carols on Monday, Nov. 24.
Forgotten Carols creator Michael McLean — who's also a composer of mostly spiritual music directed toward members of the Church of Jesus Christ of Latter-day Saints — promises it's a story a person of any or no faith would enjoy, even though the main storyline is centered around Mary and Joseph's fateful night in the stable.
In McLean's words, the production tells "a really touching story about a nurse who has a really hard time with Christmas. She has to care for an old guy with some psychological problems who thinks he met the innkeeper who met Joseph and Mary, and he introduces her to characters from that era."
McLean, 62, plays that "old guy" who, throughout the show, begins to open the nurse's heart to the true spirit of Christmas.
In the show, the "forgotten carols" are songs about the unknown characters McLean says may have been connected to events on the night of Jesus' birth, like a shepherd who fell asleep in a field and missed seeing the star of Bethlehem.
McLean wrote and first produced The Forgotten Carols more than two decades ago, and tours it around the U.S. each November and December. The songs and show also have an accompanying book of the same name, which includes McLean's stories behind each song alongside lyrics.
McLean is a self-proclaimed "Christmas cheesehead," and his passion for the holiday is candidly sincere from all angles, both religious and secular.
"What's great about Christmas is that people get more willing to open up and not be so cynical or snotty or protective or defensive about things of the heart. My heart was opened up profoundly as a kid and my folks really knew how to celebrate Christmas," he says. ♦
Cirque Dreams Holidaze
Fri, Nov. 21, at 7:30 pm
$32.50-$57.50
The Forgotten Carols
Mon, Nov. 24, at 7:30 pm
$13.50-$32
How the Grinch Stole Christmas! The Musical
Wed, Nov. 26, at 7 pm
Fri, Nov. 28, at 1, 4, 7 pm
Sat, Nov. 29, at 11 am,
2 pm, 7 pm
Sun, Nov. 30, at 2 pm
$27.50-$72.50