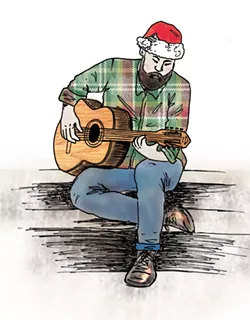 Cary Fly couldn't afford presents that year — at least not the kind that came wrapped under the tree. It was the late '80s and he was living in a sizable South Hill house with a bunch of bandmates. Funds were so anemic they considered chopping up the furniture for firewood to keep warm.
"Life supplies you with everything you need to write a good song," says Fly, a prolific local songwriter who's penned thousands of tunes. That year, a Christmas song practically wrote itself.
"I have no gifts to give them this year / But I can still reach out and wish them all good Christmas cheer," begin the lyrics of the joyous "Merry Christmas." The song has since become a crowd favorite and is requested at Fly's December shows year after year. This Saturday, Fly has been invited to sing the tune at Sammy Eubanks' annual Blues Christmas show at the Knitting Factory.
Of course, people still crave the traditional songs every holiday season. Old standards (sacred and secular alike), such as "Silent Night" and "Have Yourself a Merry Little Christmas," are covered continually. They're piped in at malls and grocery stores to get us in the mood to shop, shop, shop.
"White Christmas," the best-selling single of any genre, according to Guinness World Records, holds a special significance to Spokane thanks to hometown crooner Bing Crosby. Seemingly, Spokane should be especially gaga for Christmas music. But Fr. Kevin Waters, director of the music composition program at Gonzaga University, Crosby's old stomping ground, admits that Christmas music can be overwhelming.
"I'm annoyed all of the time by [Christmas music]. It's overkill," Waters says with a laugh. "Familiarity really does build contempt. It's one of the reasons I say let's get new music out there and retire some of these things we hear all of the time. The last thing we want to say is 'enough is enough,' even if it may seem like we're at a saturation point."
With multiple degrees in philosophy, theology and music composition, the 82-year-old Jesuit priest spent his career writing thought-provoking music — he's even written and arranged Christmas hymns for choir with more obscure accompaniment like flute and cello, rather than piano or organ.
Technically, he says, Christmas music relies on word choice and rhyme scheme. If the lyrics don't add something new, it's not a worthwhile idea. There's a reason why the Backstreet Boys' "Christmas Time" has barely been played since its 1996 release — it's way too bland.
"Haven't we said enough about bringing peace to the world in these songs?" asks Waters, who has taught at Gonzaga for more than 30 years. "Let's find a new way of addressing the world's problems. Let's not just say the same thing over and over. As long as there's poetry and music, there's always space for the new. Culture is always renewing itself."
Other local musicians are writing new Christmas tunes as well, finding those creative hooks and angles on which to hang their keyword-filled songs (i.e., Santa, reindeer, cheer, holly, snow).
Miles Martin, whose angsty Spokane three-piece Friends of Mine recently wrote "I Just Want Stuff," make no apologies for wanting "A Playboy subscription / So I can see girls in the buff," (too bad for them; starting next year, that magazine will no longer feature nude women in its print edition).
The tune, featured on the Bartlett Christmas — Vol. #2 album, is a wonderful, satirical take on the cheesiness of most Christmas songs. It's supposed to make listeners smile, but also tune into the small part of ourselves that yearns for our own version of a Red Ryder Carbine Action 200-shot Range Model air rifle.
Similarly, "Bah Humbug," by local pop-punk act 37 Street Signs, was written after the band's guitarist Alek Browning vacationed in California. Surrounded by a bunch of spoiled families at a mall, no one appeared to appreciate what they had.
"Shop till you drop / Oh, I hope you drop dead," proclaim the lyrics.
"We think the song is hilarious," says Browning, whose band is admittedly obsessed with Christmas. The hardest part about writing the song was trying to keep it sounding festive — the use of sleigh bells helped.
Still, no one locally is writing these songs as some sort of money grab (like so many superstars so lazily do). It's all for fun.
"It's not that the world needs more Christmas music," Martin says. "And I think, for the most part, it would be difficult to write a perennial smash hit. Mariah Carey is probably the last to do it. But it's great to try, burn brightly for one year and fizzle out. And don't worry — next year, Friends of Mine plan on writing more Christmas songs." ♦