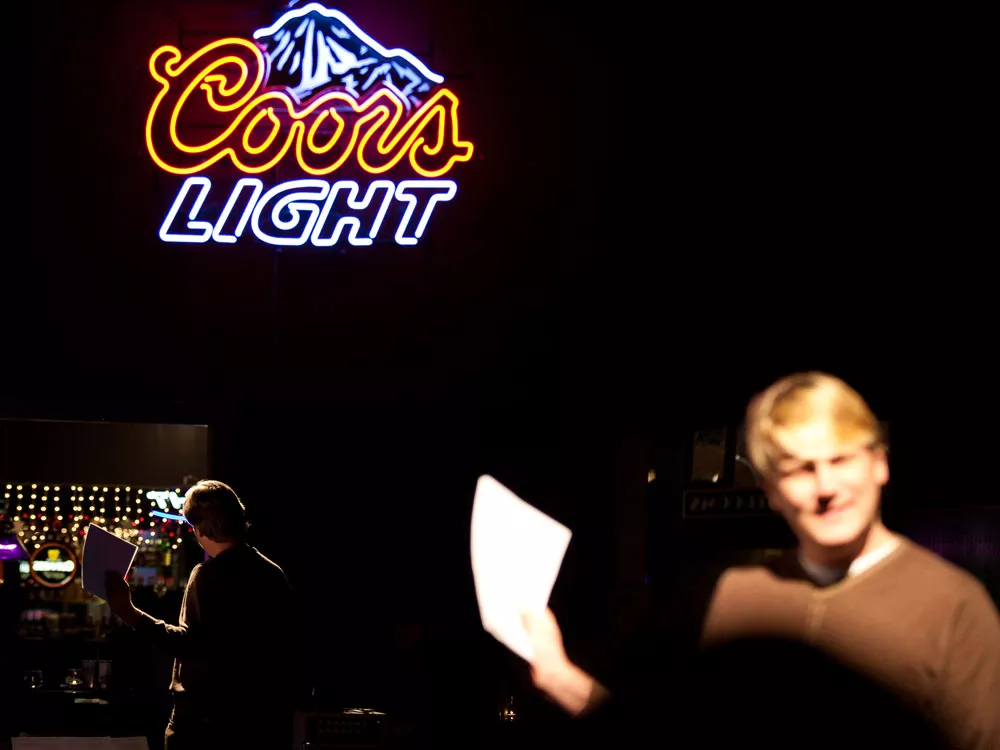 The light was too bright for the pastor. "I don't know how bands do this. I'm going to go blind up here," a squinting Charlie Greer says as he raises his hand to block a spotlight mounted on the black ceiling above.
A tall man with shaggy blond hair and matching brown sweater and slacks, Greer holds a stack of paper notes instead of a Bible. His pulpit is a music stand. His congregation sits not on pews, but barstools. Besides the spotlight, the only illumination in the room is a neon Coors Light sign.
He calls it "Seaside: A Bar Church," and for an hour every Sunday afternoon, a downtown Spokane music venue becomes a place of worship. On a recent Sunday, the crowd consisted of doting mothers, babes-in-arm; children in their Sunday best, spinning on the bars stools; a young couple who held each other throughout the ceremony.
"The funny thing for me is I'm more comfortable at a bar.
[People] tend to be a little more real than at church," says Greer.
He struggled for years with his conservative Christian upbringing in a Los Angeles suburb — "a kid with a Mohawk at a General Baptist church," as he puts it. He gravitated towards bars, but not to drink. Greer first imbibed at 35.
He moved to Spokane in 1992. First he was preaching in an art gallery, then in a bar, until he ended up at A Club back in February.
Greer describes preaching as a calling. For Brian Griffing, who mans the acoustic guitar during the service's musical interludes, it's something else.
"It's family, that's the big thing," Griffing says. As for the drinking, "it's one of those things. Jesus made wine out of water."
Greer's voice is competing with the pounding bass drum in the next room over, the clink of glasses from behind the bar, the pulse of the soda fountain.
He presses on. "We just finished Galatians and so for this week and next week, I was thinking we could talk about Christmas," Greer tells the 20 or so people before him.
He gets into it, pondering the meaning of Christmas. The audience ponders along with him. At one point, Greer wonders this about the holiday: "Is it a time for getting everything we want? Is it just a nice tradition that people hold to?" "Well, he is coming back here," cries someone from the audience. "Exactly," Greer replies, and his flock nods over their half-filled beer bottles and plastic cups. That's all most people have in front of them. The only Bible apparent in the room is being used to prop up the neck of a prostrate bass guitar.
"I was totally freaked" at the concept of a bar church, says the bassist, Mike Mann. "This is a church for people who love Jesus but are afraid to walk into a normal church 'cause of what happens there."
Rather than drawing people to church, Keith Beebe, an associate professor of theology at Whitworth University, says some churches have opted to go to the people.
"It not necessarily a bar, but it's a socializing context," Beebe says, adding that he's heard of churches being set up in Laundromats and coffee shops.
Greer admits to getting a mixed response from some other churches in town. He shrugs them off.
"There's drinking all through the Bible," Greer says. "So we figure if it's in the Bible, we might as well celebrate it."