The menu at Queen of Sheba is full of dishes both traditional and exotic — traditional to chef and owner Almaz Ainuu's homeland, and exotic for American customers who perhaps have never eaten Ethiopian food before she opened in the Flour Mill building five years ago.
Those years introduced Inland Northwest food lovers to an array of dishes perfected by the former preschool teacher, a mix of vegetarian and meat entrées layered with spices and rich flavors, and usually presented on injera bread, a spongy flatbread made from teff — a high-fiber Ethiopian grain — that replaces silverware in the communal dining style in which diners scoop up chickpeas or lamb with pieces of the injera.
"Everything has to be served [with injera]," Ainuu says. "That's what makes our food different, the flatbread. Different parts of Ethiopia serve different things, but it's important to start with the flatbread."
While every dish on the menu takes Ainuu home again, and takes visitors on a culinary trip unlike any other in the area, one in particular, the Doro W'et, evokes special memories for the chef. "It's really very traditional," Ainuu says. "Each home, if you have a visitor, or if it's a holiday, we make Doro W'et."
It's a spicy chicken dish served primarily using drumsticks at Queen of Sheba (rather than a whole chicken, as they do in Ethiopia) that's simmered for hours in a berbere sauce — a house-made spice blend — as well as garlic, ginger, cardamom and onions. It's topped with a hard-boiled egg.
"In Ethiopia, mostly they like vegetables," Ainuu says. "Meat, they don't eat it every day. Traditionally, it's just for the holidays, special occasions. And it's time-consuming; I think that's why they don't do it every day."
Ainuu learned to cook the dish at an Ethiopian boarding school where her mother served as the school's cook and her father grew all the vegetables used in the kitchen.
"I learned how to cook when I was 7, but this one, I had to be older," Ainuu says, recalling when her mother taught her how to make Doro W'et. "My mom would make me sit and watch. She'd say, 'One day you're going to get married, and it's huge. Then you're going to have to do it the right way.'"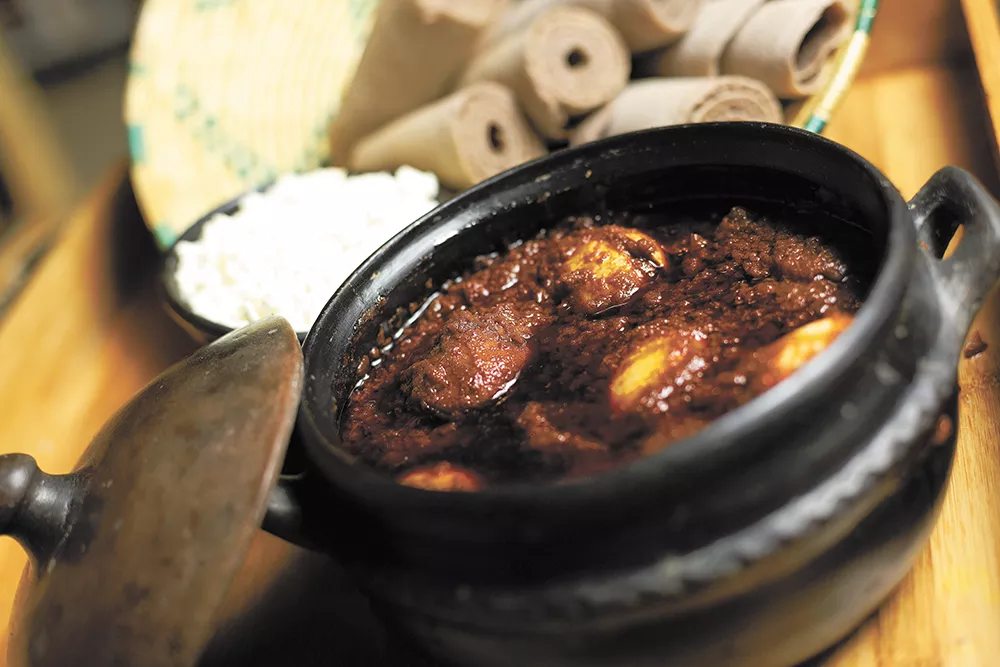 Households are judged on the quality of their Doro W'et when they serve it to guests, she says, and making it properly is a meticulous process, especially in Ethiopia, where they use all parts of the chicken. Learning how to cut it so you use every part is why Ainuu had to wait a couple of years into her cooking lessons.
"There's 12 parts of the chicken," Ainuu explains. "They do the wings, the shoulders, the legs, so you have to learn how to cut that, the right way to do it. You really have to do it perfect. And it's slow cooking with lots of onion, lots of red pepper, so it's a couple hours of cooking."
At Queen of Sheba, the Doro W'et uses just drumsticks, but it still takes time to skin them, wash them and prepare them just right. "There's a process," Ainuu says. "It's very considered."
It's also one of the most popular items on her menu, although once in awhile people do make a special request that she finds odd: "Hold the hard-boiled egg."
"I think some Americans are really weird. They'll ask 'Can we leave the egg out?' because they're used to having that with breakfast," she says. "For us, it's really the highlight. The Doro, the chicken, you have to have it with egg." ♦